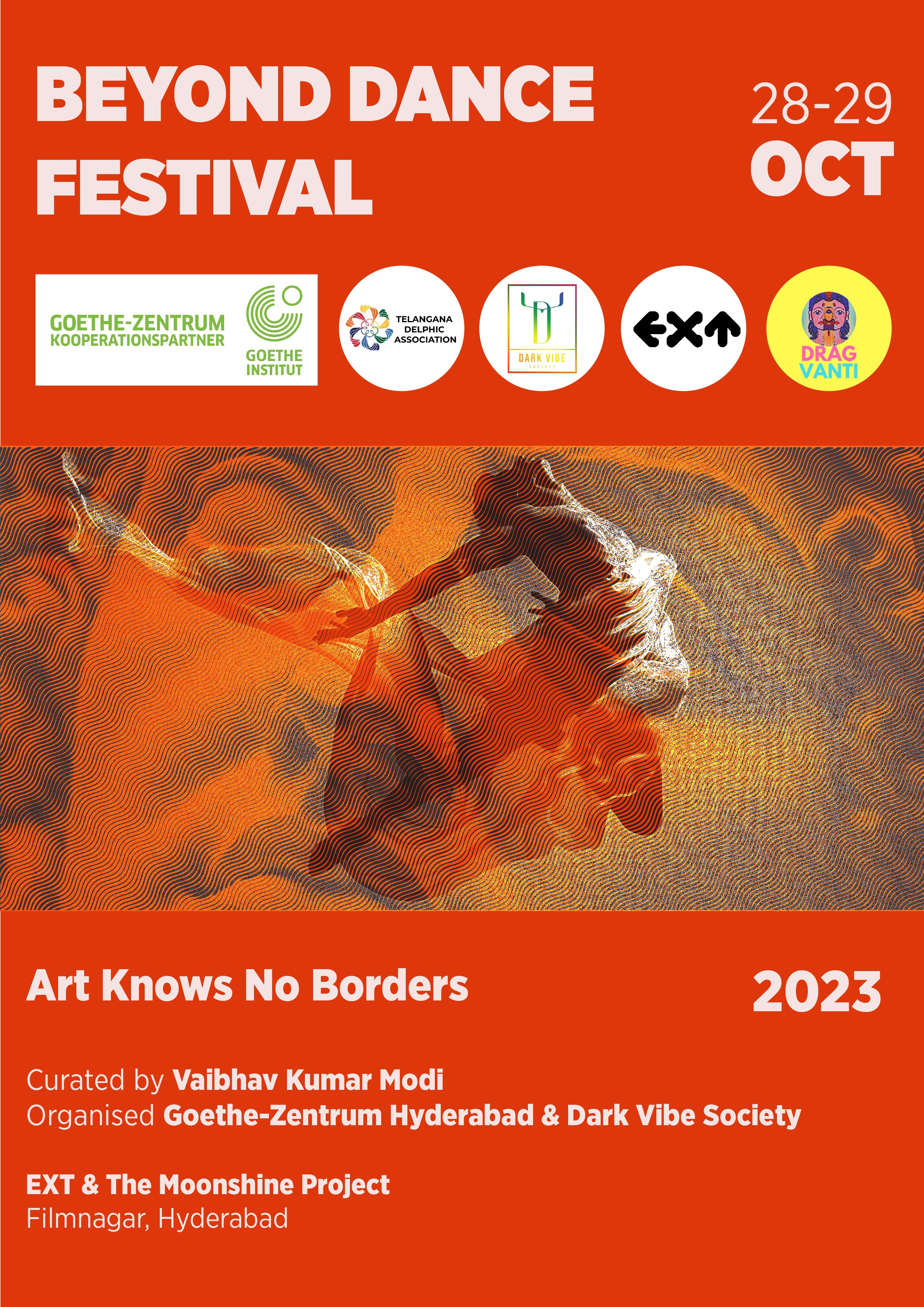 Goethe-Zentrum Hyderabad and Dark Vibe Society Unite for the Beyond Dance Festival
Goethe-Zentrum Hyderabad and Dark Vibe Society, two powerhouses in the realm of art and culture, have embarked on a creative partnership that is nothing short of transformative. Their collaborative brainchild, the Beyond Dance Festival, stands as a resounding testament to the enduring and universal language of art, transcending the constraints of geography, culture, and societal boundaries.
In a world often marked by divisions and barriers, art serves as a unifying force. It possesses the unique ability to connect with the essence of our shared humanity, resonating with the depths of our souls and inspiring us to look beyond the artificial borders that separate us. The Beyond Dance Festival epitomizes this philosophy, emerging as a profound celebration of art's power to bridge divides and create connections.
Beyond Dance Festival presents a wide variety of thrilling dance workshops:
Tranimal Drag Workshop by SAS:
Embrace your inner drag persona in a 90-minute workshop guided by Patruni, also known as SAS. Delve into drag history, gender expression, and self-discovery. Explore vibrant wigs and makeup, all skill levels and ages welcome, prioritizing enjoyment and self-expression. Patruni, starting dance at age 7, presents "Expressionum," a distinctive art form addressing societal issues through performance.
Click here to Register: https://tinyurl.com/Drag-by-SAS
Belly Dance Workshop by RAQsology:
Discover the enchanting Orenta dance universe with Stavan Telur and Sri Laksma in this 90-minute workshop, tailored for beginners. No prior experience is necessary; all that's needed is functional hips and a willingness to engage. Throughout the session, attendees will be transported into the captivating world of belly dance, commencing with a concise introduction to this art form. They will then explore the foundational techniques, mastering the graceful and fluid movements that define belly dancing. The workshop culminates in crafting an engaging choreography, enabling participants to express themselves through the timeless beauty of this dance style. Join us and unlock the allure of belly dancing!
Click here to Register: https://tinyurl.com/RAQsology
Tango Workshop by Essence of Tango:
Mark your calendar for October 28th to participate in a 90-minute Argentine Tango workshop tailored for newcomers. Led by Essence of Tango, this session offers an introduction to the fundamentals of this fiery dance. No prior experience is necessary, only a passion for learning and dancing! Within this workshop, you'll immerse yourself in a novel mode of communication through your body. The nuanced movements of Argentine Tango will enable you to engage in soulful social dances at Milongas (Tango Social events). The workshop's primary focus will revolve around key Tango principles, covering elements like walking, posture, embrace, turns, connection, and basic steps.
Click here to Register: https://tinyurl.com/EoTango
Body Movement Workshop Harsha Komet:
Embark on a 90-minute voyage of self-discovery, delving into body awareness. This workshop will lead you through exercises that illuminate the seven chakras and elements. Under the guidance of Harsha Maheshwari, you'll learn to connect with your emotional and energetic self, incorporating music and movement. This workshop introduces the HEALnot Hate movement, advocating for body positivity and mental well-being. All ages and artistic abilities are invited to join, as we foster a secure environment to explore your boundaries.
Click here to Register: https://tinyurl.com/HarshaKomet
Voguing Workshop Jiya Labeija:
Uncover the essence of voguing during a 90-minute workshop guided by Jiya Labeija. This interactive class introduces the five-step Vogue Femme routine while exploring the Ballroom scene's historical significance in the inception of the Queer Movement. Save the date for October 29th and join us to master the art of ballroom strutting. This inclusive workshop guarantees a dynamic and empowering experience for everyone.
Click here to Register: https://tinyurl.com/JiyaLabeija
Dance, as one of the most visceral forms of artistic expression, serves as a prime example of this universal language. It defies stereotypes, temporal constraints, and geographical limits. The festival boldly pushes the boundaries of dance, molding it into an adaptable art form that mirrors the unique individuality of its performers. Here, classical and contemporary styles merge, Indian influences blend seamlessly with global traditions, and indigenous dance forms radiate with authenticity, all while artists reveal their true selves through their performances.
The Beyond Dance Festival is more than a mere showcase; it is a platform for transformation. The artists it features possess the ability to challenge conventions, inspire change, and ignite profound dialogues through their distinct dance expressions.
As Goethe-Zentrum Hyderabad and Dark Vibe Society's collaboration takes center stage, the Beyond Dance Festival emerges as a vibrant celebration of art's unifying power. It embraces diversity, celebrates creativity, and paves the way for a more inclusive and interconnected world through the universal language of art. This collaborative venture promises to leave an indelible mark on the world of art and culture, tearing down boundaries and inspiring a more harmonious and united future.