HarperCollins has announced the acquisition of four backlist titles by Chetan Bhagat, three out of which are fiction – One Arranged Murder, 400 Days, The Girl In Room 105.
More than 12 million copies of Chetan Bhagat's books have sold in print in English and other Indian languages. And, it was Westland which earlier published these titles.
Ananth Padmanabhan, CEO, HarperCollins India, says, 'Chetan is singularly responsible for drawing in millions of youngsters to read a full-length novel in English for the first time, and his books are perennial bestsellers both in English and in Indian languages. His books, which have been adapted for screen, are blockbuster movies, drawing in many more millions with their charming storytelling. Chetan Bhagat is a cornerstone in Indian fiction, and is arguably the most-read Indian writer. We are delighted by the opportunity to publish him here at HarperCollins.'
Author Chetan Bhagat says, 'I wanted to partner with a publisher who is not just passionate about my books, but also about making India read more. Today, we have to and must make an extra effort to make the young generation continue reading books. Books build concentration power, creativity and are a great source of deep learning. HarperCollins India's mission aligns with mine – to make India read and enjoy books. That makes me super excited about this partnership.'
ONE ARRANGED MURDER 
First published: September 28, 2020
A story about love, friendship, family and crime, One Arranged Murder is a thriller.
Rs 299
400 Days 
First published: October 8, 2021 
It is a book that brings together mystery and romance and what has been Chetan Bhagat's trademark – exploring human relationships, love, friendship.
Rs 299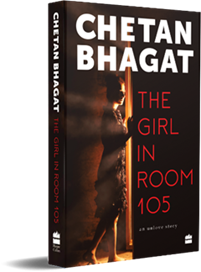 THE GIRL IN ROOM 105 
First published: October 9, 2018
Set in contemporary India, The Girl In Room 105 is a thriller peppered with funny moments. He calls it a story of 'Unlove'.
Rs 250