Sapta Sagaralu Daati – Side A was described by director Hemanth M Rao as a layered film before its release. The film's Kannada original, 'Sapta Sagaradaache Ello (Side A)' was critically acclaimed. The Telugu-dubbed version largely stays the course, maintaining the intended effect of the original
By now, everyone agrees that this is one of the most moody love stories to have come out in recent years. While most romantic dramas unfold in the backdrop of cheery landscapes, the film under review (not entirely, though) is set within the confines of a prison. When the prison is around, can loneliness be behind?
So, we have Manu (Rakshit Shetty) getting jailed, navigating the partly gloomy life of an undertrial prisoner, realizing that he is in for pathos in the medium term, and, ultimately resigning himself to the possibility that his suffering could endure a lifetime. Or, so it seems. We will have to wait till October 27 to witness the full dance of fate in 'Sapta Sagaralu Daati – Side B'.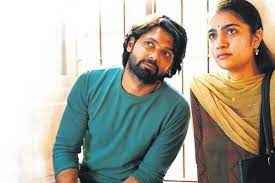 If Manu is all about suffering, his girlfriend Priya's (Rukmini Vasanth) agony is less shattering. Her single mother (Pavithra Lokesh) empathizes with her heartbreak. While she has the option of finding emotional succour at home, Manu is condemned to live behind melancholic bars, fooled by sadists and manipulated by those he trusted.
Cutting a long story short, the film is about what happens when a cabbie with meagre financial resources worships greed in the name of gratifying his girlfriend. Priya aka Bujji, an aspiring singer, is shell-shocked when she discovers that her boyfriend has implicated himself in an offence. Her salvation depends on whether Manu finds his redemption.
A lot of love stories can be polarizing. 'Andala Rakshasi' (2012) is one such film (the recent 'Baby' is another example, although it is beside the time in the present context). This reviewer expected 'Sapta Sagaralu Dhaati' to be as emotionally disturbing as that Hanu Raghavapudi directorial. It is not. Its songs are not classics either; Charan Raj MR's songs are not heart-rending enough as well, much less classics.
But, to the film's credit, it doesn't pretend to be a masterpiece. Priya is shocked but she doesn't behave like it is the end of the world. Manu is not paranoid. The conversations between the duo and the conversations the duo hold with other characters don't come from a 'Let's make this another 7/G Brindavan Colony' kinda tragedy.
For the heavy nature of the subject, the dialogues are not that raw (sometimes, they are sanitized). The prison scenes are not edgy enough. Yet, the film manages to be emotionally fulfilling. The sound design and the cinematography are compelling.
Avinash as Shankar Gowda, Manu's paymaster, is good. Achyuth Kumar, with whom the Telugu audience are familiar because of 'Kantara', is apt in the role of a calculated acquaintance behaving as if he is Manu's well-wisher.
Sapta Sagaralu Daati Movie Review 
The buck will stop at 'Side B', which will arrive in Telugu a full week (on October 27) after the Kannada original's theatrical release. If the second part becomes a commercial success story, a new chapter would have begun in Telugu cinema in terms of heralding the trend of two-part romances.
Sapta Sagaralu Daati movie OTT Release is expected to be on Prime Video.