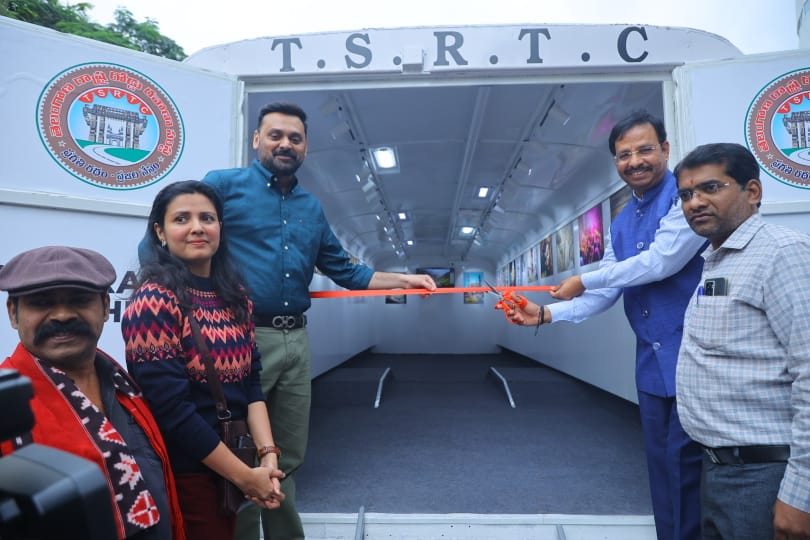 Telangana State Road Transport Corporation (TSRTC) in association with Indian Photo Festival (IPF) flagged- off 'Hyderabad on Wheels' – India's First Photo Exhibition on wheels in Hyderabad. With this unique initiative TSRTC becomes the first state transport department to promote art on wheels.
TSRTC Vice – Chairman and MD, V. C. Sajjanar addressed the media on the occasion and said, "We are in the service of connecting and helping people achieve their dreams every day, when they step out of their house.  Through our various initiatives, TSRTC aims to bring a difference to people's lives in ways that were never explored earlier. Our association with Indian Photo festival (IPF) is a unique initiative and we are proud to say that TSRTC is the first state transport department in the country to take art to people. Photography is a very powerful medium to convey stories and influence people. We encourage people in Hyderabad to visit this unique first – of – its kind photo exhibition on the wheels. It's free for everyone. And, with 'Hyderabad on Wheels', we hope more and more people are inspired to do meaningful photography and explore this medium and add value to people's lives through their lenses."
The bus showcases works and images of various photographers from Hyderabad who have captured the city through their lense. This photo gallery on wheels will be pit stopping at various locations in Hyderabad everyday and people can walk in and see the exhibition. In the interest of public, there is no entry fee for this gallery. Anybody and everybody can walk –in to the gallery and see the photographs.
Founder and Director of the Festival,  Aquin Mathews expressed his gratitude and said, "IPF is thankful to Sajjanar Sir and TSRTC for not only accepting our idea of 'Hyderabad on Wheels but also, going out of the way in making sure that Hyderabad gets to experience world- class exhibition on wheels. I would like to thank the whole team of TSRTC who have not left any stone unturned in making sure that the gallery is prepared no less than a proper galley that we see otherwise. It's a wonderful opportunity for people to see and experience this exceptional concept. We also plan to take 'Hyderabad on Wheels' to govt. schools and colleges where children do not have much exposure into other fields. This program might broaden their outlook for career options or hobbies in future."  
This program is planned for a limited period of one month only.