5 Iconic Roles Defining Matthew Perry's Career
1. Chandler Bing in 'Friends' (1994-2004):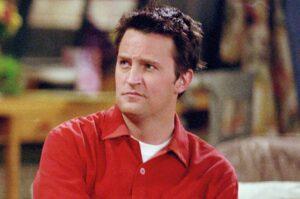 Matthew Perry's most iconic role, Chandler Bing, in 'Friends,' showcased his sarcastic wit and impeccable comedic timing, endearing him to millions with unforgettable catchphrases. Chandler's humor and relatability endeared him to millions of fans. His portrayal of Chandler transformed him into a cultural icon, leaving a legacy that endures.
2. Oscar Madison in 'The Odd Couple' (2015-2017):
Perry's portrayal of the messy Oscar Madison demonstrated his versatility, excelling in both comedy and drama. His performance in this modern adaptation of the classic character showcased his ability to add a contemporary twist to a beloved role. Perry's performance brought a fresh and entertaining spin to this timeless character, reaffirming his prowess in delivering laughter.
3. Joe Quincy in 'The West Wing' (2003-2006):
As Joe Quincy, a lawyer in 'The West Wing,' Perry showcased his dramatic range, offering a contrast to his more comedic roles. His character's intelligent and principled nature provided a stark contrast to his more humorous characters. Perry's guest role in 'The West Wing' demonstrated his ability to seamlessly transition from comedy to drama, impressing both viewers and critics alike.
4. Ryan King in 'Go On' (2012-2013):
In 'Go On,' Perry's comedic skills shone as a sports radio host dealing with grief support, blending humor and touching moments. The show allowed him to once again display his impeccable comedic timing and endearing on-screen presence. Perry's portrayal of Ryan King showcased his ability to bring a unique blend of humor and heartfelt moments to the small screen

5. Ron Clark in 'The Ron Clark Story' (2006):
Matthew Perry's performance in this TV movie was both heartwarming and inspiring. He portrayed real-life educator Ron Clark, who made a significant impact on the lives of his students. Perry's portrayal of Clark's dedication and passion for teaching earned critical acclaim. Perry's transformation into Ron Clark brought this inspirational figure to life, leaving an enduring legacy.
Matthew Perry's career is a testament to his exceptional talent, with diverse roles spanning television and film. From the lovable Chandler Bing to the complex Oscar Madison, Perry's versatility shines. Whether delivering iconic one-liners or heartfelt performances, he remains a beloved figure in the world of entertainment, leaving an indelible mark on fans worldwide.