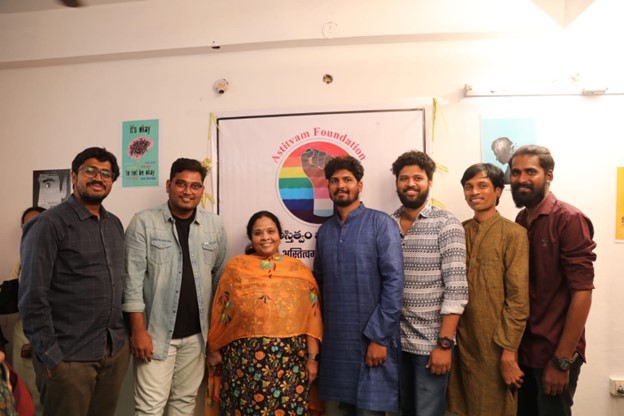 International Men's Day is not just about men in the traditional sense, never mind the many jokes. The launch of Astitvam Foundation on the day followed by a brainstorming session focused on some of the real issues like stereotyping and toxic masculinity faced by queer men on the International Men's Day, Dec 19, 2022.
Astitvam Foundation works for marginalized gender and sexualities of men and their mental health, reproductive health, sexual health, sustainable development, livelihood programs and their employment. As part of the brainstorming session, well known personalities from media, film industry, academia and development sector participated and spoke on various issues pertaining to queer men.
Here's a low down on the participating guests, and what they spoke.
Chandan Bose, Associate Professor, IIT Hyderabad – He spoke on sexuality and violence by focusing on the violence experienced by men who have met other men through dating apps and the prevailing issues – extortion, blackmailing, financial frauds etc. His research primarily has participants in the age group of 23 – 28 years.
Monalisa, Trans Hijra Activist – She spoke on the misconception in society that gay men and transgender persons are the same. Culturally, transgender people treat queer men as their sons or brothers and seeing this, mainstream society perceives that queer men are also part of the transgender community, which is not the case.
Venkatesh Maha, Film Director (C/o Kancharapalem fame) and Chief Guest – He spoke on the confused portrayal of gender in films and attributed this to lack of right education, awareness and empathy. He shared his experience in mainstreaming the queer community in films.
Prema, Independent Senior Journalist and Chief Guest – She spoke about her the story she did in 2007 on Sex Reassignment Surgeries done in a hospital in Delhi and the difficulty in getting the story published as none of the media portals were ready to publish except one major news channel. She also sheltered a lesbian couple even before Section 377 of the IPC was repealed and reiterated that she would always support the LGBTQIA+ communities.
She spoke about her household wherein her husband who has a 9-5 job takes care of the household chores as she is busy with her work related assignments and this being perceived as against the societal norms by her neighbors, who expect her to be available in the household instead.
Prajwal Gaikwad, Research Scholar, University of Hyderabad – He spoke on the topic of Scheduled Caste men and sexuality – humiliation, human dignity and social justice. He stressed on the double marginalization faced by dalit queer men due to their caste location and sexuality.
Archana Rao, Social Scientist – She emphasized on the need for Astitvam Foundation to first work on identifying the root causes to address prevailing issues and to also consider relevant factors like caste, religion, region, race and ability. She also spoke on the need for collaboration with Govt and Non govt agencies for making changes at the policy level and for sensitization on LGBT issues through focus on the education sector right from schools to universities as this would help in sensitization at the society level.
Rachana Mudraboyina, Trans Rights Activist – She spoke on multiple issues including the need for inclusion of adolescent sexual and reproductive health and sexual hygiene specifically for men as there is not adequate emphasis on it currently. She stressed on the need to not look at rape cases from a gender lens as the victims and perpetrators can be men, women or transgender persons and in this connection, mentioned the need for laws to be gender neutral.
She also spoke on the need for visibility for transmasculine visibility and acceptance of transmen by cis men.
Ahmed, President, Astitvam Foundation – He spoke on the issue of double marginalization caused by religion and sexuality. As Islam does not accept homosexuality and is treated as haraam by Shariah law, he faced various challenges in society. Through the foundation, he intends to support other queer men who are facing similar issues.
Vishnu Teja, Founder and General Secretary, Astitvam Foundation – He concluded by stating that following the brainstorming session, a need was felt for Center for Research and Men's Studies to be established for focusing on oppressed queer men in patriarchal society with the support of other organizations, research scholars and social activists. He also stated that more such sessions are required for recommending policy level changes to the Govt.