Red Rhino, one of Bengaluru's favourite hangout spots – a brewery and inspired kitchen that gets its name from the powerful rhino is the brain child of Kishore Pallamreddy. A Bengaluru based tech entrepreneur and restaurateur Kishore is a Telugu from Nellore – who has recently opened the Hyderabad outlet – and has major plans for the City of Nizams.
When Red Rhino opened its doors to Hyderabadis – the stunning ambience, the vast spaces spread on different levels – the bar counters, strategically placed to serve pub hoppers of varied kind – the new addition to the party scene made news of the good kind, not to mention food that has always been the USP. Few well-travelled Hyderabadis who have been to the famous micro-brewery and inspired kitchen in Bengaluru are happy it stands true to its name – the others are dazzled and come in to enjoy food and wonderful concoctions from the expert mixologists. Even as everyone waits for the beers to come to their tables (the brewery awaits its license) – Red Rhino near Knowledge City, Hyderabad is already a popular place.
We catch up with Kishore Pallamreddy, the Founder and CEO. A Telugu from Nellore, Kishore was in Hyderabad to study Engineering before shifting to the US eons ago. He worked with the best of the global companies, setting up teams as a Technology Leader. ZapCom, the boutique software company he started eight years ago has its offices in the US and India.
By virtue of having worked with clients from f&b, retail and travel industry and extensive travelling for work – Kishore was privy to some of the best crafted beers and great food where ever he went. This passion for good food and beer was the genesis of Red Rhino, and the reason why a successful IT professional and tech entrepreneur ventured into breweries and restaurants.
"I have always been a keen foodie looking out for places with great food. I love beer. I have visited some of the best breweries in the world. In India, people are still not so aware of Craft Beer. I wanted to create one of the best breweries and customer experience in Bengaluru. 'People Come for a Good Drink – But They Will Come Back for Great Food; is what I always believe, which has been our principle throughout. And so, when we started Red Rhino for craft beer, we also consciously engaged a celeb chef – Abhijit Saha. Our cocktails and spirits are also talked about even though it's primarily a brewery. When we started in Hyderabad, we picked India's Number 2- Sabyasachi Gorai – who is now currently associated with our brand.
Going back to the time when Red Rhino first opened back in 2016 – unlike in Hyderabad where brewing is still not so wide spread even today – Bengaluru already had 30 – 35 breweries. Kishore stayed away from busy and happening areas. Instead, he decided to open the 25000 sqft space in the outskirts investing a lot of money, which many at the time called a foolish risk
"We wanted this to be a place to go for the best ambience. We opened a 4000-seater brewery and inspired kitchen – a contemporary space with open terrace and good interiors. We did not compromise. We did not worry about profits. We wanted to go beyond ciders and Wheat beers. We introduced IPAs that were fairly new in India, and crispy lagers – More than just selling beer we wanted to bring awareness.  We knew recipes matter. From Day 1, we invested in highly skilled internationally experienced brewers. We brought Dan from California. He designed the beers in California and brewed them locally. It kind of worked out."
"I love IPAs and crispy lagers. I am an Andhra guy. I like spicy food though I love global cuisine too, especially Pan Asian. There is our signature dish – invented by my father-in-law in 1970 at his RR restaurant chain (one of the first Andhra restaurants) in Karnataka. It's called RR Chicken. It's my favourite" – Kishore Reddy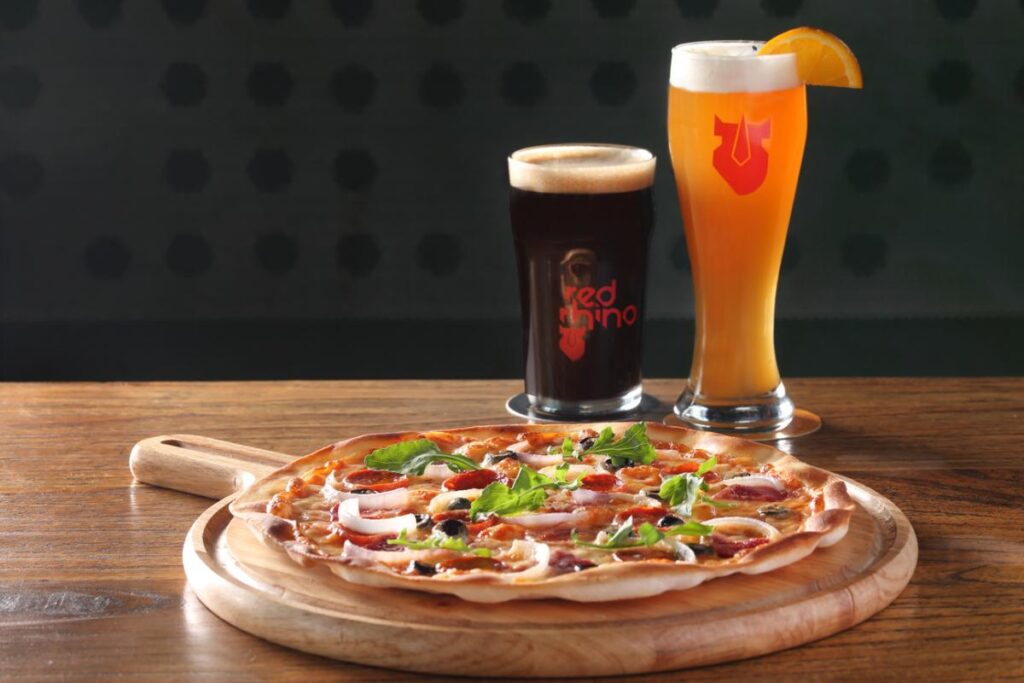 Red Rhino in Hyderabad is a 650-seater. It has been designed on different levels with different music themes that do not interfere with each other. The interiors are designed to be a conversation starter – about cocktails, beers, music, creatives, the writings on the wall. Kishore adds, "The most important aspect whether in Bangalore or Hyderabad is that no one calls in a pub. We want to bring in guests from all demographic. There is a smoking section, a dance floor, a celeb area where you get white glove service and smart casuals are a must, a hangout bar where you can chill. The emphasis is not just youngsters. When I go out, I do not like to go to crowded places. I would like to experience the vibe but get good attention. And, this is what I want to give to my customers in Hyderabad."
This is just the beginning of Red Rhino's tryst with Hyderabad. Kishore Reddy reveals – "We are working a huge project – not just Hyderabad but affecting six states to bring bottled craft beer. In Hyderabad, we want to bring craft beer to taps like draught beer. It is already there in Goa and Karnataka – we will soon be having it in Hyderabad. It is going to be a fine dining restaurant with a tavern attached. We are also working with huge land outside the city where there's going to be a brewery with lot of music and open areas.
Kishore Reddy dreams big and makes them real by investing passion and expertise. "Our success validates our product. I think we made a difference." He states.