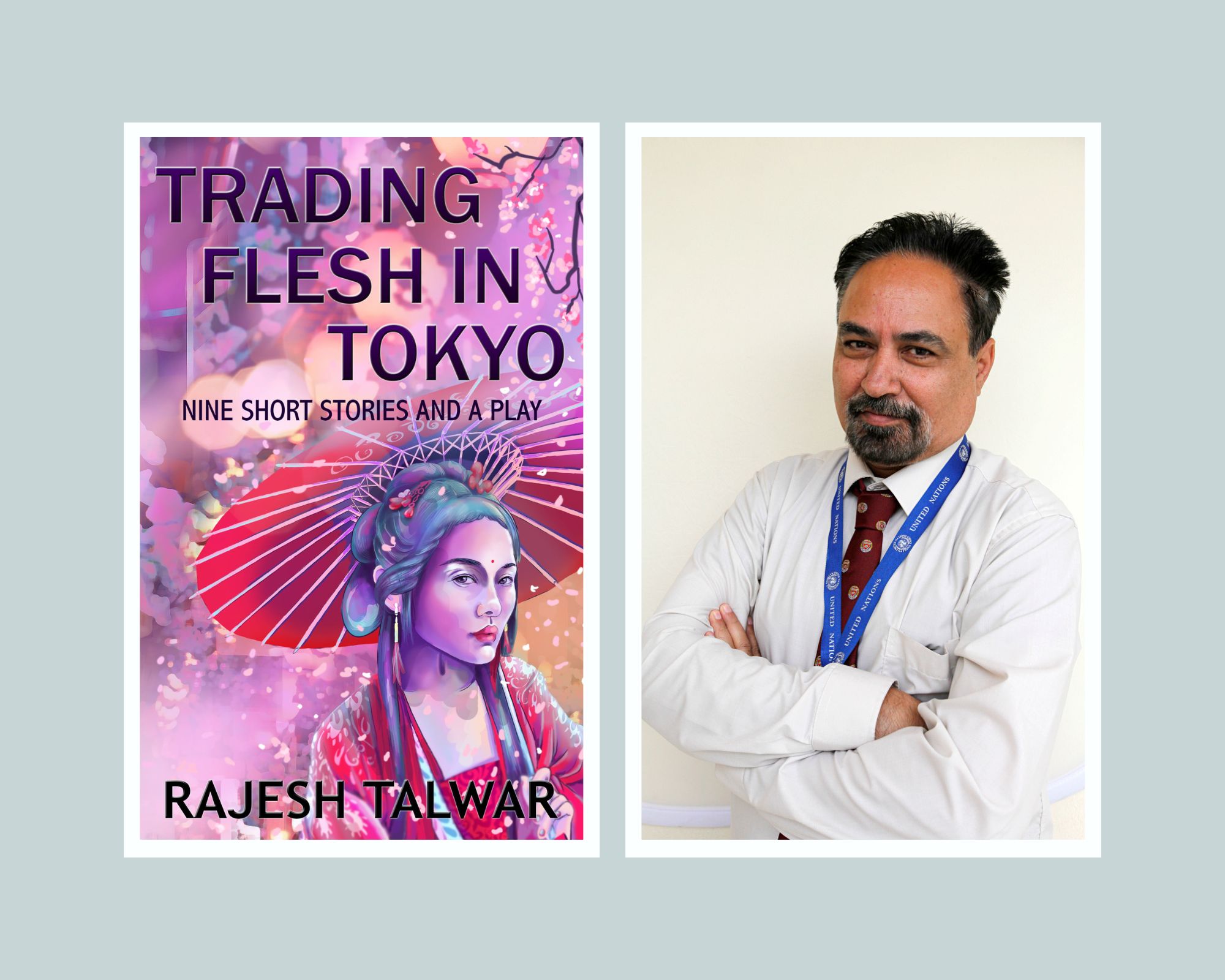 TRADING FLESH IN TOKYO – NINE SHORT STORIES AND A PLAY By Rajesh Talwar (Published by Bridging Borders) – the author of The Judiciary on Trial, which was reviewed by Khushwant Singh and used as the lead story in his column 'With Malice Towards One and All'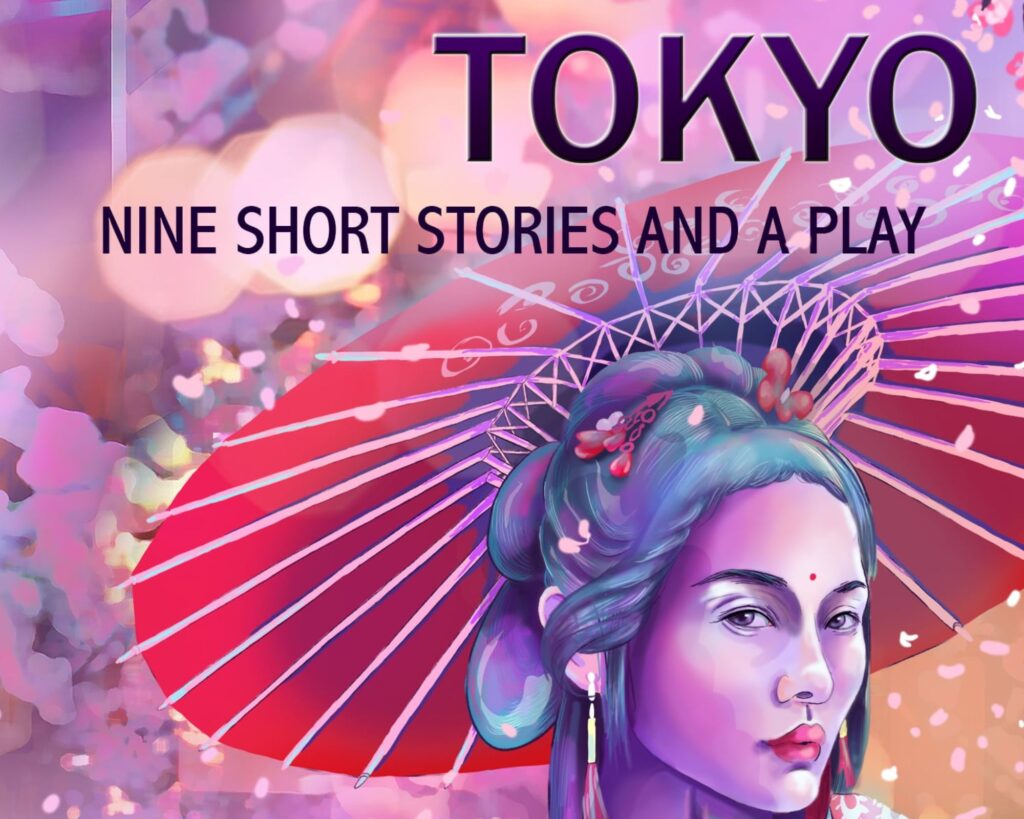 A lawyer, best-selling author and writer of 37 books, Rajesh Talwar is back with his new collection of short stories and a play Trading Flesh in Tokyo : Nine Short Stories And A Play. The 9 delightful stories and a one-of-it's-kind play deal with love, poverty, crime, passion and various troubling social issues. This modest anthology of stories explores many nations and cultures.
Here's an extract from one of the stories Sex & the Seety from Rajesh Talwar's Trading Flesh in Tokyo
As they were re-entering the hall, their hands laden with snacks, someone pushed Raju and he bumped into a stunningly beautiful foreigner. Long black hair, and long-lashed brown eyes that carried within them softness that he had rarely seen. He took care not to stare, and quickly blurted out a sorry.
For just a few seconds her eyes watched him carefully and seemed to carry out some kind of an assessment. He must have passed the test because she smiled. And when she smiled, her entire face lit up. He thought he had never seen such a transformative, beautiful smile before.
'That's okay,' she said. 'I can see it wasn't intentional. Someone pushed you from behind, didn't they? Hey, aren't you the guy who was whistling towards the end of that last song?'
Embarrassed, he said, 'I'm sorry. Did I bother you? I promise not to do it again.'
'No, no, not at all. That's not what I meant.' Some people brushed past the two of them. 'Shall we step back out? We seem to be blocking the traffic.'
They had stepped out of the semi-darkness – the film was about to restart – when another foreign-looking couple came by: a man in his forties with long shaggy hair, and a plump redhead who, from the way they held hands, seemed to be his wife.
The broad-framed man, who stood taller than Raju's six feet, stopped when he saw them.
'Aren't you coming in, Janis?'
'In a bit. I'll join you.'
Janis.So that was her name. Raju thought to himself that she must be with this other couple.
'As I was telling you …' The woman turned back to Raju. 'I enjoyed your whistles very much. In fact, to be perfectly honest, I enjoyed your performance more than the song itself. I mean, you seem to have quite a selection there. Of different kinds of whistles.Lovely! I am in sincere awe of your abilities.'
'Really, ma'am?' She looked too sincere to be joking with him. He was flattered. No girl had ever complimented him on his whistling prowess before.
'Really – and do not call me ma'am. We must be the same age, give or take a year.' She held out her hand. 'I'm Janis.'
'I'm Raju,' he said, trembling with excitement as he held her soft white hand, as if it was a piece of delicate bone china.
'Hey – I want to talk to you about something.' She stroked her chin. 'Would you mind?'
'No, no, of course not. It would be wonderful.' He was effusive.
'Okay, okay,' she said. 'The movie has started. I don't want to spoil your fun. Let's go grab our seats. We can talk afterwards.'
In fact, the movie had resumed and the location shooting had shifted to Bangkok. Raju always enjoyed glimpses of foreign countries, and hoped that he would get the opportunity to travel overseas soon. He came from a lower-middle-class background, and no one from his family had ever travelled abroad. He hoped that one of the foreign companies that came recruiting to their campus would pick him up, and give him, in due course, the opportunity to see the world outside India. But despite his interest in foreign locales, his attention wandered and he couldn't stop thinking of Janis and the softness of her hand. The rest of the movie went by in a kind of blur.
After the movie was over, he looked around for her – she had been sitting six rows behind – but he couldn't see her. Surely, she would be somewhere in the crowd that was streaming out through the aisle. He kept looking desperately but couldn't spot her anywhere. Once he and his buddies were out in the main foyer, he looked around again but she was nowhere to be found. He cursed himself. They should have fixed a place to meet. Perhaps she would be outside waiting for him, or perhaps she had changed her mind about meeting him after all.
'Hey, Raju!' She was waiting there for him, and she was alone.
'Hi, Janis.' He walked up to her, after turning momentarily to his friends with a slightly curt, 'See you guys.' He hoped fervently that they had the manners and the sense not to tag along with him.
They had clearly got the message from the tone of his voice.
'You found this hot babe,' said Civil Engineering speaking in Hindi, 'and forgot your friends so quickly.'
As if you wouldn't have, in my place! thought Raju. Aloud, he said: 'Not at all. Okay, see you guys.'
'Enjoy yourself,' said Electrical Engineering, with a slight leer. 'See ya at the hostel.'
'Looks like your friends are going to miss you,' she said, her eyes sparkling with mischief.
Shit! She'd probably understood everything, even if she didn't speak the language.
'I guess,' he said, and quickly changed the subject. 'What is it you wanted to talk to me about? Anything particular?'
'Actually, yes.' She had the earnest expression of someone seeking a favour, little realising that it wasn't needed. 'I was wondering if you could teach me to whistle like you.
I noticed you have three different kinds of whistle in your repertoire.'
Raju didn't know the meaning of the last word she used but could guess what it meant.
'Well,' he said proudly, 'I have five different whistles that I could teach you.'
'Wow!' She smiled, and Raju saw a set of perfect white teeth. 'So, will you teach me?'
'Yes, of course, ma'am,' he stuttered, 'I'd love to.'
'No ma'aming, remember,' she said. 'It's Janis.'
'Yes, Janis.'
'Well, come over this evening. I'm staying at the YMCA.
You know where it is?'
Raju nodded.
'Shall we say five?'
The YMCA was only fifty yards away from the Ritz, at the Ridge. It was one of the oldest buildings in Shimla, painted red, with two turrets jutting out, commanding an imposing view of the town and the neighbouring hills. It catered to men, women and couples. Many tourists, hikers and others on low budgets stayed there.
Book: Trading Flesh in Tokyo
Author: Rajesh Talwar
Publisher : Bridging Borders