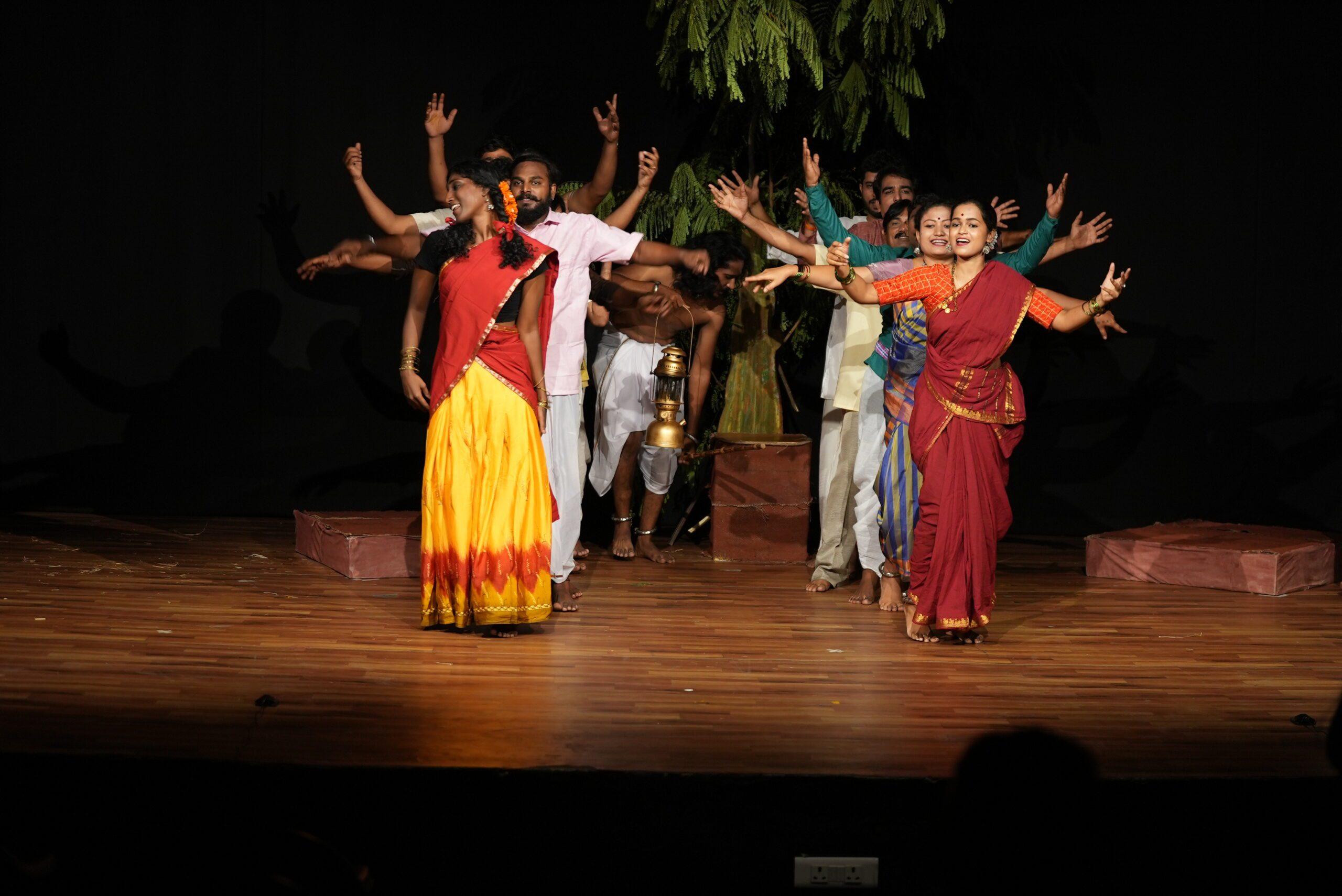 'Manam Theatre Festival' – A Celebration of Performance, Culture, and Community in Hyderabad from November 24 to December 17, 2023
Experience a month-long extravaganza of the performing arts featuring top troupes from Hyderabad, India, and beyond, spread across multiple venues in the city. The festival boasts a lineup of four visiting troupes, four local troupes, performances in English, Hindi, Telugu, and more, as well as a range of events including mini-talks, workshops, and demonstrations, promising an immersive theatrical experience for a diverse audience.
In November 2023, Hyderabad will come alive with outstanding performances, such as "Elephant In The Room" by Durse Brothers (English, Mumbai), "Biryani aur Haleem" by Sutradhar (Dakhani, Hyderabad), "Petromax Panchayat" (Telugu, Hyderabad), "About Ram" by Katkatha (Non Verbal, Delhi), "Afghanistan Is Not Funny" by Henry Naylor (English, UK), and "Bali" by Adishakti (English, Pondicherry). This inaugural edition of the 'Manam Theatre Festival' is presented by The We _ Us Collective, an initiative of the Almond House Foundation. The festival spans four weekends from November 24, 2023, to December 17, 2023, bringing together the local theater community with troupes from around the nation and the world. From puppetry to live music, dancing to masking, and Pondicherry to Sikkim, artists of various genres and origins unite to celebrate the art of performance at multiple venues across the city.
With a spectacular lineup that includes four visiting troupes, four local Hyderabad troupes, four venues, and a total of eighteen shows across four weekends, the Manam Theatre Festival promises to be a true celebration of the performing arts, catering to a diverse audience. Expect to be captivated by the performances of esteemed theater personalities such as Vinay Kumar (Artistic director – Adishakti), Nimmay Raphel (recipient of the Shankar Nag award 2022), Henry Naylor (34 times award-winner from the UK), Yuki Ellias (recipient of best actor at META 2017), and more.
In addition to the scheduled performances, the festival also features a series of fringe events, including mini talks, meet and greets, workshops, and demonstrations by celebrated figures, making it a comprehensive celebration of theater in all its aspects. The Manam Theatre Festival in Hyderabad presents intellectually stimulating plays for the curious and captivating performances for entertainment seekers. The festival brings diverse, inclusive, and unconventional stories to Hyderabad through contemporary acts, experimental productions, and fresh interpretations of the art of theater.
Starting on November 24, 2023, the festival presents four weekends of performances, people, and places, with each weekend featuring a performance by a local troupe on Friday and two plays by visiting troupes on Saturday and Sunday. Interspersed within these weekends are fringe events that aim to foster conversations, exchange of ideas, and community engagement with the troupes. By December 17, 2023, when the festival concludes, the organizers aspire to have immersed thousands of people in the city into the world of theater. Tickets are available on bookmyshow.com.
Noteworthy performances include "The Far Post" by Durse Brothers, featuring masked puppetry with original music by Sikkimese band Sofiyum, and Anurupa Roy's latest work "The Nights" by Katkatha troupe, which reimagines centuries-old folk tales from a fresh perspective. "Rest of the Story," performed by students of the Department of Theatre, University of Hyderabad, is based on Badal Sircar's 1965 play "Baaki Itihaash" and connects the writer-director's lifelong commitment to social issues and innovative experimentation in theater. Adishakti's "BHOOMI," adapted from Sarah Joseph's Malayalam play, "Bhoomirakshasam," is a musical performance that delves into themes of sexual assault and power politics in the workplace. KissaGo theatre's "Shakkar Ke Paach Daane," a Hindi monologue written by renowned playwright Manav Kaul, is an interactive play that explores the complex web of relationships and social barriers faced by a small-town simpleton. "Afghanistan is not funny" by the UK's Henry Naylor tells the extraordinary true story of a British comedian and a Scottish press photographer, Sam Maynard, in war-torn Afghanistan.
Harika Vedula, Founder of The We _ Us Collective and curator of the Manam Theatre Festival, expresses the festival's aim to provide environments and opportunities for creating worlds through theater, fostering conversation, and discussion on the various forms of art.
The WE_US Collective, the social and cultural program of the Almond House Foundation, aims to inspire, express, converse, and drive change through theater. This collective comprises artists, creators, performers, and collaborators who celebrate the power of art in Hyderabad.
The Almond House Foundation, with over three decades of shaping the tastes of Hyderabad, introduces initiatives that engage and empower the city's diverse community. They strive to amplify social and cultural voices through their various undertakings.
Manam Chocolate, an Indian craft chocolate brand, celebrates the journey of cacao from farm to chocolate through annual editions of immersive retail experiences, combining art, music, and storytelling. Their flagship experiential space, the Manam Chocolate Karkhana, is located in Banjara Hills, Hyderabad.
Chaitanya Muppala, CEO of Almond House and Founder of Manam Chocolate, emphasizes the brand's commitment to interpreting businesses not only as commerce but as social enterprises, where craft and craftspeople play a central role in their journey and ethos.
MANAM THEATRE FESTIVAL – SCHEDULE AT A GLANCE
WEEKEND 1 (NOV 24-26,2023)
SHAKKAR KE PAANCH DAANE BY KISSAGO (HYDERABAD)
In the play 'Shakkar Ke Paanch Dane', the protagonist Rajkumar embarks on an unexpected journey, initially doubting his abilities. However, as he seeks a solution to his predicament, he discovers a newfound desire to express himself, drawing inspiration from the five individuals in his life, including Maa, Uncle Pindaric, Raghu, and the anonymous
'Truckwala Dost.'. This journey reflects the universal struggle to recognize and value one's own voice and perspectives.
Directed by: Jay Jha
Written by: Manav Kaul
Cast: Jay Jha
Date: Friday, November 24, 2023
Show Timings: 7:30pm
Venue: Rangbhoomi Spaces, Gachibowli, Hyderabad
Language: Hindi
Duration: 75 minutes
Recommended for: 16+
About Kissago
KissaGo, is an initiative that endeavours to make the "self" meet the 'other self'. The stage is where, we believe, the magic unfolds; a neutral territory where illusion meets reality and vice versa. Here is where the 'story' behind the story is dramatised. We function as a family yet allow the individual to survive without judgement or criticism, a platform where every theatre enthusiast is welcomed with open arms.
ABOUT RAM BY KATKATHA (DELHI)
Inspired by a Balinese version of the Ramayana, Katkatha Theatre's About Ram is about as different as it gets – in the best way possible. The musical is a human-centric, tragic love story narrated effortlessly by the Katkatha team. This is an experimental theatrical piece using excerpts from Bhavbhuti's Ramayana and told through animation, digitally projected dance, masks and puppets.
Directed by: Anurupa Roy
Cast: Anurupa Roy, Pawan Waghmare, Mohammad Shameem, Avinash Kumar
Video Animation: Vishal K Dar
Date: Saturday, November 25, 2023
Show Timings: 4.30pm & 8pm
Venue: NIFT Auditorium, Hitech City, Hyderabad
Language: Non-Verbal
Duration: 55 minutes
Recommended for: 6+
THE NIGHTS BY KATKATHA (DELHI)
Inspired by the meta-narrative of the Middle Eastern folklore collection, Arabian Nights, The Nights by Katkatha Puppet Arts Trust is a Single-Act play, bringing actors and puppets together. Unlike most puppet theatres, this play does not hide the puppeteer. The Nights includes three well-known stories from the collection (Arabian Nights) as well as a new narrative called The Beggar and The King. Besides the four narratives, the play also tells the tale of Scheherazade, the wife of Persian emperor Shehriyar, who must narrate a new story to him every night to survive.
Directed by: Anurupa Roy
Written by: Adithi Rao and Neel Chaudhari
Cast: Anurupa Roy, Kriti Maria Pant, Mohammad Shameem, Avinash Kumar,
Sound design and live voice: Neel Chaudhuri
Light Design: Bharavi
Puppet construction: Mohammad Shameem, Asha, Anurupa Roy
Rehearsal documentation Maneesh Pachiaru, Suhail Parrey
Date: Sunday, November 26, 2023
Show Timings: 4.30pm & 8pm
Venue: NIFT Auditorium, Hitech City, Hyderabad
Language: English/Hindi
Duration: 75 minutes
Recommended for: 14+
About Katkatha (Delhi):
Katkatha is an amalgam of two Hindi words. Kat means wood and is derived from the word Katputli (puppetry), Katha meaning story and together they become puppets and stories. Bits of fabric, styrofoam figures, papier mache sculptures, Shakespearean comedies and Indian epics, the stories from conflict zones, self-help groups run by women, from prisons and the worlds of little children are all a part of their work. For them puppets are not dolls with strings but the theatre of inanimate. Katkatha started as an association of puppeteers in 1998 and was registered as a trust in 2006. Being one of the premier contemporary puppetry troupes of India, Katkatha brings two enthralling plays, based on classic tales. Their inspiring poetic productions use puppets, masks, objects, props with choreography, puppet, animation, actors, and musical compositions to mesmerise audiences.
WEEKEND 2 (DEC 1-3, 2023)
PETROMAX PANCHAYAT BY CURTAIN CALL THEATRE (HYDERABAD)
'Petromax Panchayat' is a captivating narrative set in a village where life's complexities go beyond the picturesque fields. This story goes beyond conventional love tales, immersing the audience in a rich tapestry of human emotions and the timeless struggle between right and wrong.
Directed by: Surabhi Santhosh
Written by: Venkat Govada (Based on literary work of Phanishwar Nath Renu)
Cast: Surabhi Lalitha, Anusha Nuthula, Prabha Santhosh, Sai Kadhira, Vishnu Vimal, Shiva Naga Koteshwar Rao, Ajay Radha, Shanku, Mukesh Sai, M. N. S. Manoj, Vishnu Virat, Surabhi Santhosh
Date: Friday, December 1, 2023
Show Timings: 7.30pm
Venue: Rangbhoomi Spaces, Gachibowli, Hyderabad
Language: Telugu
Duration: 60 minutes
Recommended for: 8+
About Curtain Call Theatre (Hyderabad)
Established in 2021 by Surabhi Santhosh, Curtain call Theatre's motto has always been to "enhance and educate" by providing acting training to all member's the repertory. Curtain Call Theatre stems from the rich lineage of the renowned Surabhi Theatre of Hyderabad with the vision to be a new-age theatre group committed to Performance and training.
BALI BY ADISHAKTI (PUDUCHERRY)
An excerpt from the Indian epic -Ramayana, Adishakti's Bali was written by Nimmy Raphel. Adishakti's Bali is a retelling of the various events that led up to the battle between Bali and Ram, and eventually, the death of Bali. The play explores the notion of right or wrong and how it may change when each character is given an opportunity to voice their thoughts and opinions. Here, Bali's death is placed in the centre and a personal take is presented that will enable us to transition seamlessly-back and forth- from the epic to the everyday and vice versa. The play presents powerful moments through alternate and opposing points of views of Bali, Tara, Sugriva, Angadha, Ram and Ravan based on their own ethics and contexts.
Directed by: Nimmy Raphel
Written by: Nimmy Raphel
Cast: Vinay Kumar, Arvind Rane, Ashiqa Salvan, Kiyomi Mehta, Sooraj S
Date: Saturday, December 2, 2023
Show Timings: 4.30pm & 8pm
Venue: NIFT Auditorium, Hitech City, Hyderabad
Language: English
Duration: 75 minutes
Recommended For: PG13
BHOOMI BY ADISHAKTI (PUDUCHERRY)
Bhoomi is a loose adaptation of Bhoomirakshasa by well-known Malayalam writer Sara Joseph, written over two decades ago. A play within a play, Bhoomi explores issues of gender identity and violence through music and movement.
Directed by: Vinay Kumar
Written by: Vinay Kumar (adapted from Sara Joseph's Bhoomirakshasa)
Cast: Nimmy Raphel, Vinay Kumar, Arvind Rane, Ashiqa Salvan, Meedhu Miriyam, Sooraj S
Date: Sunday, December 3, 2023
Show Timings: 4.30pm & 8pm
Venue: NIFT Auditorium, Hitech City, Hyderabad
Language: English
Duration: 80 minutes
Recommended For: PG13
About Adishakti (Puducherry)
Adishakti Laboratory for Theatre Arts & Research is a performance company based out of Pondicherry, India, engaged in the research and reanimation of traditional and folk knowledge in theatre, dance, music, movement, and craft forms. Started in 1981 by late theatre director Veenapani Chawla, Adishakti has aimed at re-establishing the validity of theatre around the notion of the live presence of the performer and worked towards widening the scope of theatre. The aim is to equip the performer with tools whereby she can impact her audience through an enhanced and vibrating energy both physically and psychologically. Adishakti has been disseminating this alternative performance language through its Source of Performance Energy (SOPE) workshops, and performances based on Indian epics in India and abroad.
WEEKEND 3 (DEC 8-10, 2023)
REST OF THE STORY BY UNIVERSITY OF HYDERABAD
The play pays homage to Badal Sircar's enduring dedication to social issues and ground-breaking theatrical experimentation. It underscores the interconnectedness of individual lives with history and the wider world, emphasising individual responsibility for their surroundings. To align with this ethos, the troupe made deliberate alterations to Sircar's original script, toning down existentialist elements and offering a unique interpretation of the narrative.
Directed by: Rajiv Velicheti
Playwright: Badal Sircar
Hindi Translation: Nemichandra Jain
Cast: Unscripted characters: Anjana Shahjahan, Arun Kumar Singh, Nitish Kumar, Raniya Zulaikha, Vikash Kumar, Satyam Dubey, Shamim Akhtar Sheikh. Characters from the Script: Sharad- Shreyas Gupta, Vasanti- Shreyosree Sarker, Kanak (Act 1)- Janki Tuddu, Pooja Yadav, Nikhil- Sai Krishna Chithari, Biswajit Kalita, Sitanath (Act 1) – Shivam Kumar, Swapnil Singh, Agantuk- Sachin Rawal, Vishal Thakur, Boodha- Geetesh Ujjainwal, Kanak (act 2)- Mansi Bansal, Niharika Choulda, Vijay- Md. Ahsan Habib, Sitanath (Act 2)- Jishnu Kili, Vighnesh Jayakrishnan
Date: Friday, December 8, 2023
Show Timings: 7:30pm
Venue: Rangbhoomi Spaces, Gachibowli, Hyderabad
Language: Multilingual
Duration: 75 minutes
Recommended For: 13+
About UNIVERSITY OF HYDERABAD
University of Hyderabad, a Central University established by an Act of Parliament (1974), is a Unitary University situated at Hyderabad. The UoH's vision, planning and processes embody the core values of National Needs–Global Standards, Innovation, Public Engagement and Social Impact. The Theatre Arts Discipline of S.N. School strongly believes that creating good theatre is an arduous activity and there is no simple formula to achieve it. As an academic discipline within a University system, Theatre Arts concentrates on giving training in seminal concepts, basic principles and practices of drama and theatre to create a successful theatre in society, where live interaction can lead to new terrains of experience and intellect.
AFGHANISTAN IS NOT FUNNY BY HENRY NAYLOR (UK)
Soon after 9/11, researching a comedy project, multi award-winning playwright Henry Naylor and photographer Sam Maynard landed in the Afghan War Zone. What followed was extraordinary: threatened by a war criminal, captured by the Mujhadeen, and targeted by Al-Qaeda. Now, as the Taliban return, Naylor asks what has been lost in the ruins of Kabul.
Directed by: Henry Naylor
Written by: Henry Naylor
Performed by: Henry Naylor
Date: Friday, December 8, 2023
Show Timings: 7pm
Venue: Heartcup Coffee, Gandipet, Hyderabad
Language: English
Duration: 75 minutes
Recommended For: 16+
Date: Sunday, December 10, 2023
Show Timings: 7pm
Venue: (TBC), Hyderabad
Language: English
Duration: 75 minutes
Recommended For: 16+
About Henry Naylor
Henry Naylor is a multi-award-winning UK playwright, who has been described as 'one of our best new playwrights' in The Times, The Evening Standard, and as 'one of the finest British writers on contemporary events,' in Theatre Extra. His plays have won, and/or been nominated for 33 international awards, including one of France's most prestigious awards for the arts, the Globes De Cristal in 2016. He is one of the only handful of writers to have won the Fringe First three times and has won four of the top five Fringe awards at the Edinburgh Fringe, including the Carol Tambor Best of Edinburgh Award. Three of his plays have had month-long runs off-Broadway, and in 2017 alone there were over 300 public performances of his work, over five continents. His work has been translated into eight languages.
WEEKEND 4 (DEC 15-17, 2023)
BIRYANI AUR HALEEM BY SUTRADHAR (HYDERABAD)
In a world where food plays a central role, two beggars, Salim and Javed, embark on a comical journey to survive. They share their stories and methods as they seek charity, but their path takes a hilarious turn when they intercept a special Biryani meant for a Nawab, altering its destination to satisfy their own hunger. The play explores the humorous intricacies of their escapade and the universal theme of survival through food.
Directed by: Deepti Girotra
Story: An adaptation of 'The Pie & The Tart' by Hugh Chesterman
Cast: Ahmed Quraishi, Sattya Bhagat Reddy, Rahim Amir Ali Lalani, Deepti Girotra
Date: Friday, December 15, 2023
Show Timings: 7:30pm
Venue: Rangbhoomi Spaces, Gachibowli, Hyderabad
Language: Dakhani
Duration: 60 minutes
Recommended For: 6+
About Sutradhar
Sutradhar, as it stands today – a Theatre Group, a Casting House and a Voice and Acting School all rolled into one – is an umbrella of numerous initiatives. Formally launched in 1996 with its Casting wing, we have seen many milestones. Sutradhar is driven by the motivation of making sure that deserving talents are rightly recognized, nurtured and manifested. Having created a strong database of talented artists and counting, Sutradhar has become a hub of Actors, Voice Artistes, Scriptwriters, Translators, Directorial Crew, Technical Crew and many other portfolios. These associations have allowed Sutradhar to venture into production.
THE FAR POST BY DUR SE BROTHERS (MUMBAI)
Two enemy soldiers, killed in battle, embark on a journey into the afterlife with the help of an endearing Postman Aunty and her pet Goldfish. Set in a cold, mountainous landscape, where a border cuts through no man's land, the Postman Aunty operates out of a makeshift post office that serves mail to both sides of the conflict. As the soldiers navigate the trials and tests of the afterlife, letters from the war unfold, scars begin to heal, and peace feels close like a spring morning. Filled with elements of mask work, contemporary dance, and puppetry, 'The Final Journey' will transport you to a magical realm. The music, created by the Sikkimese band Sofiyum, blends Lepcha folk and contemporary sounds to create a distinct and captivating world in the snowy mountains.
Directed by: Yuki Ellias
Written by: Yuki Ellias
Co-produced by: G5A, BNP Paribas and Durse Brothers
Cast: Yuki Ellias, Tapas Boro
Crew: Sumaiya Merchant, Mati Rajput, Asmit Pathare, Priyanka Babbar, Phalguni Vittal Rao
Musicians: Ongyal Tshering Lepcha, Rathap Lepcha, Noel John Karthak, Pintsok Dechin Lepcha, Mickma Tshering Lepcha
Date: Saturday, December 16, 2023
Show Timings: 4.30pm & 8pm
Venue: MCRHRD, Jubilee Hills, Hyderabad
Language: Non-Verbal
Duration: 60 minutes
Recommended For: 12+
ELEPHANT IN THE ROOM BY DUR SE BROTHERS (MUMBAI)
Master Tusk is a young boy, who has been given a new head – an elephant's head. Confused and bewildered, he finds himself lost in the forest. Danger lurks at every turn. He encounters a motley couple – Makadi (spider) and Moork (poacher), a clumsy duo in search of a big-ticket ransom. They kidnap Master Tusk, but their scheme goes awry when a prophecy is revealed and changes everything. Amidst a cursed love affair, an encounter with an eccentric old elephant and a hunt for a missing head, Master Tusk sets off on an adventure that changes his life. But will he be able to carry his head on his shoulders? Inspired by the world of Indian mythology, Elephant in the Room plays homage to the beloved God, Lord Ganapati, in this quirky and poignant reinterpretation of his story.
Directed by: Yuki Ellias
Story by: Yuki Ellias
Written by: Sneh Sapru
Cast: Yuki Ellias
Lighting Design: Asmit Pathare
Date: Sunday, December 17, 2023
Show Timings: 4.30pm & 8pm
Venue: MCRHRD, Jubilee Hills, Hyderabad
Language: English
Duration: 60 minutes
Recommended For: 12+
About Durse Brothers
Yuki Ellias is an actor, director, and business coach. As an actress, she has performed in the US, Canada, Australia, Italy and India. She played Hermia in the highly acclaimed production of A Midsummer Night's Dream, directed by Tim Supple at the Royal Shakespeare Company in Stratford Upon Avon and the Roundhouse London. She was the Movement Director for UK's leading opera company Opera North on their production of Mozart's Magic Flute. Her theatre company Dur Se Brothers has produced four shows including the multi-award-winning play Elephant in the Room which has toured internationally including a run at the Edinburgh Fringe Festival 2017. As a corporate coach she uses theatre art techniques for high impact communication initiatives for global business leaders and teams across several industries. Yuki has trained at the Jacques Lecoq School for theatre in Paris and is a certified pedagogue from the London International school of Performing Arts.