Orijit Sen speaks to Rajeshwari Kalyanam about his many influences that reflect in his latest series of paintings on Hyderabad. He will be showcasing the works at Kalakriti Art Gallery
If you are one of those ardent followers of artist Orijit Sen's work, you would have surely noticed his beautiful digital art of the iconic Hyderabadi heritage monument – Charminar that pops out of his page. This piece digital art is part history part surreal like the Deccan paintings is Orijit's 'attempt to breathe a new life to the image of Charminar.'
In his social media post, he mentions – It is from the 'Char Charminar I: The Garden of Poetry'. 'It is also a portrait of an extraordinarily talented and complex man: Sultan Muhammad Quli Qutb Shah – the builder of the Charminar. Apart from being a brilliant and long reigning administrator, he was a scholar and poet in Persian, Urdu and Telugu, and is considered the first to have compiled a Diwan in Urdu.'
A quick chat with him reveals interesting aspects of his many influences that he carries with him of the city of Hyderabad – It is an interesting confluence of the old world and new age metropolitan, he says.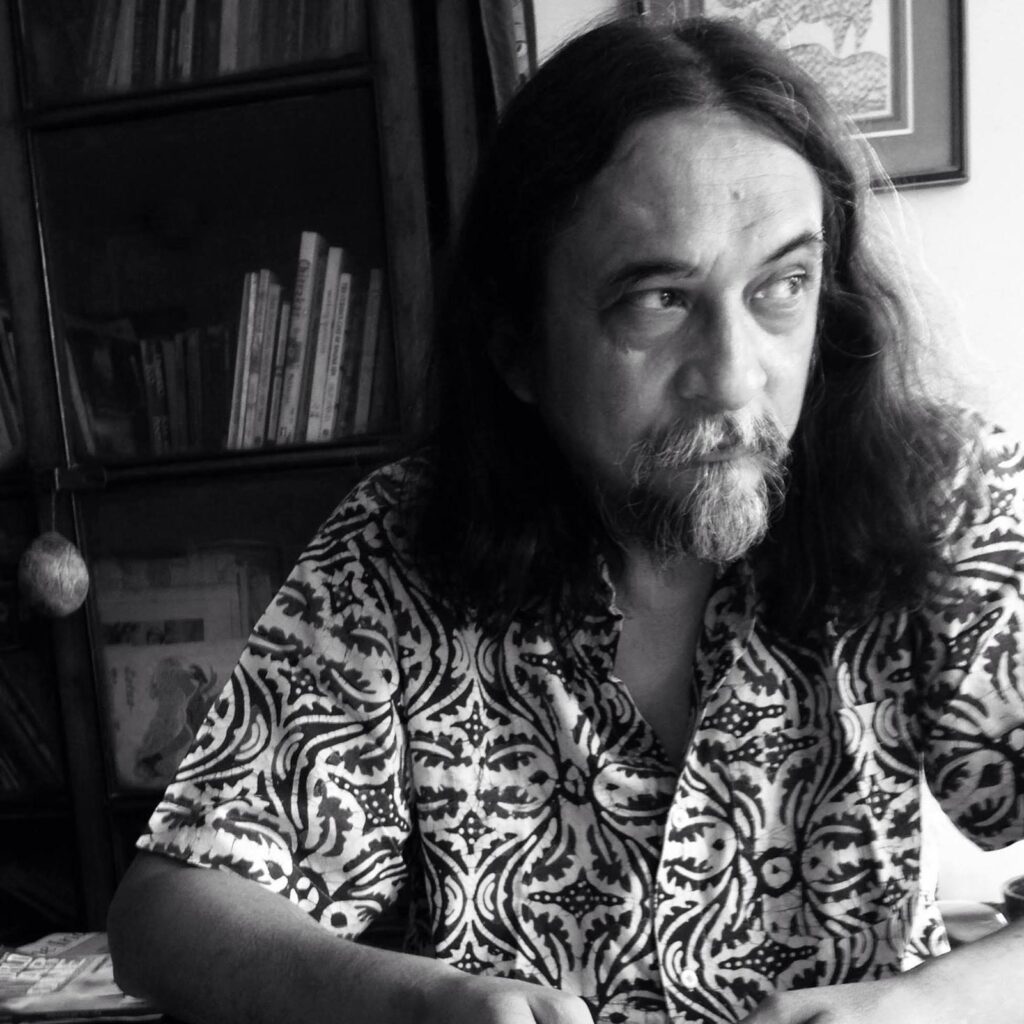 "I grew up and spent some of my formative years in Hyderabad when I was a teenager. It was during the 70s when Hyderabad was a different city. But I have lot of memories, especially of the old city which I used to visit when I accompanied my family to the market. That was the stage of my life when I started to want to be an artist, and I would make sketches of different places," Orijit Sen shares.
Charminar in particular fascinates him. He mentions – 'The Charminar rightly occupies pride of place as the most visible and recognized symbol of Hyderabad. Unlike many other monuments that hold a similar status in other cities – such as the Eiffel Tower or the Howrah Bridge or the Statue of Liberty – the Charminar is associated with the founding of the city itself, and designed perhaps with the intent of symbolising it. Throughout my own years of ramblings and explorations of the Old City area, the Charminar has always appeared to me like it's beating heart. In the old city, all roads lead to the Charminar!'
In addition to the nostalgia of growing up and walking around the historic old city, sketching stayed with him. Even today Orijit believes in sketching. "It helps me internalise the experience," he explains.
He had come back to Hyderabad in 2015 with his team of photographers and artists, and he would sketch the various buildings, people, shops…even while documenting them as photographs. It was the time he stood in front of Charminar and sketched it. That probably has translated into the detailing in his 'Garden of Poetry' work.
"Prshant Lahoti of Kalakriti Art Gallery saw my work and was excited about it. He bought one of the prints and wanted to do something similar with Hyderabad. He invited me back to the city to experience it again. Since I loved the city, I decided to come, and explore it. A lot has changed, but I chose to focus on old city area. We also came during Ramzan and Moharram and documented the scenes. We made a lot of live sketches, drawings and photographs."
He adds, "To get the feel I have to sketch. My research work involves a lot of sketching. I also spoke to a lot of people, read the history, learnt about the Deccan Art…"
"Those works from 2015 and 2016 were drawn from life. I am reflecting on them, on how I want to interpret for my art."
On the many influences and his process for Char Charminar, Orijit Senelaborates – "Something things I absorbed and I am making it in my own way like I am allowing myself to be influenced by Deccan style."
There is yet another work where you see Hyderabad in the middle of a storm standing like a light house. He shares, "I am intrigued by the fact that Hyderabad has always had the history of being a place of support to people from many parts of the world. People from Iran, Middle East and many other countries have settled here. The city has had Turkish princesses, who played a role in modernising it. I thought of Hyderabad as a beacon, a light house for people struggling, adventurers, travellers, many of them who stayed back and made economic progress."
For Kochi Muziris Biennale Orijit made a glass model of Charminar, which was exhibited as a part of a jigsaw puzzle. Visitors would come and work with the puzzle, and once its solved, the glass model would light up. When he had placed the glass model against the window of the room allotted to him, he happened to look through it and saw the Kochi harbour and ocean that lay beyond. And the image stayed with him, which was the genesis of the series.
"I wondered about transposing Charminar as a symbol to locations and places that are disassociated with it otherwise – to see it afresh. "We perhaps need to look at familiar in a different way is how I interpreted," he adds.
Orijit Sen attributes the series to the efforts of Prshant from Kalakriti Art Gallery. "I cannot thank Prshant Lahoti enough for all his support. He had been an excellent host during our visit to the city. He is the reason behind the series. I am excited to showcase my works soon at Kalakriti Art Gallery," shares Orijit, who continues his work on Hyderabad, which he expects to showcase in September.