Punjabi Food By MasterChef Sweety Singh – Traditional Style
The Flavours of Punjab menu at Kangan restaurant, Westin Hyderabad available on alacarte till April 30 for dinners is curated by popular Master Chef Sweety Singh
Chef Sweety Singh as he is known says he has got rechristened while he was working with ITC group. And he was already a chef of international renown for his Punjabi Khana. Hs travelled the world introducing his food wherever he went. And yet if there is one thing that we see in him is his quintessential Punjabi attitude, his down to earth demeanour, his love for authentic traditionally Punjabi khana and his passion to serve the best.
Panjabi khana hathanaal Khao chaku kante nal Khande hotha, nuhanu svaad nahin milega!
I heard this voice from behind me as I was navigating Bhatti da Kukkud – absolutely delicious, smoky and hearty portion of char grilled spring chicken flavoured with red chilli and yogurt!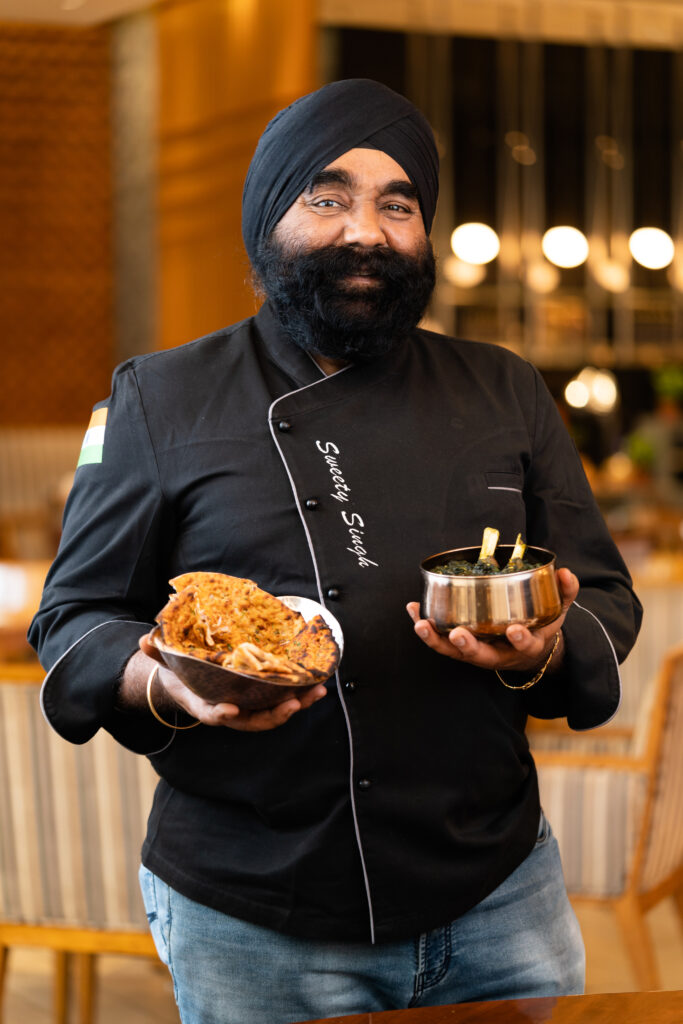 I turn to see the familiar friendly face that used to stare out of the instagram pages and online interviews of various publications gently admonishing me for eating his khana the wrong way.
And, out went the cutlery and I dug into delightful meat de seekh kebab followed by the main course saag wala meat that has the tenderly cooked meat in spinach gravy, totally cooked in tomato gravy in the very regional style, shaahi maa de daal – which is what we know as Dal makhani but in chef's traditional style of cooking black lentil with tomato, cream and butter – less cream and more slow cooking is the trick behind this extremely delicious dal.
Chef Sweety Singh's recipes are robust without being too much spicy, rustic with meat cuts that are way too generous yet delicately flavoured, and mostly they are refreshing change in the over dose of Punjabi food across the country where traditional style took a beating.
Take the kadhi pakoda for example. He says he has learnt it from his mother where the buttermilk is the residue after taking out butter and the creamy kadhi somehow is way too earthy and tasty and the Punjabis on the table were transported to their childhood and grandmother's cooking.
Keema kaleji de gurde, Masala Sarson wala jhinga, Highway Paneer Tikka, Tandoori Bharwa Soya chaap and desserts like kesar kheer badam Wali, malpura naal rabri and bhawa kala gulab jamun complete 'The Flavours of Punjab' menu at Kangan restaurant, Westin Hyderabad available on alacarte till April 30 for dinners!
Meeting the Chef and chatting up with him over the food is the bonus.