Mac & Cheese with a bit of love & bacon
Recipe is easy – For a cheesy, totally relishable Queso Mac & Cheese with Bacon & Mushroom just follow  these instructions to the T
INGREDIENTS
2 cups macaroni uncooked
2 cups milk
2 Tablespoons cornstarch
1 teaspoon smoked paprika
¾ teaspoon ground cumin
1 teaspoon salt
¼ teaspoon black pepper
4 slices of bacon chopped
6 medium mushrooms
½ medium red onion chopped
1 diced green chilli
2 garlic cloves chopped
1 cup sharp cheddar cheese shredded
¾ cup sharp cheddar cheese for topping.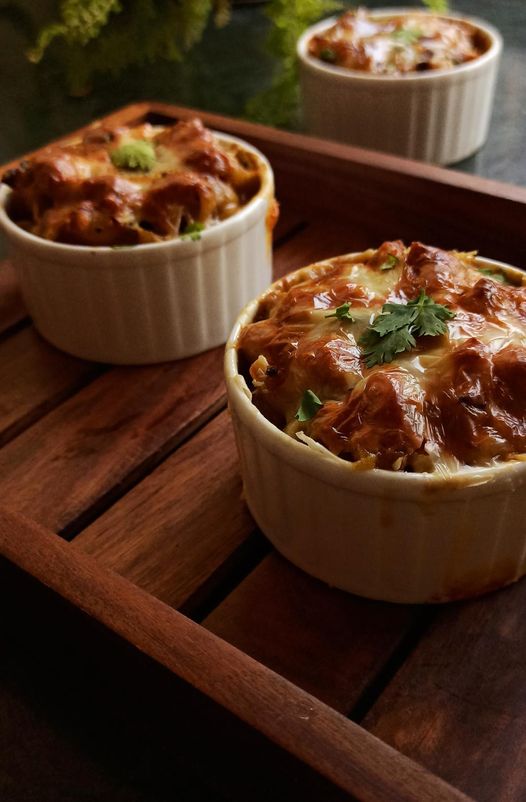 Method:
Grease your ramekins and set it aside.
Preheat oven to 350 degrees F.
Cook macaroni according to directions on the package, drain and keep warm.
In a large mixing bowl, whisk together milk, cornstarch, cumin, paprika, salt and pepper. Set aside.
In a large saucepan, cook bacon until almost crispy.
Add onion, mushroom and garlic and cook, until translucent.
Add milk mixture to sauteed veggies and bacon. Cook, stirring often, until the mixture thickens.
Add both cheeses, stir few times. Add diced green chillies. Stir until cheese is completely melted.
Add cooked macaroni. Stir until well combined.
Pour the macaroni into the greased ramekins.
Top it off with additional cheddar cheese.
Bake for 10 minutes, until the cheese topping is melted.
You can place the dish under a broiler for 2 minutes to toast up the topping.
Remove dish from oven and cool for 15 minutes before serving.
Mac & Cheese with Bacon & Mushroom
Recipe is by Parvathi Chandran, a corporate communications professional. Food for her has been a means to escape mundane life. She is highly inspired by her grandmothers cooking.. She is passionate about exploring recipes and playing with ingredients and flavor profiles.. She is happiest when her food makes people around her happy