Sunday brunch at Prego, the Italian speciality restaurant at Westin Hyderabad Mindspace hotel has new menu courtesy Chef de Cuisine S. Unnikrishnan, who has curated the wholesome fare with classic and robust Italian recipes.
A good Sunday brunch is the one that not just makes your Sunday better but, which leaves you with memories through the week – the experience of the food that lingers beyond. Italian pool-side restaurant Prego at Westin Hyderabad Mindspace has always hosted such amazing luncheons.
Sunday brunch at Prego has new menu courtesy Chef de Cuisine S. Unnikrishnan, who has curated the wholesome fare with its fresh veggies and cheese platters, the anti pasti, soups, grills, pastas, risottos and the amazing desserts – which has to be addressed with one important thought in mind – one can never have too much cheese when on Italian diet.
Besides the dazzling array of appetizers are the greens – one can try the classic la caprese using fresh buffalo mozzarella, tomatoes and basil pesto or the assorted fresh lettuce with choice of accompaniments and dressings – for instance, something as simple as lettuce with sundried tomatoes with some mustard vinaigrette drizzled over it tasted divine. The more creative ones can try throwing in some olives, capers, pickled veggies or the smoked cold meats to go on the side. Then there are pre-mixed salads that are well balanced with taste and texture designed to please – try the assorted fresh lettuce and pear salad with green peppers infused dressing and blue cheese that came pre-portioned served in a small glass or perhaps the parma ham and melon with aged pecorino cheese. My recommendation – have both!
On the main menu you can choose to assemble your own pasta. We tried the easy way – the chef's recommendation – Orecchiette con pomodoro e ricotta – simple coming together of pasta, ricotta, cheese and cherry tomato sauce is indeed amazing. Also, on my plate was verde pisello risotto, gamberi, ment, limone confit – green pe risotto, prawn, mint with lemon confit – a cheesy delish!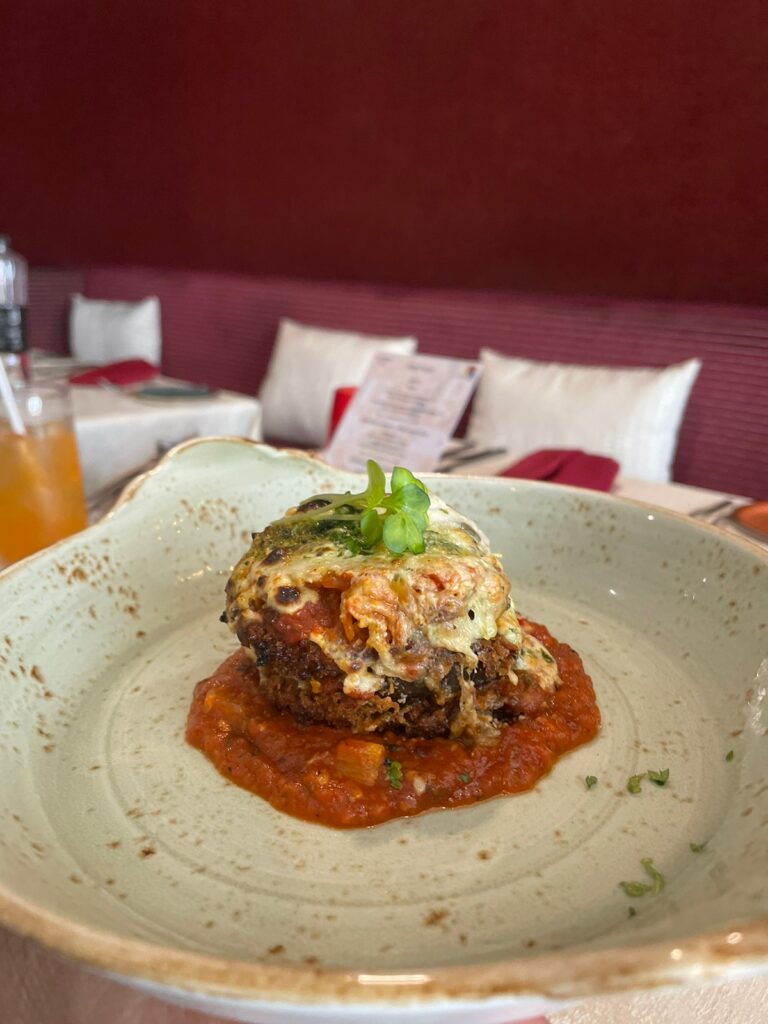 That said the menu is expansive and includes the likes of Risotto with porcini mushrooms and fresh herbs, lemon seafood risotto with gremolata, and in the pasta section spinach and ricotta gnocchi in fresh tomato sauce and crispy basil or the much-loved lasagna with parmesan and mozzarella cheese – plus there are the thin crust pizzas directly from the oven.
The second main course too vied for attention with its amazing choice of dishes – but are we glad to settle for the super delicious – melanzane alla parmigiana – traditional layered crumb fried egg plants baked with tomato sauce and mozzarella. There is also the pan seared salmon with caprese, vegetables, kalamata olives and white wine.
The carefully curated, amazingly arranged Sunday brunch at Prego left many memories – especially of the paninis and bruschettas – I could have easily made a meal out of them.
That said the menu isn't fixed, and every time you go for Sunday brunch – be prepared to be dazzled and surprised. And, if you feel too full, just stroll round the pool for a while before indulging in the Dolce – The honey cake, tiramisu, panna cotta, the tarts, pastries, cheese cake.
Give your food extra edge by pairing it with some cocktails and mocktails made as per your preference at the bar or add some sparkle with the Italian wines.
Bon appetit!
More Details: 
Sunday Brunch
Prego, Westin Hyderabad Mindspace
Price per person:
Sparkling Brunch – INR 5000 plus taxes
Alcoholic Brunch – INR 3750 plus taxes
Non – Alcoholic – INR 2750 plus taxes