Gaurav Khanna has aced the character of Anuj Kapadia in the serial Anupamaa. His presence ushered in freshness in the serial. Gaurav in fact has charmed everyone with his acting. His chemistry with Rupali Ganguly is much spoken and written about. Even though Gaurav has done many serials Anupamaa has catapulted him to the top. While on the sets Gaurav took some time off to do an interview regarding the serial.
You had said in an interview Anupamaa is a game changer for you. Is it due to the role and the adulation you have got?
I personally feel it is because of the role in the first case because this character has never come on screen prior to this. I have done so many television shows before this. This is my 17th or 18th show on television. As far as my career goes this is one of the most complete characters I have got to play and that's why this is the game changer, because as an artiste you can only strive for certain things and once have those things in your arsenal only you can you fire. I feel I am blessed that the role was written very aptly for today's scenario because nowadays we see a very different type of male leads on television. So, Anuj Kapadia's character is absolutely very different from all of them, yet he is so much more.
What made you take up the serial in the first instance? Was it because of the role, the story or the producer Mr Rajan Shahi?
I think the first and the foremost will be Rajan Shahi. Before listening to the story I got a call from his office. So, that got me interested. And then once I heard the character I could relate so many uncanny similarities with the character. I had to do this role.
In what way do you think you could relate to the character in terms of mannerisms characteristics?
I think there are a lot of things which crossed over between Gaurav as an individual and Anuj as a character. I would say the style the character has.  I would say in my personal life also I love wearing suits and formals. My fans who have been watching me over the year would know that. A lot of which Anuj does, a lot of attires which he wears and the way he wears is very similar to what I would wear in my personal life. So, there are so many things which I brought on the table being Gaurav. I have a peculiar style of wearing a formal suit. For example I generally wear it with a pocket square, have a neck tie generally in my personal life. I wear double cuff collar, cuff sleeves – very intricate and very personal things. First, was the dressing sense the character had. Second, was his attachment to his family. I am a very homely guy, I am very attached to the family. So, is Anuj on the show! He writes and he says poetry. I used to do that back in the school days. Don't do it now, I only paint – oil on canvas.
So, there was quite a bit of relatable characteristics…
I personally feel when I heard the story and the characteristics of Anuj I just thought that there is a part of Gaurav in Anuj.
Did you have any apprehensions or doubts about this role when you took it up?
I did not have any apprehensions or doubts. This was the first role where I had to play a mature character. In my web series which is going to be out soon which I shot before entering Anupamaa I am playing a 24-year-old guy. Whereas in Anupamaa I am playing a 43 or 44 year old guy. As an actor, it is always good as you have to have some variety in your roles because only then as an actor I can grow. I took it as a challenge. As an actor I try to change physically for a role. I have done that in the past also and that's what I did in Anupamaa too.
How did you prepare for the role physically and mentally?
I stopped working out first because I wanted the guy to be in not very well built shape as I wanted to do justice to a guy who will be extremely busy with his life. So I wanted him to be fit but not muscular. I gained slight weight on my face and body to add little age as I tend to look pretty young otherwise. I am very happy that the creatives agreed when I requested to wear spectacles in the show because I thought I wanted little maturity on the face as it was such a mature character to play. Coming from the web series where I had to play 25-30 year old happy go lucky guy I really wanted something different. Since I thought I should be physically different I prepared a different sort of a walk for this character. Some mannerisms in the show are there like the way he moves his hand while speaking. I tried to see a lot of world leaders and world's biggest entrepreneurs. I watched their interviews for some time. I tried to figure out what do they do generally when they speak to an audience and how they speak to somebody in person. So, I tried to incorporate that – I would say something like a Richard Branson because this guy is unmarried and is also a business tycoon. I wanted him in that playful zone. If you see Anuj he has a very flowy body language. I purposely kept that and people are liking it and so I am happy.
This is the first time you wore spectacles…
Yes I did. I just wore it for the role.
You have received tremendous adulation and praise for this role. How do you perceive this?
I think I am very humbled by the fact that people across the globe are loving this character. I am getting feedback from different countries. It's really surprising. But it's part and parcel of an actor. I am just blessed that I am a part of this show and I am able to do justice to the character. So I am happy. I am thankful to the fans who have stuck with me in the last 16 years of my career. I want them to see a new me in every new show.
Anuj is a much loved character in the serial. Your thoughts on this?
I think it was the need of the hour in the show because Anupamaa was going through a lot of personal crisis. Everybody loves a saviour I would say. So this guy was right there for her. He did not want anything in return. He is the best character from all mixed into one. From Mills and Boon to fairy tales to character, he is the amalgamation of all the Prince Charming from all over the world.
I think we both are very spontaneous. I hardly remember that we would have practiced any scene. We just read it once and we just go once the director says action because I don't think much and so does she – Gaurav Khanna
How difficult or easy is it for you to carry on this character and please the audience?
I think every character has its own journey. Once the car and the wheel get rolling you just have to go with the flow. This is what I have experienced as an actor. What you can do is to push start a character and then you would have to leave the character to grow in its own journey. I personally don't know how Rajan (producer) has planned the character ahead and he does not like to reveal much even to us. So as much as I know personally I go with the flow. Of course I have succeeded in making a framework as such of Anuj Kapadia's character. I just play by those goals in my head. I don't think much frankly. I just go, once the director says action I transform into Anuj and I just do what Anuj would have done if I was Anuj. So that's how I go about my work.
Do you have any yardstick or conditions to work?
Not really, because I am one of those actors who will never say my character cannot do this. My school of acting is from a very natural point of view. I don't like restrictions put on my character because I feel that even in normal life, we as individuals, would be nice to somebody, we may not be nice to some people. So it is never that I will always be the same with everybody. Generally I take my character to be like that. Yes of course, the patience level, reaction time of every character is different but I will never say never! That's my motto even while acting. You would never know how the character graph would go and where it will end up. Personally I never thought Anuj would be where he is right now. I am really amazed and humbled and thankful to god that I am getting immense love.
You never anticipated the kind of praise and adulation you are getting that you have got…
I was not there from the beginning of the show. I just came in between. Actually I never anticipated that and this was the first time I am doing a show from between and not from the start. That I did because of I didn't want to lose a chance of working with Rajan Shahi because he is a master storyteller and the rest is history I would say (laughs).
What do you see in Rajan Shahi as he is such a successful producer and storyteller?
I think he is a fantastic amalgamation of a creative mind and a production mind. He is a brilliant storyteller as well as a fantastic producer or businessman. Generally what you get are people who are absolutely creative in their head and they don't understand numbers. On the other hand, you get people who are absolutely into numbers and they know nothing about creativity. What I have observed working with him is that he has the right mix of business and creativity together. And that's why he is so successful. Coming from my MBA background if I have to do an analysis of him this is what I would tell.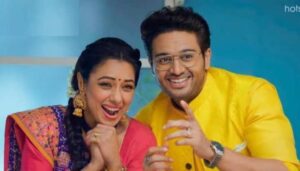 Your chemistry with Rupali is very good and is much talked about. Is it very spontaneous and natural between both of you or do you consciously work on that level?
I think we both are very spontaneous. I hardly remember that we would have practiced any scene. We just read it once and we just go once the director says action because I don't think much and so does she. She is a fantabulous actor. Our timings match and that is very important for a couple to realise that the pauses should match as actor. So I feel somewhere we have cracked that listening and speaking timing and that really works for us.
How is your rapport with the rest of the cast?
It is fantastic. I love working, I love coming on the set. The days I am not working I feel I should just come and chill around because I am a workaholic. In 16 years I have done 18 shows. So that says something about me being a workaholic. I just love the whole vibe of being on the set and working and that's what I am here for.
What keeps you going day after day specially in a daily serial?
I always wanted to do something which my parents are proud of in real life. And that's what keeps me motivated in real life. Every role I do people come and tell my parents your son did well. That's the motivation for me that in the next role more number of people should tell them he did even better and that's why I keep updating myself, upgrading my craft and my talent. Sometimes I succeed, sometimes I might not have but the thing to do better is always there. Right now it's Anuj. I don't know what in the future it will be. I will always give it the best shot.
How supportive is your wife? What is her role in terms of assessing your character in serials?
I think Akanksha has been very supportive like there is this song The Wind beneath my wings. It is very apt for her because she is an actor herself though she is not doing any show as of now but she understands the time requirements. She also understands me as a person. She never stops me from doing any role, any scene, nothing. I think she is a lovely wife and supports me in the best manner. That's what matters. She is more of a friend rather than a wife I feel. I still feel we both are in the courtship period though we both are already married.
What do you think are the necessary qualities/habits required for acting in a daily soap? It must be strenuous working day after day or year after year?
Absolutely. Even in the times of the pandemic television was one of the very few industries working. Working in television is a full-time job working 24/7. It is like any other service you are part of. We just can't stop working because no matter what, the show must go on and the show definitely goes on in television. Be it films or theatre, everything halted once the pandemic hit but I am very proud to say that only television was the only industry which was working 24/7 churning out software. You have to be in that zone to be a part of television. You can be an actor, to be a television actor it takes something else. I don't know what it takes but I enjoy working, I love doing what I do. I don't have any specific mantra. Everyone should try, if they like it they stay, if they don't the sky is the limit.
This is what keeps you going day after day…
Yes. I don't think much I just want to do something better from yesterday. If I do a scene as Anuj yesterday I would want to come on the set today and outdo myself from my yesterday performance. Sometimes you succeed, sometimes you don't. At least the wish is there to go forward.
Do you find time for any hobbies or pastimes?
When I am working, I do not get time for any of my hobbies. But when I am not working and in between shows I get time. I am homely sort of guy. I only surface when I work. That's why not many people know me and they all think this is kind of my first show or second third show. When they read about me they realise that I was in that show. I change myself physically so half the time it is not their fault. I want to be known with my character name rather than me. If people call me Gaurav on the streets then I think I am not doing justice to the role which my producer is paying me because producer wanted to show me as a specific character and not show me as Gaurav. So I am very happy when people see me and call me from my character names 10 or 12 years back.
What do you like to do in your spare time?
If I am not working I paint. I do oil on canvas and I work out. I have not exhibited. Perhaps I will do so some time.
What do you think of social media today- bane or boon?
I would say it is exactly the same necessity as a car today. Now you can use your car meticulously and reach your destination or you can drive rashly and bash into a tree. It is up to you. I feel  social media is a very good platform if used correctly because it is an instant connect with your fans and audience who would want to know more about you. I remember my fans would write letters which would reach me in a month's time from overseas. They used to send gifts and hand-written letters, paintings and I really love all their effort which they take. Now because of social media they just upload a picture and I can see it, I can respond on it. The world has become pretty fast this way. I am very happy social media is there. Yes, of course anything in excess is not always very welcoming. Too much invasion of privacy is something I do not stand for and that's why I do not post a lot of pictures and I try to keep a fine balance between being there and not being there.