VirataparvamReview
Virataparvam – is that part of Mahabharata where the Pandavas go into hiding in disguise. That the director arrived at this title for a film with the naxal movement of the 90s as the background is interesting. That time in history when the naxals in Telangana region, often called 'Annalu' were out there hidden in the forests and would make appearance in the villages to help people resolve issues, hold their courts and follow their laws – when several poor and the oppressed found themselves as naxal sympathisers for the only reason that they believed Annalu were on their side when the rich landlords exploited them and that the naxalites would arrive to save them if they called – Venu Udugula's film is set in those times. Those were also the times when naxalism was dealing with other issues – police encounters, growing mistrust, and antagonism towards establishment and the police, leading to violent incidents, coverts from within the party and those who would come into the party to misuse the power for personal agenda weakening the movement. In this troubled time there was one woman Sarala, who made it into the news after an unfortunate incident. The story of 'Virataparvam', which director Venu Udugula insists is majorly fictional is based on the incident.
The protagonist Vennela (Sai Pallavi) falls in love with the poetry, poet and naxalite – Aranya alias Ravanna (Rana Daggubati) – head of a dalam – and decides to follow him on his path – perhaps like several other youngsters, many amongst them educated, who found their path into the forests during the time. However, love is her inspiration and not revolution. It is this love that makes her read and imbibe communist ideology, and gain understanding of Marx, Mao. For Ravanna there is no truth beyond his fight, and for this reason Vennela decides to follow on his path.
VirataparvamReview
Virataparvam is in principal a love story. It also tells the story of a movement born out of ideology, fight for equality, and against oppression. And, the narrative is based on extensive research.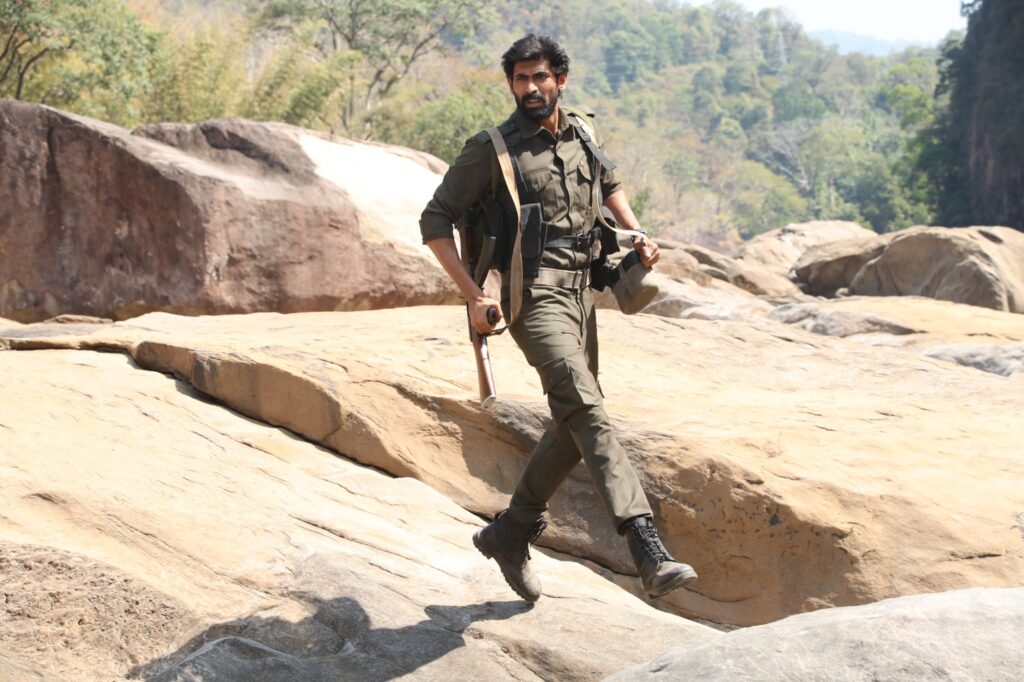 Venu brought together love and war on one canvas in the most eloquent, and evocative manner leading to an inevitable end leaving behind questions of right and wrong – of what could have been and what it was. With Suresh Bobbili's background score it was indeed an exhilarating experience. That goes for the songs – Nagadarilo, Kolu Kolu, and Chalo Chalo. The costumes, the scenes, the vibe are all endearingly Telangana, which includes even the beads necklaces that Sai Pallavi and friends wear.
Saipallavi delivered her best through out. Rana needs to be given three cheers – for co-producing the film, for deciding to act in it and for standing by it through Corona. Ravi Anna – the saviour of the poor, the brave leader – finds the right representation in Rana whose expressive eyes talked with the audience. The intensity of his anger, the tenderness of love, the irreverence for anything beyond his fight, the sadness – it is all there.
VirataparvamReview
In Telugu there are films with heroes portrayed as honest police officers, many of them who even take law into their hands to deliver justice, not to forget the glorified encounter specialists. And, then there are most of our heroes who are a law unto themselves, and who go around slaughtering the bad guys. We love our cinema in all its madness and larger than life format.
Here's a film that takes a leaf out of reality, and puts it out there with objectivity and sensibility. How ready are we to view it like history and take it with a pinch of salt? That's a million dollar question.
Those were the times far removed from present, but not without the context of political oppression, which is far too familiar.
Virataparvamreview
Venu Udugula treads this uncharted territory of creating a parallel narrative of human relations and emotions that's fictional set against the backdrop of war and strife. And, he manages it quite well. And this he does by employing strong technical crew and an amazing set of actors. Saichand, Rahul Ramakrishna, Naveen Chandra, Priyamani, Easwari Rao, Zarina Wahab. Cinematography is by Divakar Mani and Dani Sanchez – Lopez. Made under Suresh Productions, the film is produced by Vijaykumar Changanti and Sudhakar Cherukuri.
#VirataparvamReview