Godse released in theatres on June 17 and the initial reviews have been quite positive. This is a love story between me and the society, says Satyadev
Satyadev did not have a dull phase through the last couple of years despite the lockdown – Uma Maheswara Ugrarupasya, Thimmarusu, Bluffmaster or the Sarileru Neekevvaru with Mahesh Babu – every movie he did was embraced by his audience in all earnestness; this despite the length of his role. 
As he comes back in an action role as a vigilante, posing an important question to the society in 'Godse', the audience are again enthralled by the powerful performance. The film released this week on 17th, June sharing space with a biggie – Virataparvam.
And, the reports came in slowly and steadily declaring 'Godse' a winner.
What's with the name Godse? – Satyadev explains how Godse gets his name from a childhood play where he enacts the role of Godse. "This young boy is supposed to play the role of Godse and enact killing Gandhi with a plastic gun. But he refuses and says I can't kill. I love Mahatma. The story is about how this boy grows up into this gun wielding vigilant. The name is an important part of the story, and Gopi decided on the title from the time he wrote his story," shares Satyadev.
"In the movie we pose a very important question. We spend 20 – 25 years of our life studying something and the rest of the 25 years doing something else, which is true for atleast 95% of the people. I saw so many chemical and mechanical engineering students work for IT, and many graduates working for Zomato. They do this because they have no set destination. They have no where to go. I related to this issue and thought it will be nice to question this through cinema."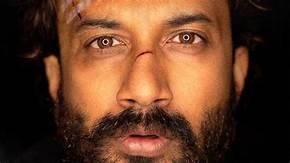 In personal life too, Satyadev questions exploitation and misdemeanor. "Even if it is Rs 1 that is being wrongly collected I protest. I can donate money but no one can wrongly take it from me, he states.
Director Gopi Ganesh and Satyadev worked for 'Bluffmaster' together. Even though the film didn't do well in theatres due to the situations at the time – the film was released on OTT and it attained a cult status. Satyadev says he owes a lot to Gopi because of his trust in him. He tried his best to get me into 'Bluffmaster', and that was sweet," he mentions. "His core strength is how he can say the most complex of things in a simple manner. He is stubborn and makes sure he gets what he wants. His making is very good too."
About the lead lady Aishwarya, he mentions how wonderful she is as an actor, "She has done some very good films in Tamil and Malayalam. This is an amazing launch pad for her in Telugu."
"However, the film is not about the lead pair. This film is the love story between me and the society," he adds.