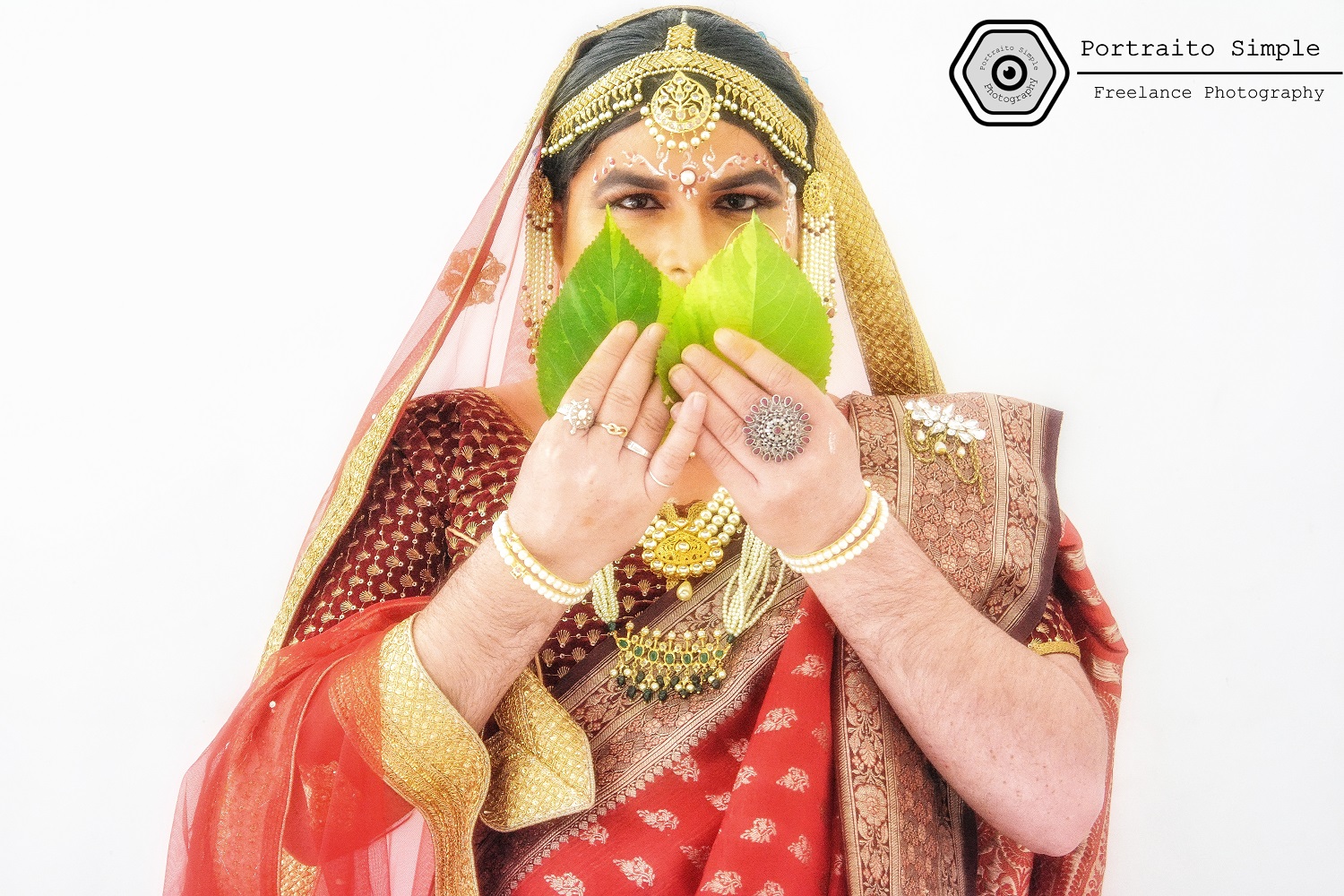 A Drag Artist's Experience of Dressing up as a Bride
As a 'Gender Fluid Pan' person, classical and expressionist dancer, drag artist Patruni Chidananda Sastry recreates 'Potrolekha', the bride taking inspiration from the poem by Rabindranath Tagore. He shares his experiences
2021 has started in a full swing with people going back to their works and hangout places, the vaccine coming and avenues opening and welcoming artists to take the stage. This year for me also started with a ray of new hope and sunshine. The lockdown gave me a great way to explore my art of drag by bending it left right and centre and finding my true calling of what drag means to me. The idea of acceptance and the purpose of putting performance were some thoughts that I pondered upon. As a 'Gender Fluid Pan' person my self, my drag shifted from one expression to the other, fell in love with both the extreme masculine form I present to the most feminine form I dress into and when I decided to come back I had in my mind to use these aspects to talk about how gender plays a role in the day to day life.
While this was going now, 2021 had offered me one of my amazing gifts I could ever get, someone who stalked my Instagram for all the drag shows to the one who loves me indefinitely from what I am, what I do to what I envision and my politics of gender. This was the time I fell in love with my to-be wife. I felt that she was just me with a different body assigned. Though it puts me up into the conventional "house-hold" set-up that society wants us to be in but in reality, it gave me space to be who I am and what I am with a very strong companion. So, I ended up putting on a ring and decided to marry in the coming months.
As the marriage dates were fixed the obvious things came first, shopping for the bride, where both side parents rushed to keep the best bride look dress for my partner. And as we were flipping the choices of dresses she would wear, a thought struck my brain, and I asked her "why only brides are given importance to look elegant and beautiful while grooms end up wearing a sherwani and no makeup? " she said, "why don't you dress up as bride then ?". this question gave me the very next idea to create some work on the parity of gender in the wedding.  I came back to Hyderabad and a few days later connected with my stylist friend Aniket for a coffee, I kept this instance forward. Soon, Aniket responded saying, 'you should do a bridal shoot on the same lines.'  This is how we ended up creating Potrolekha.
In the following weeks, Aniket connected with the label 'Renusaa' by Saikumar and Rehan, Make-up artist Vaibhav Sunny, and Photographer Anindhya Biswas and curated this shoot. We used specially designed jewellery by Aniket Shah's brand Flirt Diamond and commenced the shoot in Phoenix Arena.
Till then I had an assumption that drag is a solo play, but seeing different individuals coming together to create one art was something that made the project, even more, closer to heart. We all agreed to make this project our own. Aniket Shah, the lead of the project wanted to bring the characterization of Potrolekha a newlywed woman mixing the character with 'Potrolekha', the poem by Rabindranath Tagore. The first image was a rediscovery of the thought that "Why can't Men be the bride ?" where I was dressed up like a bride ready to be wedded.
Anindya Biswas who was clicking the photographs had to rebuild the backdrop story like of a gender-fluid Potrolekha who is shy and timid advising her new husband to go and explore the other side of the world, which can also mean to explore more possibilities of sexuality and sensuality within and then waits for her husband to return. The costuming by Rehan and Saikumar was a fusion of traditional Bengali brides with a wonderful silk saree complimenting the character. Aniket added to the apparel from the flirt diamond wedding collection which uplifted the personality. The face was painted by Vaibhav who brought a balance between the Mystical and real Potrolekha.
This entire photoshoot
was a realization for me to see dressing up is nothing to do with what sex we are assigned to during birth and the idea that cross-dressing has nothing to do with sexuality and that anyone from a homosexual to heterosexual persons can crossdress. This also questions why only women should carry the signs of being married such as mangalsutra, sindoor, and bangles.
After the very first output of photos came, I shared them with my fiancée. She was startled and thrilled to see me dress so elegantly and on a lighter note even warned me not to roam around as someone could marry me. she even asked me to put a disclaimer that I am already taken by her for every post of my bridal looks; now that's stepping up into her true role, which I can never do.  We discovered how we both felt in each other's shoes and I got my learning that dressing up as a bride is extremely hard, so I am not going to do it again ever, and I also promised her that I would be more sensible at the wedding, where she would live her moment!
Photography by: Anindya Biswas (Instagram @potraittosimple)
Stylings and concept : Aniket Shah (Instagram @flirtdiamond)
Fashion Designer : Rehan and Saikumar (Instagram @Renu_saa7)
Makeup: Vaibhav Mua (Instagram @mua_sunny_vaibh)
Model and Drag Artist : Patruni Chidananda Sastry (Instagram @sas3dancingfeet)