Remembering the Legend on His 99th Birth Anniversary – Satya Pamula reflects on some of NT Rama Rao's best films on the ocassion of 100 Years of NTR
One in a billion and once in a millennium attains Godly status !! That's NTR for all Telugu people !! You find innumerable homes in Telugu states with Gods pictures adorning the puja rooms ..all enacted by NTR – the actor, the legend.
Unarguably the most revered legendary iconic name in the Telugu states down south and the greatest Indian actor of all time according to CNN-IBN polls is Nandamuri Rama Rao!! NTR garu fondly knows as ANNA Garu ( Meaning big brother) by all his fans and audience, authored and created many a mile stones and history in his films and political life.
On this day , the  99th  Birthday  of ANNA garu and to celebrate 100 Years of NTR, let's look at 10 of his most  memorable roles and films spanning 40 years and 300+ films according to timelines!!
It's not easy and prudent to pick and choose just 10 films of NTR when 85% of his 300+ films are hits, super hits, blockbusters and Industry hits!! Here are just few out of them that one can revisit, and enjoy the all-time classics.
1) Patala Bhairavi ( 1951)
First hit film  for NTR as a  solo hero!! NTR was working for  the legendary Vijaya studios on a monthly salary of Rs 5000 !!
A fantasy film directed by legend K V Reddy garu, Pathala Bhairavi is considered as one of the 100 greatest Indian films of all time. It's the story of Thotaramudu (NTR) and a sorcerer (SVR). Thotaramudu faces opposition when he falls in love with a princess. He then seeks the help of sorcerer, who secretly plans to sacrifice Thota to Goddess Patala Bhairavi.
it was the first Telugu film that ran for 200 days in theatres and became the only film from the Southern Indian film industry to be screened at the first International Film Festival of India in 1952.
Later the film was dubbed into Hindi in 90s under Padmalaya banners and declared a blockbuster !!
#NTRForever # 100 Years of NTR
2) Malliswari ( 1951)
Regarded as all-time classic movie with its enchanting music , Malliswari is the story of cousins inlove happned during the reign of greatest of the great king Krishna Deva Raya who is know for his ardent affection and encouragement for arts and culture. The movie has Shri Bhanumathi as female lead opposite NTR. Both NTR  and Bhanumathi lived immortal in their roles
3) Maya Baazar ( 1957)
The greatest of all Indian movies even today for its flawless use of lighting, technology, screenplay and acting Maya Bazaar  , the Mythological movie with the story revolving around Lord Krishna, Ghatokkasha ( Bheema son) , Abhimanyu and kauravas saw for the first time NTR in a full length Lord Krishna's role. And the rest is History !! Subsequently NTR went on to play Lord Krishna role in another 17 movies and immortalized himself as Lord in all Telugu hearts!!
4) Bhookailas ( 1958)
NTR has the penchant to see and do things differently. He took many a risks and experimented with his characters and choice of roles. When people literally started wishing him after Maya Bazaar NTR did the Un Imaginable!! He played the role of Ravanasura Great Shiva Bakth and king of Asuras, the antagonist role in this Mythologiocal Movie which is the story of formation of the divine Gokarna Sketram !! He excelled as Ravana Brahma and in one song which will be remembered in the annals of Indian films the charcter Ravanasura pierce open his veins and play musical notes to please lord shiva!!
#NTRForever # 100 Years of NTR
5) Lava Kusa ( 1963)
Can you imagine the actor who played Ravanasura was asked to play the role of Lord Rama in the movie LAVA KUSA !!! the rest is History!! In all Telugu homes and temples NTR in Lord Rama was worshipped!!
Lavakusa is the story of Lord Rama , Rama asking Pregnant Seetha to leave the kingdom to upheld Raja dharma  and their  sons Lava & Kusa.
In Andhra Pradesh villagers came in bullock carts from Villages parker near cinema halls the night before watched the movie and left for their villages next noon!! This phenomena and hysteria was never witnessed ever in world cinema till now !!
Just gauge the mass reception this movie received …Lava Kusa  was released in 26 centers and had a 100-day and 150 days run in all the centers, which was a record. 1.98 crores of people saw this movie, while the population of Andhra Pradesh was 3 crores at that time. For instance, 4,34,800 people saw this movie at Raja Rajeswari Theater, Warangal, while the town's population was only one lakh at that time as per the statement given by the owner of the theatre!!
First Telugu movie to collect Rs 1 crore when the ticket prices were 25 paisa!!
6) Daana Veera Sura Karna DVSK ( 1977)
NTR himself was a director of exceptional talent. He directed the movie Seeta Rama Kalynam with Harinadh and Geetanjali as Lord Rama and Seetha in 1961 which was a runaway super hit !!
As someone who see things from all perspectives NTR directed and produced Daana Veera Sura Karna in 1977  playing 3 roles of Lord Krishna , Karna and Duryodhana!! The movie is seen from Duryodhana perspective which was a huge risk to take!! The movie was an Industry hit and all Telugu homes rented tape recorders to listen to legendary Telugu diction and dialogues of NTR as Duryodhana!! The LP records of DVSK sold like hot cakes and made humongous profits for the music company
The movie has a memorable all time classical duet on Duryodhana and his wife which still plays in all channels !!
DVSK close to 4 hours movies was completed in 43 days while it used to take 3 hours each for NTR to do make up for each of the 3 characters!! Speaks of his hard work and dedication!
7) Adaviramudu ( 1977)
Though reluctant initially the legendary brand called NTR was rebranded keeping the changing preferences of the audience by Director  K Raghavendra Rao and ardent NTR fan . The story of a forest ranger protecting the forest from Villians created Tsunami in Telugu film history!!  This was the first film to ran 365 days at 4 centers in Andhra Pradesh!! It ran for 5 shows at Nellore Kanaka Mahal for 102 days when 3 daily shows for 50 days was seen as a miracle!!
This NTR – Jayaprada starrer made masses crazy and coins thrown at screen at Theatre Venkatesa at Hyderabad  for the the iconic song aaresukoboyi paresukunnanu song used to be more than that show collections !!!
NTR never looked back!! His mass following reached the skies!! Literally!! #NTRForever # 100 Years of NTR
8) Vetagadu ( 1979)
When NTR was paired opposite Sridevi, in K Raghavendra Rao 1979 VETAGADU movie , who acted as his grand daughter in 1972 Badipanthulu , critics though both the director and actor were insane and crazy!!
Vetagadu got released and audience loved the chemistry of NTR then 55 years and Sridevi then 16 years!! The Movie went on to create Industry records and its songs are still played even today in all popular music channels!!
Audience loved the instant teasing cute chemistry of NTR and Sridevi and both are actors of par excellence !! NTR and Sridevi then went on to play the lead pairs in 12 more movies before NTR took political plunge in 1983!!
9) Sardar Paparayudu ( 1980)
This Director Dasari Narayana Rao patriotic movie gave fillip to NTR ideas to serve people and eventually form the political party TELUGU DESAM in 1983!! One of the finest performance by NTR playing dual role as a freedom fighter father and a police officer son ,  with some memorable performances by Mohan Babu as a Britisher, this movie rewrote box office history!!
10) Bobbilipuli ( 1982)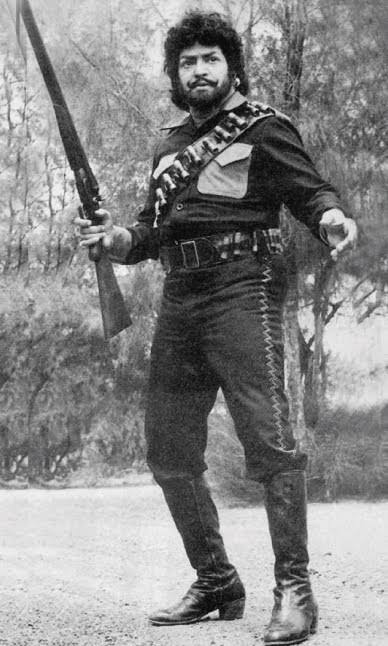 Directed by Dasari Narayana Rao Bobbilipuli is the story of a war-hero who returns to his place only to find the society in a mess and tries to repair it in his own way and ends up getting hanged. Played the character of war-hero exceptionally NTR dialogues against the ruling systems and establishment written by Dasari Narayna Rao were  a rage in those days.
NTR announced his party and was on a whirlwind tour of the state in his Chaitanya Radham when this movie  got released. Apart from breaking all possible records this movie gave fillip to NTR electioneering also and he became the CM of Andhra Pradesh in just 9 months of forming the party Telugu Desam defeating the Mighty Indira Gandhi's congress !!
That's NTR !!
The Only One !!
NTR…Never Before. Never after.