Aakasam Movie sails through the beautiful locations with good screenplay and engaging performances. This is the story of life and living as seen through the eyes of debutant Tamil director Ra. Karthik
Reading a book is a unique experience that takes the readers on a journey which is their own, created in their imagination taking them to places and people that are sometimes more beautiful than the real world. And travel is indeed searching for your soul in the world around, learning from experiences of your own and others. Made in Tamil as 'Nitham Oru Vaanam' – Aakasam movie combines these two experiences in one of its kind narrative – that is engaging, entertaining, thought-provoking and endearing all at once.
The hero of Aakasam movie Arjun (Ashok Selvan) seldom speaks, he gets lost in his world of books and when he reads a book, in his imagination, he sees himself as the character in the story. In real life he is an introvert, over obsessed with hygiene, untrusting of the world, and quite uptight for his own good. And, evidently, he hardly has friends.
The one girl he truly loves and changes himself for – leaves him for her boyfriend just before their marriage. This breaks him so much that he gets intro depression and becomes angry with everyone and goes into a shell.
To bring him out of it, his doctor advices him to travel, but he refuses. She then gives him two books with stories that she has written.
He begins to read them, and imagines the stories in his head where he is the hero – but does not reach the end, as a few pages are torn away leaving him in suspense.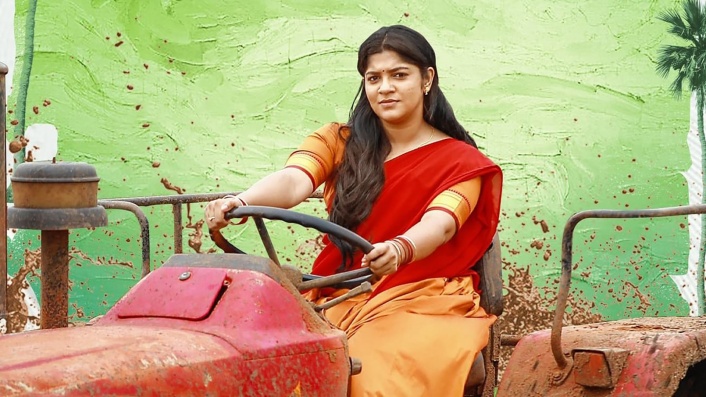 He gets obsessed over the end. The doctor reveals they are real stories, and instead of telling him what happens next, she advices him to take trips to meet the people whose stories she has written. On this journey with him is his new found travel partner – Subha (Ritu Verma) – who is everything he is not.
The debutant director Ra.Karthik has written a travelogue – it is perhaps the visuals and locations or the concept of finding oneself and understanding the value of life, and living that one is immediately reminded of films like – 'Yevade Subramanyam' – and the similarity stops there.
In Aakasam movie there are stories within stories and each one evokes a different emotion. And, it is in these stories that Sivathmika Rajasekhar and Aparna Balamurali steal the show – the former by showcasing controlled emotions that are class apart and Aparna as Madi with her infectious spirit.
The hero gets a dream role to portray – his own character as Arjun that goes through major changes as the film progresses, and the engineer and police officer – Ashok gets to play three people with diverse traits in one film with finesse and ease that work well for the film. Ritu adds her share of charm to this travel story.
Technically too the film is brilliant with cinematography by Vidhu Ayanna. Background score, and songs by Gopi Sundar and the crucial aspect of editing exceptionally handled by Anthony.
The director creates an unhurried pace for the film that has to be enjoyed while sitting back and soaking it all – which could also be its undoing for a certain section of audience. That said Aakasam Movie is by far the most watchable film of the week.