Barbie – the highly anticipated film that took the world by storm has given the much needed audiences of all ages to the theatres across the world – but the film may not be for young kids
Theatres and multiplexes embraced the excitement, transforming into pink wonderlands as fans donned their pinkest dresses to experience the magic. However, amidst the adoration, controversy followed closely behind, leading to bans in several countries. Nevertheless, this latest Barbie installment, directed by Greta Gerwig and starring Margot Robbie as Barbie and Ryan Gosling as Ken, is a powerful journey of self-discovery that confronts stereotypes, champions gender equality, and explores identity crises. Yet like the doll, the film too is being criticized for bringing in unwelcome Barbie standards, and not to mention the bans in a few countries over some scenes. For start the doll may be for young kids – but the film is definitely not for very young kids say some parents.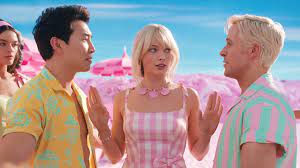 Lisa Ray in her tweet calls out the film for being a marketing push for female oppression. She wrote 'Genuine question to the Woke millennials and Gen Zers: how are you not only not up in arms over the Barbie movie – which is really a huge marketing push for an agent of female oppression cloaked as a movie – but many of you are also participating in Barbiecore and posting cute photos in hot pink? How?! I see young influencers who raise the alarm against social inequalities and sexism and yet are fervently celebrating a movie that not matter how subversive, brings unwelcome Barbie standards and it's legacy to the next generation of girls. I can only think that marketing budgets got to them. Please enlighten'.
Barbie, the iconic doll by Mattel, has been a cherished companion for girls for over 64 years, with an astounding 300,000 dolls sold in its first year alone. However, from its inception, the doll has faced criticism. Detractors argue that Barbie perpetuates negative body image issues, unrealistic notions of perfection, and perpetuates sexist and racist attitudes. On the other hand, Barbie has also served as a source of inspiration, encouraging young girls to embrace their aspirations, freedoms, and individuality, breaking away from traditional gender roles.
This film, unlike its predecessors, is not an animation but a fantasy comedy that breathes life into the infamous Barbie dolls. Greta Gerwig, the director and co-writer, brilliantly weaves together a narrative that explores Barbie's ability to defy stereotypes, advocate for gender equality, and conquer identity struggles. The Guardian aptly described it as a "riotous, candy-colored feminist fable," earning praises from audiences who laud Barbie's journey of escaping patriarchal norms and shattering figurative and literal boxes.
Worldwide, the response to the Barbie movie has been overwhelmingly positive. In the United States and Canada, it quickly soared to become the highest-grossing film of the year, raking in a staggering $155 million during its opening weekend. The film's success is even more remarkable as it marks a post-Covid era where theatres are finally witnessing robust audience numbers.
However, the film's triumphant run is marred by criticism and even bans in some countries. Vietnam was the first to take issue with Barbie's portrayal, banning it for featuring a map with the controversial nine-dash line, symbolizing China's claim over the South China Sea. This move was seen as a violation of Vietnam's sovereignty. The Philippines followed suit, banning the film for the same reason. Russia, too, briefly prohibited its screening, citing concerns about promoting consumerism among infants.
Pakistan's Punjab region also faced a brief ban over a dialogue deemed objectionable by officials. The dialogue, which supposedly hinted at homosexuality, sparked controversy. The film was later allowed to be screened after the contentious lines were removed. In response to these issues, countries like the UAE, Egypt, Qatar, Iran, and Saudi Arabia imposed temporary bans, while Iran went a step further and banned it permanently.
Controversy has been no stranger to Barbie throughout its history, but this latest installment has managed to garner overwhelming praise despite the opposition. Barbie's influence stretches far beyond the silver screen, as even Google has joined in celebrating the doll. A search for "Barbie" on the popular search engine turns the screen pink, with twinkling pink stars adding to the whimsy. However, it is essential to note that the film's content may not be suitable for all ages, as its PG-13 rating indicates that it may not be entirely child-friendly.
In conclusion, the latest Barbie film is a testament to the enduring impact of this iconic doll. With its powerful narrative, it encourages viewers to challenge societal norms, embrace equality, and celebrate individuality. While controversies have loomed over Barbie throughout its existence, this film proves that sometimes, praise can eclipse the storm of criticism. Barbie continues to inspire generations of young minds, painting the world pink and blazing a trail of empowerment and possibility.