Director Subhash Ghai's much awaited OTT release, what he calls the result of his work through the pandemic  – '36 Farmhouse' is now streaming on Zee 5. Amongst the main cast including Sanjay Mishra, Amol Parashar, Barkha Singh, Ashwini Kalsekar, Vijay Raaz is the beautiful Flora Saini. Flora, who has been acting in Hindi, Telugu and Kannada films has also been working on OTT. But, her dream to act in a Subhash Ghai film came true only now with '36 Farm House'. And, she shares her experience about shooting for the film in Covid times, her future projects.
So what made you sign '36 Farmhouse?
Anybody from the north who comes to Bombay has this list of names or directors who we have grown up seeing and Subash Ghai is one such name. Subash Sir was on my bucket list and I wondered when I will get to work with him? It's taken Subhashji so long to do a film after 'Kisna', which released in 2005. We know Subashji makes his heroines look beautiful. There was no way that I was going to let that opportunity slip by. And so, when I happened to see his tweet about '36 Farmhouse', I called him up and said I would want to work with him. I asked if he could consider me. He said he would let me know. Later, I did get a call from Mukta Arts.
I was being offered a role whereas there was another one that I wanted to do, which was more challenging. Then conversation died for a while when Subashji called me up again. He said, "There's another role I think you will fit", and that's how Mithika of '36 Farmhouse' happened.
'36 Farmhouse' is set against the backdrop of the lockdown.  Were you also apprehensive of shooting during COVID times?
Ah, not really, because I feel most of the OTT's that are shooting now or most of the production houses are having COVID protocols in Mumbai. We have Covid insurances mentioned in the actors contracts. Everybody needs to be tested before they come on set, and even if there is a gap in between your shoots, and you leave – you need to be tested when you come back. We were shooting in Panvel, which was more or less COVID free at that time.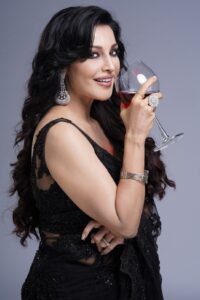 Subhashji said you look like Madhuri. When was this and what was your reaction?
A lot of people who follow me on Instagram and Facebook call me a Madhuri Dixit look alike, Madhuri Dixit 2.0; Madhuri Dixit  Pro Max; Madhuri light are some of my nicknames. While shooting on the set, I remembered that Subashji has worked with Madhuri Dixit so closely but he's not said anything like that to me. Then one day during the shoot of '36 Farmhouse' he was busy on his phone and he just looked up. The actors were asked to take the mark and he just looked up and in that second he said 'oh my god for a minute I thought that Madhuri Dixit was standing there.' And that, I think, was the biggest compliment. I said 'I'm waiting to hear this. People call me that, but it is not certified until you have said it.'
But I always feel that if only I had half as much talent as Madhuri ma'am and half as much destiny as her. Wow that would be a dream come true.
So what's Mithika like? Why do you like the character so much? 
In '36 Farmhouse' I play a character called Mithika, who is the daughter-in-law of the house and she is a beauty with brains, very headstrong, opinionated and confident. She is ultra rich and even when she gets up she is fully decked up. All the men in the '36 Farmhouse' are planning and plotting to get the property of the grandmother. They're all scared of Mithika and they don't want her to come because she will speak her mind. She has sweet cunning ways to demand what all the other men are also demanding. I think greed is a human nature, so the film towards the end gives a beautiful message which is so apt in Corona Times. In the pandemic, all we had was family. When you're not keeping well when you're in a pandemic, you just want people near you who you can laugh with and who you trust.
I feel the best kind of cinema is the one that makes you laugh or keeps you entertained while giving you an important message like my film 'Stree'
Are you satisfied with the reviews the film is getting?
'36 Farmhouse' is Subashji's first OTT. I feel as long as the audiences have liked the film I don't generally go with the reviews because one can really never tell because there's a class and a mass audience and I think most of the people who write the reviews are class. The mass have a very different taste and what works with them we don't understand.  You can never tell what the audience wants to see and what they don't like. The only thing is that we cater to every sort of person and the film should entertain.
I feel the best kind of cinema is the one that makes you laugh or keeps you entertained while giving you an important message like my film 'Stree'. It was a horror comedy but it had people laughing at the end. It said if you give respect to a woman she will give love. Coming from a horror film, it was unbelievable. There should be more such films. That is why entertainment should not just be senseless. This is my personal take on it. I think it's a responsibility to be in the entertainment industry and to create cinema like '36 Farmhouse' that leaves you with a thought.
As an actor, do you feel now these are the good times because there are many options like OTT to explore…
Absolutely! I got my new lease of life because of OTT. We were one of those few people who got work on the platform because we were jobless. We were being offered smaller parts in films. Television used to not accept us for some reason that I do not know. Then came this OTT space and they were looking for actors. Most of the other actors were busy. We were free. There was no Amazon, there was no Netflix Big actors never wanted to get into it, but they saw the way the platform just bloomed, and actors, who nobody had heard about, doing so well, and suddenly got the recognition. This is the best time to enter the industry because there is so much content. It's unbelievable there is work for every level of actor. There are so many platforms where your work can go on. This is the best time to shine and show your craft.
Also, I think COVID also helped because everybody was at home and they had nothing much except watch films and shows on OTT.
Absolutely I feel. Everyone was talking about Malayalam cinema. People spoke about "The Great Indian Kitchen". I'm amazed Fahadh Faasil became popular in Mumbai. We lapped up so many Malayalam films, Telugu films and Tamil films. People in the entire South are making movies which are at another level and I wonder where they get these concepts from.
Asha / Flora Saini's South Stint: 
You have done a lot of films down South, especially in Telugu and Kannada. And how did you adapt yourself to totally new languages, new atmosphere, new people?
When I came to Mumbai to join films I was lucky enough to get casted in a Telugu film first. I was fresh out of acting school. While I was shooting my first film got cast for the film "Chaala Bagundi" with EVV Satyanarayana. Actually that got me critical acclaim, it was a box office success, and after that "Narasimha Naidu" and all the other films followed.
It was a different era. I feel that everybody went to South as it's such an accepting industry. Once you went there they would just give you work and one thing I learned was more than talent they give so much respect. Just having a good nature was a big criterion. And the fact that they treat you so nicely, so royally, I miss south even though touch wood I am doing good work in Hindi. Always one corner of my heart is especially reserved for south. I'm so happy that Aha (Telugu OTT platform) is in place now and I would love to do something for that. I was supposed to do a Telugu web series for Hotstar but that didn't fall into place and I really want to do something in my language.
How did you pick up Telugu?
I am grateful to my early directors who did not make my life easy at all. They said you can't say dialogues in Hindi and English. You have to speak Telugu and you know you're listening to this language day in and day out every day by everyone around you. Everyone around me would talk in Telugu so you start speaking. I just didn't know I had a knack for picking up languages. I learnt on the job. Also, because if they're criticising you, if they are trying to tell each other she is not doing this right – one would never know.  So I picked up very fast.
Once you make friends, I think language becomes easier. When I started it was a little tough. I used to cry every day and I would tell my mom let's go home because my tongue wouldn't roll. I said I can't do this, it is tough. When I came I thought this is easy. You are out of acting school, you think you know everything. But you don't. They don't teach you everything in acting school.
Also, to act it's always better to speak in the local language and understand it…
Yeah.  To manage the dialogue with the expression was a nightmare. I was like how do we do this? But it was fun.
You acted with big actors like Venkatesh, Balakrishna, Sudeep. How was the experience of acting with them? They were well established stars at that time.
So I feel two things: one thank God we didn't have Instagram and social media so much. So I did not know much. We knew Venkatesh because he had done a Hindi film with Karishma Kapoor. I did not know of Balakrishna. It became easy because I was not intimidated so much. I said, okay, this actor is really big here. But I didn't know as I had not seen any film of his or read because we did not have Google. But when you shot the film 'Narasimha Naidu' (though I do not remember where I shot it in) I saw the kind of mad following I have never seen. I was new to Bombay so I had not seen fan following for other senior actors. This was at another level because people would come and sit on the boundary wall of the house where we were shooting just waiting for Bala (Balakrishna) Sir to come out on the balcony. When the 100-day function happened, thanks to Youtube that clip is there and when I see that I had spoken few lines. I'm so grateful to whoever took that video and posted it because I don't have those videos and photos. We didn't have social media then.
Bala Sir never said no to a movement like when we shot "Lux" Papa song there were few long shots that Lawrence master had shot and I never heard Bala Sir say I can't do this or can you change the step or shall we try something different? I saw him do everything
If I had social media then, my profile would have been so colourful with all the people, the wonderful actors that I've worked with. The beauty of working in South is again the actors, especially the superstars, because of what they taught me. I am an army kid, but the level of discipline and dedication is different. Talking about Bala Sir, he would be on set at 7:00 in the morning Rajni Sir also. Everybody would be on set from 7:00 am to 6:00 or 7:00 pm. Bala Sir never said no to a movement like when we shot "Lux" Papa song there were few long shots that Lawrence master had shot and I never heard Bala Sir say I can't do this or can you change the step or shall we try something different? I saw him do everything. Even NTR Jr was so good. One thing that I love about these people is their dedication and discipline and the talent they already have. I think they are born with it. One more thing that I love about South is the pre-production. I have never seen an actor come late on set. They are hungry actors, but they did not cut the other person lines. I've never seen that. They know that the script is the king. The director is the God. I have never seen them downgrade a director. They would do what the director says. They might have few suggestions.
Are you likely to act in any South Indian films now?
I'm hoping for it. In 2021, I was in talks with two to three people for some major comebacks. But let's see, keeping fingers crossed.
What are your future projects?
2022 is really exciting. 36 Farmhouse has already released. There is a Hindi film called 'Kaboom' which will be coming out. And then there are two series for MX and one for Amazon. I have already shot for one MX series. That is something I am really waiting for. I am playing a social worker. The  new work that will be coming out are very different characters from each other and very different from anything that I've played before.
How did you spend the lockdown?
I had no issues in the lock down and I was just blessed to have wonderful friends that I could talk to. At a certain point, the lockdown did hit you because there were low moments.
I also had little few low moments where I just felt lonely. Thankfully I had a good set of friends who were also dealing with the same thing. So when one person was feeling low, the others were there to pull them up
So that's how we balanced, and I also gave tips to people as they had depression and many were committing suicide which I felt was so wrong. If only they would have asked and reached out.
Two other things that I would tell people if they are ever feeling low  is to just have something sweet. It's a thing we don't realise which is a psychological thing which works. The sugar makes you happy. Put on good music and you will automatically start dancing which is another tip. A person who is dancing can never be sad. Your energy is precious.