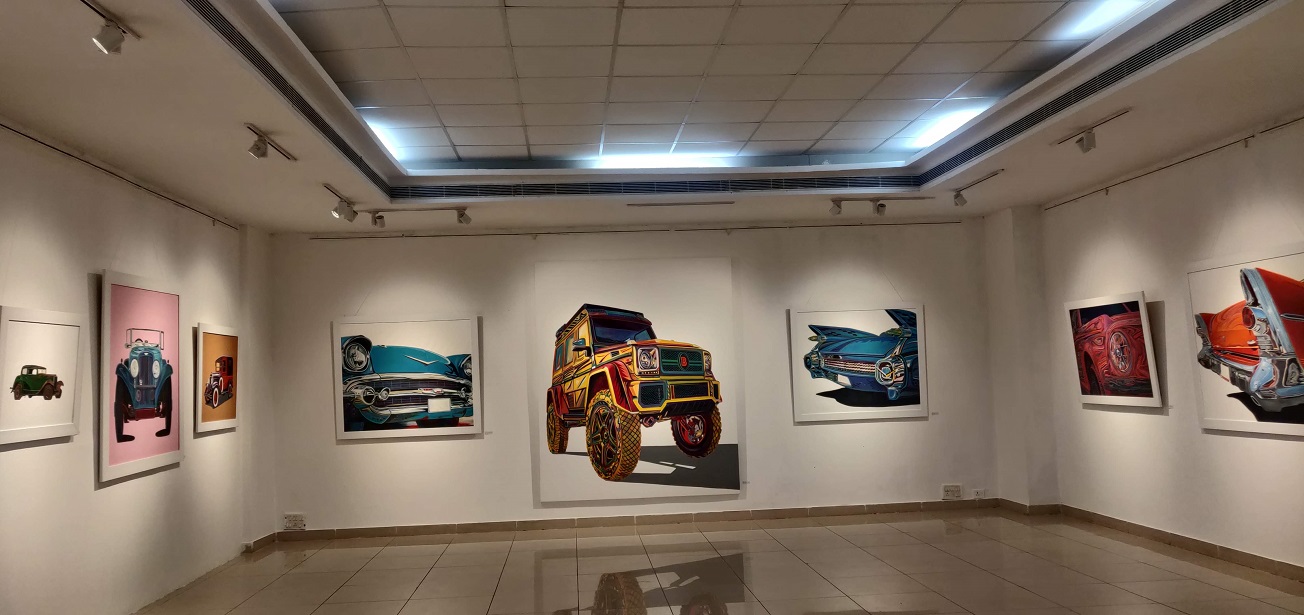 In almost the first of its kind, Hyderabad-based artists, Ganesha Chary Guntoju, Mandem S Vasu, Murali Thrigulla, Vasanthula Ramakrishna and Visweswara Rao Brahmanapalli showcased their cavasses in five different halls at the State Gallery of Art, Hyderabad., aka a mini art fest of its kind. The display in addition to showcasing the latest work of the artists helped the viewers to study the journey of each of the artist, which is usually missing in a typical group show.
Ganesh Chary's work is marked by colourful palette and brings together the concepts of spirituality and, symbolism, and the colours of nature representing the balance and inter-relation between both in simple, uncluttered compositions. Flowers that are important part of our tradition and rituals and used to adorn Gods and Goddesses decorate Ganesh's well defined forms too. Considered extremely auspicious Kamadhenu, Buddha and Ganesh make appearances on his bright Canvasses.
Intricately rendered, a extremely detailed pen drawings by Vasu are magnetic. They draw the viewer into the web of his cityscapes where like in a physical city various communities and creatures live and get close to each other, their lives though individual are interlinked in many ways. What's striking about his works is the detailing and the uninhibited flow encompassing the modern and the traditional while bringing together every element a city probably has within its belly. During these tough times its interesting to note that Mandem S Vasu's works evoke positivity in their fluidity.
Automobiles have always been Murali Thrigulla's muse. As he puts his life into his brush while doing the oil on canvas, his vintage cars, travel -friendly Vans, and sports cars get a life of their own. An automobile is definitely an assembled mechanical object until it comes home and becomes a part of life. Several memories  and emotions are attached to it. Murali's canvasses are an amalgamation of these emotions. His spectacular automobiles stare out of the cavasses trying to strike a conversation with the viewer. Murali has always created spectacular medley with colours that mirror the experiences of life in all their lively extravagance.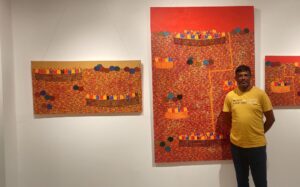 Ramakrishna's works also are a reflection of his life in the city. Like every Indian metro, the buzz, the crowd, the madness, and the method are all reflected in his intricately rendered lines. The forms are restricted by their repetitiveness, yet there is a fluidity and simplicity in the structure used to represent the complexity that a city is all about. Vasanthula Ramakrishna's work is an interesting confluence of asymmetry in symmetry and irregularity in the rhythm. The artist's canvasses that have seen a transformation of sorts during the last year are also on display.
Like his counterparts, Visweswara Rao Brahmanapalli's inspiration is life itself. And, his experiences and observations, his dreams and reality get embedded into the striking mosaic of images he creates using oil on canvas. Staying within the four walls, being restricted by boundaries is a harsh reality of present times. Yet dreams are never bound, and they are nothing but the amalgamation of reality and imagination, of aspiration and desires. Visweswara Rao's 'Dream Catcher' too is reaching out to the materialistic universe that the artist creates and embedded within it is what a man actually seeks. The canvas with its geometric patterns, rich hues, subtle curves, varied forms is a patchwork of vibrant imagery; like a magical carpet that takes you on a fantastic journey.
For Enquiries/ Catalogue Contact: info@fridaywall.com