Jhansi Webseries is an action-packed psychological thriller, a genre that has worked many times on OTT. The webseries with actor Anjali in the lead is launched on Disney Hotstar, and works well at many levels  
Jhansi (Anjali) is in a happy relationship with Sankeeth (Aadarsh Balakrishnan) and becomes the mother to his little daughter Neha, mentors and molds her to be fearless, but she herself struggles with unknown fears. She has dreams of a forgotten past, images of people, visuals filled with violence and pain – which according to her doctor are her memories that she subconsciously has been suppressing.
We know it's true because that's how most psychological thrillers operate. And, also because the first episode starts with an incident from past.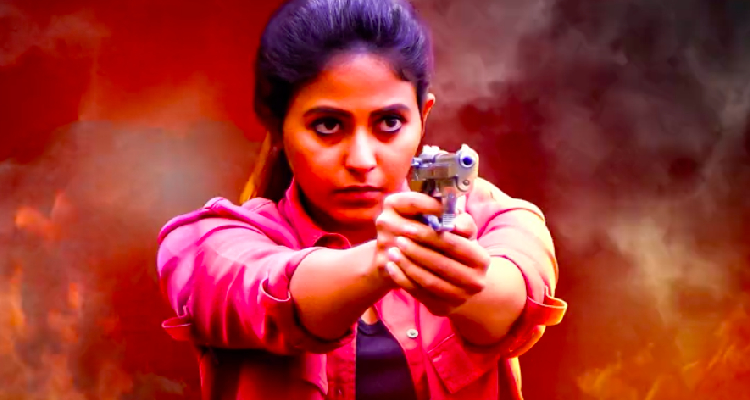 Anjali holding a baby and driving away in a van being chased and she gets into a fight – almost winning one, and is seen wielding a gun, which too she seems to be quite good at handling.
That is the beginning of the suspense element – about who she is, where does the baby end up, and how come she can fight so well.
Fast forward to present, she leads a perfect life but shies away from marriage. She lives with Sankeeth, who is separated from his wife Sakshi, a police officer – who by the way has a major role to play as the story progresses.
Jhansi webseries based on vigilantism starts with an adrenaline rushing moment.  As the series moves ahead from one episode to the next Jhansi is on a quest to overcome her amnesia and is trying to remember her past, and alongside is rediscovering her strengths.
Directed by Thiru, who has earlier made a few Tamil films and the not so impressive Chanakya in Telugu with Gopichand, has treated his favourite genre well.
Jhansi webseries is a crime drama with all its trappings intact. Suspense, thrill, danger, murder, revenge, are all weaved into the script that leaves each episode on a cliffhanger and by the end of the sixth episode, you are already waiting for the next set of episodes to drop. The high points of the film surely include the women – in addition to Anjali, Chandni and Samyukta are to watch out for.
Anjali in action scenes has gotten much better and she does look convincingly formidable.  Most of the other actors do their bit well enough – Chandni, Aadarsh Baakrishnan, Raj Arjun, Rameswari Talluri, Samyukta Hornad, Mumaith Khan, Aberaam Varma, Pradeep Rudra, Kalyan, Sharanya Ramachandran and Chaitanya Sagiraju.
In short Jhansi may be a repeated theme, but as a thriller it ticks the right boxes, but not all of them. Too many characters getting introduced along the way take the story in different directions.
The first season serves more like an introduction series; however, it does set the tone for rest of the seasons that hopefully will follow soon.
At the end of it one can't help but wonder if It is indeed going in the direction of a 'Vigil Aunty' saving the day by protecting the wronged and killing the villains – in which case – the director must make a note of one minus point. The justice serving moments are too simple in their construction – which may give way to monotony.
For now, the series is at a good place – leaving the audience with many questions that they hope will be answered in the next season.