Prince Review: Siva Karthikeyan shines through this unapologetically silly comedy film, with his charm and style, which hopefully the fans will like and enjoy
Siva Karthikeyan, the rising star of Tamil cinema, is the hero in this much awaited Anudeep film. The director of 'Jathi Ratnalu', who has also scripted the dialogues of the most hilarious kind in a smaller film 'First Day First Show' – has written the story and directed this love story cum comedy.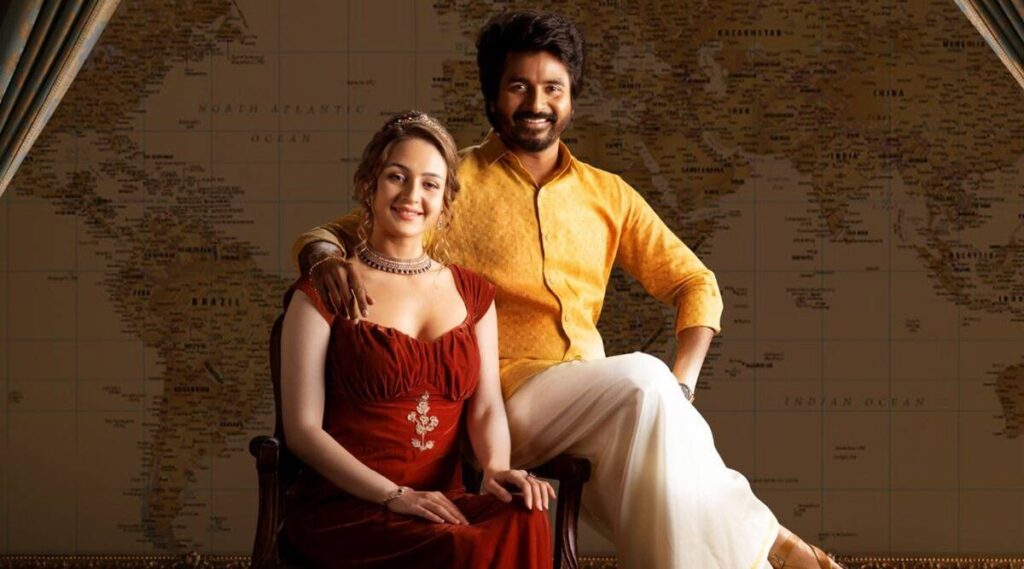 Anand works as social teacher in a school and is so playful that he prefers a matinee cinema over attending school. His father revels in his patriotism, and loves unfurling the flag on Independence Day and republic day. His grandfather was a freedom fighter and died from a British bullet – he says, and evidently loves all religions, castes, creed and countries except the English. The twist in the tale is how his son falls in love with a British girl who is the English teacher. Thanks to her he begins to go to the school regularly, and manages to gain her love. Jessica's father hates India and wishes to go back, but is caught in a plot to usurp his property. On the other hand, Anand's father is against the marriage because of the British connect. So far, it's the time-tested formula with a global touch. However, the 'SK' swag peppered with Anudeep mark humour spice up the screenplay. Before dwelling upon the comedy part, a quick detour to a small backstory of Jessica's grandmother – she is forced to leave her country and it is only India that gives her refuge, and hence she has special love for this benevolent country which she considers her mother and hence has no problem with Anand – Jessica love story.
While this narrative is interesting to listen to and even emotional to an extent with flash back in London with a few war-devastation footage throw-in…one can't help but wonder which social text book has a chapter on this…and then you realize it is perhaps our director Anudeep's history lesson drawn from the recent Ukraine war situation (which is also referred to in the later part of the film – and why? Well…you will have to watch the film to find out).
Anudeep's films are always fun to watch, never a dull moment.  And as our hero is wooing the British heroine to successfully get yes for an answer and in trying to convince his father whose only issue is that she is British, and helping Jessica's father – there is an ample dose of humour elicited mostly through dialogues. And, interestingly the situation where love for the country and people's emotions are used as a weapon to divide and exploit does have parallel in Indian and world politics – which the director brings forward in a non-preachy, entertaining way.
Sathyaraj fits in well with his comedy timing. And it is mostly the scenes between Sathyaraj and Siva Karthikeyan work on the comedy meter.
The rest of the technicians do their job well – not more not less.
What Works for the Film! Prince Review
Siva Karthikeyan shines through comedy with charm and in style which hopefully the fans will like and enjoy.
The comedy track which is unapologetically silly and earthy.
What doesn't Work!
The same comedy track which at times feels like an over dose, and seeps into sentimental scenes taking away from the emotional connect.
Audience who love Anudeep's genre know what they are signing up for – but may not get enough. Will SK fans like this side of their hero with lesser action and drama of the serious kind – the box office collections will answer this question.
Siva Karthikeyan's Prince is entertaining, but hangs somewhere between romance and comedy genre, which may also be its undoing.
Prince Review