If there is indeed a Masala Republic – its India. With a different cuisine every few hundred kilometres, the cuisines of India are united with Masalas. At Dadus' 'Masala Republic' it is just not the Indian but international dishes as well that get a fiery touch here and a masala sprinkle there. And hence you have an extensive vegetarian menu and variety from across the world, and especially India, which is fun too.
Asian, Thai, Chinese, Arabic & Egyptian recipes get an Indian touch and Indian regional dishes get a taste makeover at this restaurant with contemporary setting with traditional arches and elements striking the balance. Here's a vibe perfect for get togethers over food.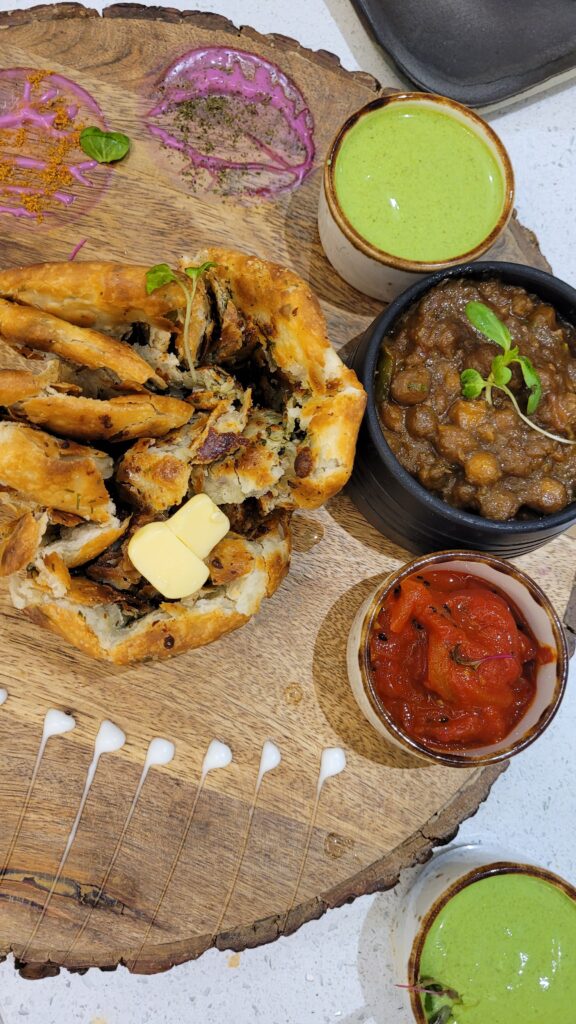 Its a long menu. A few highlights include Tomyum soup – just the right kind of fiery to appeal to the taste buds of the land, karare roomali mezze which is the crispy spicy version of the much common rumali with sides from a mezze bringing two worlds together, paneer cigars that are fun and tasty, veg kakori kebabs that are deliciously soft, pinwheel pizza which is more about the shape, dimsums that come steaming hot quite literally, churchurnaan – the crazy crunchy naan that's super delicious, the sumptuous Buddha delight bowl, kheer brulee which is creamy as the original and perhaps a wee bit tastier for the kheer lovers, and there are regulars as well.
Infact, as Muskan Dadu, the visionary behind shares it is a place that a family comes, and each person from the family will get something of their choice. As she rightly mentions it is not often you find variety in vegetarian khana at a restaurant. The chef has rightly addressed the problem, and there is something for everyone.
Masala Republic claims to be the unification of global experiences with surprise elements of local cultures and #thevegetarian – and that is definitely a valid claim. The team plans to keep working on the menu and refreshing it at regular intervals to keep the food lovers happy. For a dollop more of happiness you can try the icecreams and pastries – "CRÈME" & "PANCO".
Address
Masala Republic, Road No 12, Banjara Hills, Hyderabad
https://maps.app.goo.gl/xXX4MW2MjN8MmpFU7