The book Nautanki Saala and Other Stories (OakBridge Publishing) by Mohua Chinappa is an anthology that shares real stories of women (and men). Mohua met these people over the last 4 decades- from a tribal Khasi woman, who ran a tea stall to a journalist from the Northeast trying to fit in the big city to an unassuming college girl who could not anticipate the 'consequence' of her brutish rebuke to a man.
The publicist calls it a powerful collection that lays bare the lives that form a testament to the cultural-economic shift in the last few decades and attempts to strengthen the feminist who hesitates in confiding, Nautanki Saala and Other Stories are the stories that will shake your belief systems.
About the author:
Mohua Chinappa is a writer, voice-over artist and among the most sought-after podcasters in Bangalore. In The Mohua Show, Chinappa interviews artists, entrepreneurs, and individuals who are working to make their communities economically and socially stronger. Her popular blog by the same name (earlier MoodyMo) emphasizes brands that endorse gender equality, nostalgia, arts and crafts of India, available on Apple, Google and Spotify.
Over the past 15+ years, Mohua Chinappa has held leadership positions as a Public Relations/Corporate Communications specialist in top agenciessuch as Brandcomm, HCL, ITC and Genesis PRincluding being the national head of GCI, the PR division of Grey Worldwide Advertising.
HarperCollins India's new book by Sadhguru – Youth and Truth: Unplug with Sadhguru is inspired by the popular Youth and Truth movement led by Sadhguru. The book is modelled to be an essential and empowering guide for today's millennials and Gen Z with Sadhguru's unique and relatable insights on a range of real life topics – be it career, college, addiction, parents, romance, relationships, sexuality, Sadhguru addresses them all as nothing which concerns the youth is off limits! 
Sadhguru says, "Youth is the most effervescent level of life energy. Truth is that which works on all levels of life. One important truth is, if the necessary clarity and balance is brought into youth, they can be of enormous benefit to the world. Youth and Truth is an effort to bring truth into the lives of youth."
The book brings together talks from Sadhguru tackles questions on romance and sexuality, loneliness and jealousy, parenting and education, career and business, politics and spirituality, artificial intelligence, racism, drugs, food, Yogic sciences, and God-making, making this book a go-to-guide for millennials and those looking for motivation and meaning in life.
April 14 is the launch date for Rajesh Talwar's book – The Boy Who Wrote a Constitution (Ponytail Books) to mark the birth anniversary of Babasaheb Bhimrao Ambedkar. The Boy Who Wrote a Constitution is a unique and exciting reader-friendly play.
A fact-based drama based largely on Ambedkar's own recollection of his childhood that can be transformative for children as well as their teachers and parents. In the playwright, Talwar has used the fabulous device of weaving together major events from Babasaheb's life story with scenes in which five children react to his life, struggles, and achievements in terms of their own identities.
About the author:
Rajesh Talwar has written thirty-two books, which include novels, children's books, plays, self-help books and non-fiction books covering issues in social justice, culture and law. He has practiced law, taught at university, and also worked in senior positions with the United Nations. He is a British Chevening scholar and the recipient of an Honorary Citizenship Certificate from the Mayor of Tulsa (Oklahoma). He has been interviewed by The New York Times on the state of law and justice in India. He has studied for shorter and longer durations at various universities including Delhi University, Nottingham, Oxford, Cambridge and Harvard.
The Boy Who Wrote a Constitution is his sixth book for children. Rajesh has contributed to the Economic Times, The Guardian (UK), the Pioneer, the Times of India NIE, The Patriot, Manushi, the Sunday Mail and the New Indian Express. He is a sought-after speaker at literary festivals across the country.
Rajesh has worked for the United Nations for over two decades, across three continents, in numerous countries.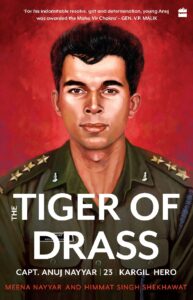 In May 1999, the Kargil insurgency was still being viewed as a routine affair. No one quite understood the magnitude of the situation. However, it soon emerged that infiltrators had captured high-altitude posts vacated by Indian soldiers during the winter months and thus had a tactical upper hand, while the Indian Army struggled with intelligence.
For the next month or so, Capt. Anuj Nayyar and the men of 17 Jat went on various reconnaissance missions in the boulder-strewn Drass sector where enemy troops had set up base. They fought relentlessly in a gruesome battle for two nights in July, before securing the peak that was critical to the success of Operation Vijay and India's victory in Kargil. Amid heavy artillery and mortar fire, they destroyed four enemy bunkers and neutralized tens of infiltrators in close combat. During the attack on the fourth bunker, the twenty-three-year-old captain was hit by an enemy rocket-propelled grenade, dying instantly but saving the lives of fifteen men in the process, who eventually finished the mission and hoisted the Indian flag on the peak.
For motivating his command by personal example and going beyond the call of duty, Capt. Anuj Nayyar was awarded India's second-highest gallantry award, the Maha Vir Chakra, in 2000.
'The Tiger of Drass – Capt. Anuj Nayyar, 23, Kargil Hero' by Meena Nayyar and Himmat SIngh Shekhawat os Harpercollin India's book om the captain Anuj's journey.