Pathaan Movie Review – Yash Raj Films spy universe only gets bigger with Shahrukh Khan's universe and how. Pathan the raw agent when he is injured and has implants in his body, instead of retiring chooses to propose a new organisation JOCR. He tells his superior how a new force could be formed  that brings together the best agents who continue to have the fire burning within them but are otherwise injured or retired.
Then there's Jim – John Abraham – who builds a private terrorist outfit that can be hired by any one. There is no right or wrong in his dictionary plus he has a grudge against mother India who he says betrayed him.
While for the rest of the story it is enough to say watch it on the big screen, one can surely talk about the scale that gets better with each scene as Pathan travels around the world from India to Dubai, Russia France, Spain – where one gets to see him breaking a leg with the sensational Deepika Padukone…and Afghanistan ofcourse because he is Pathaan.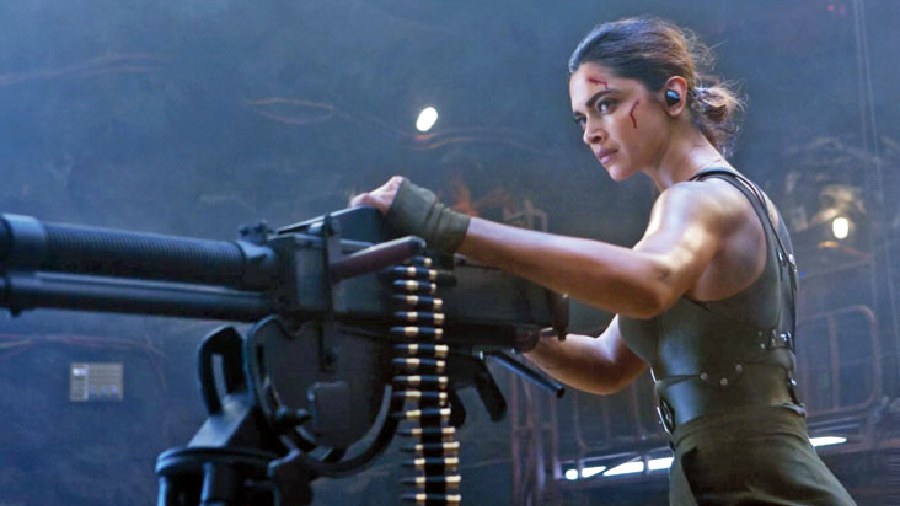 And, while he is moving from one country to another, he is weirding guns, knives, arms and armoury and fighting enemies on land, air, water, ice – romancing and being funny whenever he can – in short doing all that he is good at and more.
It is a typical spy film with secret agencies, their agents, the conspiracies and has a few predictable parts…but the canvas is so carefully drawn creating enough adrenaline rush topped by exquisitely Choreographed stunts. While on stunts one needs to say three cheers to the actress Deepika Padukone, who not only wows the the viewers with her great clothes and dances, she also fights like a pro. And just like Katrina in yet another spy thriller of YRF – Tiger – Deepika too is an ISI agent originally a Pakistani doctor, and rest is best watched on screen.
Without giving too many spoilers – Pathaan can be termed as the movie carefully crafted to bring back audiences to theatres, and director Siddharth Anand has pivoted on Shahrukh's charisma, his stunning physique, graphics, gadgets, stunts and John Abraham and Deepika to create this large scale production that is engagingly cinematic. Salman Khan simply makes it bigger and delightful to watch- perhaps the first of its kind collab after 'Karan Arjun' where you last saw them fighting the bad men together in coordinated stunt movements. Finally John Abraham made for a worthy villain to fight – especially if you have Tiger and Pathaan to deal with on the other end!
Plus: Shahrukh Khan, John Abraham, Deepika – the stunts, the engaging screenplay, music…and dialogues
Minus: A few comic moments that cry for better writing,
Verdict: Pathaan is worth the moolah you end up paying for5 tickets in theatres these days. Totally paisa vasool!
Pathaan Movie Review – Cast & Crew
Actors: Shahrukh Khan, John Abraham, Dimple Kapadia
Direction: Siddharth Anand
Writers: Shridhar Raghavan, Abbas Tyrewala
Story: Siddharth Anand
Music: Vishal Sekhar
Dialogues: Abbas Tyrewala
Action Directors: Casey O'Neill, Craig Macrae, Sunil Rodrigues [ROD]
Producer: Aditya Chopra
Production: YRF