Sudeep Sen – Internationally acclaimed, poet, editor, and artist, celebrates his 59th birthday today. From his first book, The Lunar Visitations: A Cycle of Poems, White Swan Books, New York, 1990-1991 to the latest— Red, Nirox Foundation, 2023 — Sen continues to stun readers with viscerally innovative and intertextual possibilities of poetry.
Sudeep Sen in conversation with Jhilam Chattaraj 
I read Sudeep Sen's poetry as a student. Over the years, Sen's aesthetic approach and technical virtuosity with language began to influence my thoughts. Sen's style has evolved into a highly objective form of poetry premised on architectural composition, clarity of thought, and a spectacular range of images; his poems, especially in the collection, Fractals, imprint the reader's imagination like the bejewelled domes of Samarkand. Sen's poetry demands complete submission of the reader. An initiated reader of poetry would know that Sen adopts the techniques of artistic 'defamiliarization' as elaborated by Russian critic Viktor Shklovsky. Sen's idea is to prolong the process of understanding the poem; for it is not merely words arranged in stanzas but artwork as detailed as the textured body of an ancient rock. One has to look at his poems with the precision of a horologist or a goldsmith; for his merit lies in carving fine details; like the wings of a butterfly; complex, subtle, a celebration of pure intricacy.
I have learned from Sen that poetry cannot be practiced in isolation; it is a collective pursuit. Every poem is a social space. Words win a life only when they leap out of the page into the ears of the reader. It is one to read a poet's work in whispers all alone, and it is completely another to listen to the poet in life and blood. In the year 2016 at the Hyderabad Literary Festival, Sen read his works along with eminent poets like Meena Alexander. The experience was enthralling — poetry became something palpable and alive with critical resonances; I still remember Sen reading poems like 'Kargil' and 'Gajar Halwa.'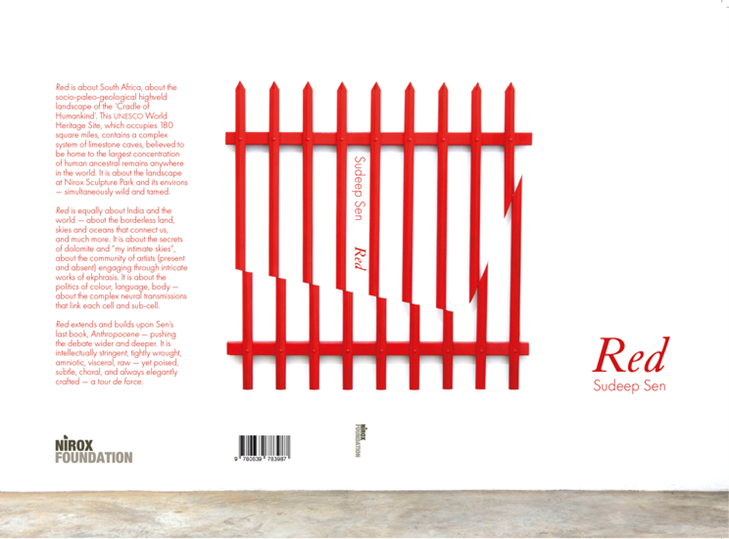 Red, Sudeep Sen's new book (a sequel to Anthropocene, Pippa Rann Books, UK, 2021), was recently published by the Nirox Foundation (South Africa) to mark this year's WORDS Festival, which he headlined. It was also the occasion for the opening of Memory is Starlight, an exhibition of Sen's art photography and lithographs. The events marked the conclusion of his three-month fellowship as a writer/artist-in-residence at Nirox. Sen arrived on March 1st from New Delhi. He spent his days engulfed in the rich historical landscape resulting in a body of work extending across words, images, and sounds. The title of the exhibition is a line from his poem, My Intimate Skies (which is the title of his new collaborative CD), from his new book, Red.
On Sen's birthday, I am delighted to share snippets of my latest conversation
– Jhilam Chattaraj [JC]:    
Congratulations! Your new book, Red is out. What is it about?
 Sudeep Sen: Red is about South Africa — the socio-paleo geological highveld landscape of the 'Cradle of Humankind.' This UNESCO Heritage site, which occupies 180 square miles, contains a complex system of limestone caves, believed to be the home of the world's largest human ancestral remains anywhere in the world. Red is about the landscape of the Nirox Sculpture Park and its environs — simultaneously wild and tamed. Red is equally about India and the World — the borderless land, skies, and oceans that connect us. It is about the secrets of 'dolomite' and 'my intimate skies,' the community of artists (present and absent) engaging through works of ekphrasis. Red is about politics of colour, language, and body. Red is an extension of my previous book, Anthropocene — it is a wider and deeper mediation of man and nature.
Tell us a little about your collaborations with South African artists. 
Apart from my own individual work — collaboration has been a key feature of my residency. In May, Jill Richards (a Steinway Pianist) and I presented a one-hour live performance duet, 'Aria Explodes, Word-Stained, Red-Etched' at her Johannesburg Melville Studio. Jill responded to my work with original creative compositions and studied improvisations along with the music of Kurtag Gyorgy. We are now working towards making a poetry-piano CD, based on this performance.
Earlier in April at the Nirox Music Festival, Tubatsi Mpho Moloi and Senna-Marie did two short music-poetry collaborations with my poems, 'Silence' and 'Shiuli' respectively. At an allied show at the Words Festival, 'Hoop / Hope' by Johan Thom took his inspiration from my poem, ''Obituary'; and the following line acts as a leitmotif: "They were simply not names on a list / They were us". Johan and I earlier collaborated and presented an experimental mixed-media show, 'Unhoused Memories' at the famed Javett Arts Centre at the University of Pretoria.
Memory is Starlight, my exhibition of art photography and lithographs (created in collaboration with Sbongiseni Khulu and David Krut Projects), was accompanied by a live reading from Red and a soundscape from the CD, My Intimate Skies (with Tubatsi Mpho Moloi). This presentation celebrated the inspiration derived from the landscape, furthering the urgent debate on climate change, and the power of creative organic collaboration.
Your poetry is always intertextual. Tell us a little about the visual narrations in Red. 
During the three months, my ekphrastic work subtly wove the ecological concerns of our times (pushing further the urgent debate I raised in my last book, Anthropocene). From this lens, I responded to the works — of artists (such as Richard Long, William Kentridge, Richard Forbes, Driaan Claasen, Bruce Arnott, Sean Blem, Yoko Ono, Amine El Gotaibi, Hannalie Coetzee), geo-scientists (like Vincent Carruthers, author of Cradle of Life) and others — that span across the art-science creative disciplines.
My own art photography of their work and the South African highveld further added to the visual narration. Another collaborative work featuring me was a two-part film, 'Anthropocene to Red', made by Dilip Menon, Professor at the University of Witwatersrand and Director for the Centre of Indian Studies in Africa.
How did the Nirox Residency affect your writing?
My residency at Nirox and my sojourn in the Cradle of Humankind, have shifted something in my inner core. My relationship with nature, its elements, and forces — rocks, soil, sky, water, animals, birds — have become even more intimate, intense, and visceral. This in turn, of course, has affected my writing. I'm not sure whether I'll be able to integrate back into city living after this. For the moment, the words and wisdom of the Botswana san mystic healer, Tsitano Maburunyara, seem most appropriate for me — "In a trance, I can change myself into a star and visit my friends in the sky …. And when I return, I drop to the ground and become a person again."
Recently you travelled from Hyderabad to Hampi following the spectacular granite terrain. Would rocks of these places be a part of your upcoming works? 
The Deccan plateau is unique in terms of hosting some of the most stable and oldest formations in the world, part of the 2.5 billion years old Dharwar craton. I wanted to continue and stretch the geo-ecological arc that started engaging in South Africa's 'Cradle of Humankind' to India, in a more concrete manner — thereby linking Earth's meaningful geographies and "climate imaginaries". The new work — poetry and photography — that emerges from these trips will complete the larger trade edition of Red, a significantly extended version of the limited edition that came out at Nirox very recently.
Thank you, we look forward to the extended version of Red.
More about poet Sudeep Sen:
Sudeep Sen was born to Satyabrata and Ratna Sen on August 9th in New Delhi, India. His childhood was spent in the neighbourhoods of Hauz Khas and Chittaranjan Park. He spent many summers in the paternal ancestral home, 'Chandradham', in Bankura, West Bengal.
Sudeep Sen is one of the most prominent representatives of Indian poetry in English.  His prize-winning books include: Postmarked India: New & Selected Poems (Harper Collins), Rain, Aria (A. K. Ramanujan Translation Award), Fractals: New & Selected Poems | Translations 1980-2015 (London Magazine Editions), EroText (Vintage: Penguin Random House), Kaifi Azmi: Poems | Nazms (Bloomsbury). He has edited influential anthologies, including The Harper Collins Book of English Poetry, World English Poetry, and Modern English Poetry by Younger Indians (Sahitya Akademi), Best Asian Poetry, Kitaab International, 2022 and Converse: Contemporary English Poetry by Indians, Pippa Rann Books, UK, 2022. In 2023, Sudeep Sen co-won the Rabindranath Tagore Literary Prize for the multi-genre book, Anthropocene: Climate Change, Contagion, Consolation (Pippa Rann Books, UK, 2021). Sen's poetry has been translated into more than 35 national and international languages.  One may imagine Sen as a poet working in isolation in an ivory tower. However, he is not— though there are allotted periods of solitariness. Sen has always been a people's poet, a public intellectual, an avid traveller, and one who took poetry beyond borders and cultures. He is one of the most active poets I know— always encouraging young writers to organize readings, festivals, and critical discourses around poetry.