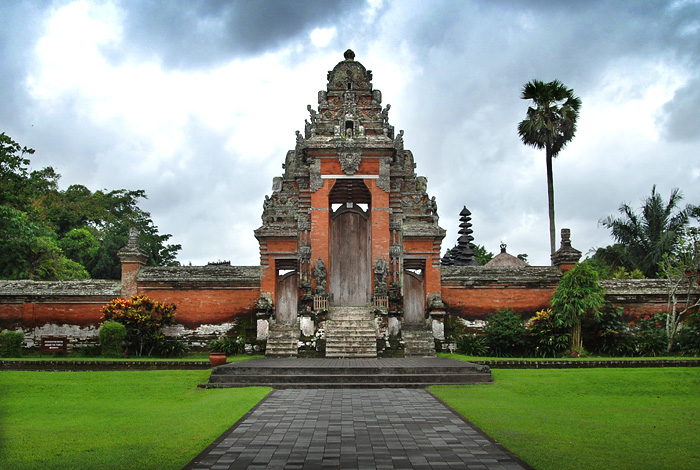 When you travel to Bali, things to do include experiencing the cultural treasure, enjoying natural beauty, and visiting the stunning temples
Think travel to Bali and the first imagery that might be popping up in mind is the myriads of natural beauty – from the pristine and majestic beaches, wide-stretching sands, lush rice terraces, gorgeous waterfalls, to stunning volcanoes. However, the beauty of Bali as the quintessential tropical paradise goes beyond its beautiful appearances. The island is home to many ancient landmarks, cultural treasures, and iconic celebrations and ceremonies that will allow you to deep dive into Bali's wonderful history, the day-to-day life of Balinese people, and strong cultural and spiritual traditions.
Among the innumerable temples and historical sites in Bali scattered throughout the whole island, Pura Taman Ayun (Taman Ayun Temple) should definitely be on your bucket list. You must also learn a thing or two about Balinese culture when you travel to Bali.
Visit the Royal Temple of Mengwi
If you travel to Bali for the first time, you might notice that there seems to be pura (temples) littered everywhere in the islands, from the small shrines in the public areas to the bigger temples. And well, yes, it shouldn't come as a surprise as Bali is touted as Indonesia's Islands of the Gods – it has a strong fascinating culture and deep-rooted Hindu traditions that remain pure and unspoiled. One of the most popular and prettiest temples that you might need to visit for a special cultural visit during your travel to Bali is Pura Taman Ayun (Taman Ayun Temple).
Located in Mengwi, Badung, away from the hustle-bustle of the city center, this temple is nestled in lush, greenery surrounding with trees and ponds – about 18 km northwest of Denpasar and about 8 km southwest of Ubud.  Taman Ayun Temple is one of the most attractive and most visited temples in Bali. This 17th-century creation was built as a family temple of Mengwi Empire and was only accessible for the royals. This temple is declared as part of the world cultural tourism site by UNESCO as it holds a very strong and sophisticated architectural design.
The Taman Ayun Temple complex occupies an area of 100 x 250 m2, comprising four different courts. The first one is called 'Jaba' or outer court – it is only accessible through one single entrance through a bridge over the ponds. In the first inner court, there is a small guardian shrine and a large 'wantilan' hall that the local communities usually use for gatherings.
Then, you will be welcomed by a tall fountain and a big shelter with ornamental features and reliefs depicting the 9 Gods guarding the cardinal directions in the second inner court. Lastly, the third inner court of the complex is the highest court and is considered the most sacred place. It is referred to as the Utama Mandala – the "gelung door" or the intricately ornamented gate that is only open during certain ceremonies only.
Taman Ayun literally means "A Beautiful Garden", which strongly represents the situation of the temple that is super beautiful – surrounded by many tiered shrines dedicated to different gods, lovely manicured foliage garden, thatched-roofed prayer hut, and canals. No wonder, this is the ultimate place that people usually flock to get peace and serenity.
How To Get There
Taman Ayun Temple is located in Jalan Ayodya. No 10. Mengwi village, Mengwi sub-district, Badung regency, Bali. If you travel directly from Ngurah Rai International Airport, the trip will take approximately 29.3 km with an estimated time of about a 1-hour drive away. It is recommended to head to the temple by private vehicle, either by motorbike or by car. It isn't hard to find a motorbike and car rental in Bali! Just do not forget to show your motorbike driving license and stay safe.
Things to do Nearby
While you are in Badung and are traveling with your family and kids, paying a visit to Alas Kedaton is an alternative option to the more popular Ubud Monkey Forest. It is a 7-hectares protected forest area that serves as a temple as well as an animal sanctuary for the grey long-tailed macaques. This is a perfect opportunity to learn about Balinese cultural traditions while getting to interact and play with the monkeys. It only takes around a 20-minute drive away from Pura Taman Ayun.
Monumen Nasional Taman Pujaan Bangsa Margarana
Another historical landmark that is located nearby the Pura Taman Ayun that you may want to visit to dig more about the history of Bali, and Indonesia as a whole, is Monumen Nasional Taman Pujaan Bangsa Margarana. This 17-meters height monument was built in 1954 to commemorate the Puputan War Margarana – the war between the Dutch and Ciung Wanara Battalion led by the National Hero I Gusti Ngurah Rai. There is also a building inside the complex that serves as a museum storing various historical relics, from weapons, communication tools, to medical devices.
Pura Taman Ayun is the ultimate option for all the culture vultures out there who are keen to explore the strong, cultural, and religious traditions of Balinese people. However, while we are still in a pandemic situation, be sure to follow health and safety protocols to avoid the spread of Covid-19 by keeping your mask on, keeping your physical distance, and regularly washing your hands with soap or hand sanitizer!