'800' Biopic Delves Beyond Cricket, Sheds Light on Muthiah Muralidaran Life's Unknowns
'800' Biopic, a tribute to the iconic off-spinner Muthiah Muralidaran, renowned for his distinctive brilliance, unfolds in a film presented by Movie Train Motion Pictures. Madhur Mittal, acclaimed for his role in 'Slumdog Millionaire,' steps into the shoes of Muralidaran. Directed by MS Sripathy, this authentic sports film is poised for a grand theatrical release. Sivalenka Krishna Prasad, the esteemed Tollywood producer and head of Sridevi Movies, secures the All-India theatrical rights for the much-anticipated movie. Scheduled for release on October 6th, '800' promises an engaging exploration beyond the cricket field, offering insights into the lesser-known facets of Muthiah Muralidaran's life.
Muralidaran engaged with the Hyderabad cine media. Here are highlights from the interview:
Did you propose the biopic concept, or did the director suggest it? What was your initial response?
The whole sequence of events unfolded unexpectedly. Initially, I never envisioned a movie about my life. About two decades ago, I established an NGO foundation in Sri Lanka to aid the underprivileged, and our impact can be explored online. In 2008, Director Venkat Prabhu visited Sri Lanka for outreach to Tamil people, accompanied by Director Sripathy and two others. During this visit, my wife and her childhood friend Venkat Prabhu, who was with the team, proposed the idea of a biopic upon seeing my achievements. Initially declining, I was persuaded by my manager to consider it as a means to support the foundation. Venkat Prabhu, although not producing the film later, asked Sripathy to continue developing the script. Efforts were made to produce the biopic with Vijay Sethupathi as the lead by Suresh Productions, but plans changed. Having spent considerable time together, I entrusted Sripathy, who had traveled with me extensively, to direct the film, with Madhur Mittal portraying me on screen. The pandemic caused delays, but with the film's completion, Sivalenka Krishna Prasad of Sridevi Movies stepped in to release '800'. Much like my life, there were ups and downs in the journey, and the film is set to finally release on October 6.
Taking on a biopic is a significant responsibility, especially in ensuring it serves as an inspiration for the youth. What precautions did you implement in that aspect?
My initial task was approving the creation of my biopic. I meticulously reviewed the script multiple times, emphasizing the importance of authenticity to both the director and producers. I insisted that only the unembellished truth be narrated, as a biopic loses its essence without portraying genuine reality. My life resembles a cinematic journey filled with diverse experiences—both favorable and unfavorable. I believe even a skilled scriptwriter would find it challenging to craft such a compelling narrative.
The notion is that biopics typically require fictional elements to avoid a documentary feel. How much fiction is incorporated in this film?
This movie is devoid of fiction; cricket comprises only 20 percent. The remaining 80 percent delves into my life, unveiling its unknown facets. In '800', we depict my journey, the challenges faced by my family, and the circumstances my country confronted. Everything, from my childhood to interactions with selectors, revealing the factors that led to their choice, is portrayed.
How well did Madhur Mittal capture the essence of your character in his portrayal?
Honestly, I've only encountered him twice. The director handled all aspects of his training, and I preferred not to interfere. The teaser and trailer have persuaded me that he embodies about 70 percent of my appearance and mannerisms.
Have you not seen the movie yet?
Absolutely, I'm a devoted movie enthusiast, especially when it comes to Indian films. I prefer experiencing the entire movie rather than just the rushes for complete enjoyment.
Did you refrain from visiting the '800' set? Were you not curious about the progress?
I made a single visit to the film set, which happened to be at our parents' house. I'm unfamiliar with the intricacies of movie production, a challenging art form that I appreciate. I enjoy watching films, but it's disheartening to witness producers facing financial setbacks. While actors receive their pay, if the movie doesn't succeed, others involved lose their investment.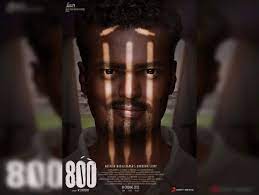 What is your perspective on the outcome of a film?
A movie can be a hit or a flop. That's why cricketers usually don't want their biopics to be made. A lot of money will be spent to find diamonds on earth. Sometimes, even after so much effort, only one diamond is found. Many times, diamonds are not spotted. The movie's fate is similar. Success has many factors. If the film flops, my legacy will not collapse. My legacy is cricket! '800' is our attempt to tell people the true story. Some may like it. Some may not like it. Shivalenka Krishna Prasad, who has 35 years of experience in the film industry, is presenting and releasing the film worldwide. This is a good movie. Surely everyone will like it.
Will the film see a release in Sri Lanka?
We're making it happen. The film will have a global release in Tamil, Telugu, Hindi, and Sinhalese. Considering the significant Sri Lankan diaspora, we are also releasing the Sinhala version for them, including in Sri Lanka.
Muralidaran, are you a viewer of Telugu films?
In Sri Lanka, Telugu films aren't typically released, while Tamil and Hindi movies are commonly available. We catch Telugu movies dubbed in those languages. Blockbusters like 'Baahubali,' 'RRR,' and 'Pushpa' saw nationwide releases in India, including Hindi and Tamil versions, providing us the chance to enjoy them. The appeal of Telugu cinema is rapidly growing, gradually ascending to prominence alongside the well-established popularity of Bollywood films in Sri Lanka.
Which Telugu actor do you admire the most?
Telugu cinema boasts numerous superstars and star heroes, particularly noteworthy is Nani. I've watched several of his films, including the impressive 'Shyam Singha Roy,' along with 'Eega' and 'Jersey,' which I enjoyed. As I primarily watch dubbed versions, recalling many Telugu titles is a bit challenging. I appreciate Nani's work because he is more of an actor than an action hero, embodying the essence of a Natural Star.
Venkat Prabhu and your wife Madhimalar share a childhood friendship. With your wife's father being a Tamil film producer, do you have ties in Kollywood?
Regrettably, Ramamurthy garu, Madhimalar's father, has passed away. Despite this, he is widely recognized as the owner of Malar Hospitals in Chennai, where his family still retains shares. He was also involved in film production, particularly with Karthi as the lead in one or two projects. A close friendship existed between Ramamurthy and P Vasu, the director of 'Chandramukhi,' and even with Chandrasekhar. Interestingly, I received a marriage proposal for Madhimalar from Chandrasekhar. I am acquainted with several notable individuals, including Sun TV's Kalanidhi Maran, CEO Shanmugam, and many others.
What are your feelings leading up to the movie's release? Do you feel any tension or anxiety?
I remain composed as usual. No need for unnecessary stress—it's not as if I'm competing in a World Cup final.
The World Cup is about to commence shortly. Do you have a preferred team, Muralidaran?
Sri Lanka holds a special place in my heart. While the Indian team appears to be the front runner, Team Australia is formidable too. Predicting the winner is challenging; luck plays a crucial role in success. In the previous World Cup, I anticipated New Zealand's victory, but England emerged as the champions.