Bharata Uvaca – a day-long event of performances and talks was organised by Shankarananda Kalakshetra and Natyarambha academies bringing to town some of the most renowned names in the fields of art, culture, literature, research, history and academics. Here's a low down on series of events by Anna Rao 
What a show it was ! The day-long spectacle at Shilpakala Vedika had something to attract nearly every person's interest and stoke their curiosity. Talks and programs; from conservation to artificial intelligence (AI) and instrumental music to dance ballet were indeed a spread to linger over, appreciate and enjoy. Senior dance Guru Ananda Shankar Jayant curated – Bharata Uvaca through multifarious voices giving us glimpses of our traditions, culture and heritage and their relevance to the younger generation of today.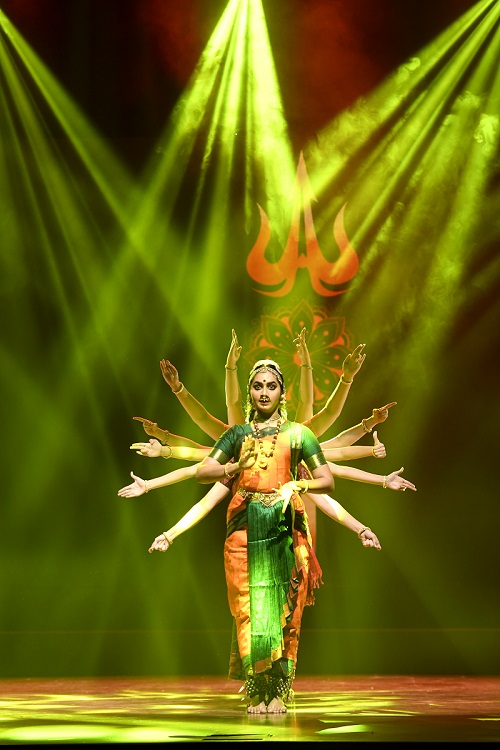 Sai Deepak, writer, advocate was as usual forthright in his opinions, his arguments though couched in layman's terms had all the brilliance of a courtroom advocate's impassioned delivery mesmerising the audience as he set out the fault lines in our society as he saw them. Ramayana has embedded in it gems for the present as a living inheritance from the past, which can be used for guidance as they are relevant in all ages. This was the theme of Shantanu Gupta's school of thought.
The Indian temple is a living treasure trove, a glorious living link from ancient times, it resonates classical pristine grandeur reminding us how it was once the hub of not just religion, but education and commerce too. The arts of sculpture, architecture as well as dance an upachara or offering to the divine, were inextricably linked here. Chitra Madhavan a scholar and author in this field was the raconteur here, who made us virtually walk through a panorama where we could almost glimpse an intricately carved vimana, hear melodious hymns and the enchanting fragrance of incense!
India is rising says writer Gautam Chickermane and its energy is vividly transforming all areas like governance, sports etc. where stultifying  tamasic habits are giving way to a rajasic explosion of new thoughts and actions, he shares.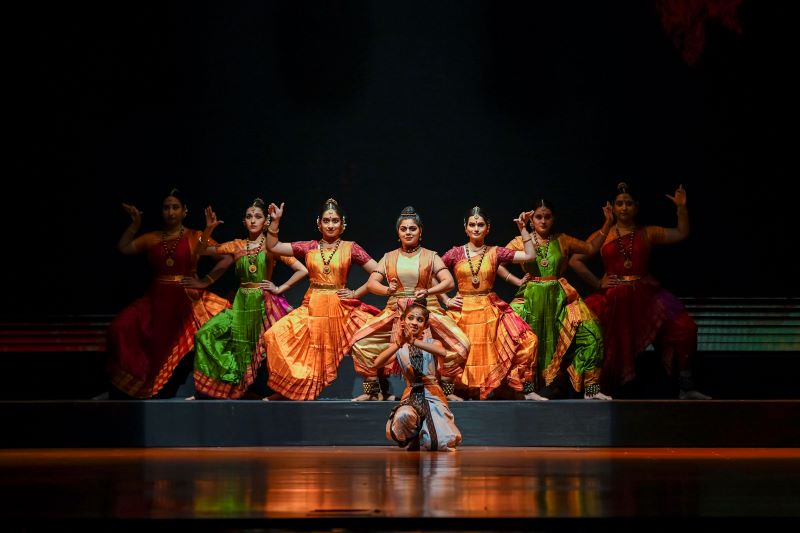 Monika Halan, author of 'Lets Talk Money' and other books related to finance explained "Artha" or wealth is an essential part of human endeavour and we need to inculcate the habit of appropriate investment decisions in our finances to achieve independence and prosperity.
Bringing back our lost artefacts is the field of Anuraag Saxena, writer, activist – a quite forensically fascinating  pursuit of lost treasures. Dance Guru Anupama Kylash interpreted the divine ecstasy of bhakti as mediated through a personal God. Violins spoke liltingly as instrumental music brought a serene air to the auditorium. It was exciting to trace out  vital connecting pilgrimage links throughout India in the vivid and rare maps owned by Prashant Lahoti of Kalakriti Art Gallery. Dharma mingled with AI in fascinatingly contemporary dialogue enunciated by Muneet Dhiman, educationist. Beautifully woven textiles are as striking today as they were throughout history being synonymous with couture narrated writer Shefali Vaidya. Kalpana Ramesh was the quintessential water warrior fighting to preserve this precious natural resource with burning dedication. Anand Narasimhan, journalist, was  profoundly detailed on how civilisational roots strengthen the Nation.
The finale of Bharata Uvaca was the spectacular dance ballet recounting the stories by the Vahanas of Shiva-Parvati Nandi and Simha brought to life in full vigour of vivid Bharatanatyam colourfully depicting puranic legends. Students as peacocks danced in tranlucent shimmering violet and blue robes,the Gods exhibited rivalry miraculously settled by Shiva testing Brahma and Vishnu in his form of a pillared column of fire. Divine marriage of the great God with his Consort was an elegant processioned tableaux filled with imagery created by the Artistes. Finally Parvati singing her children Ganesha and Kumara to sleep was a poignantly memorable scene filled with gentle abhinaya. Perfect geometry combined with refined artististry and luxuriously embellished costumes blended in elegant symmetry were the hallmark of the production.