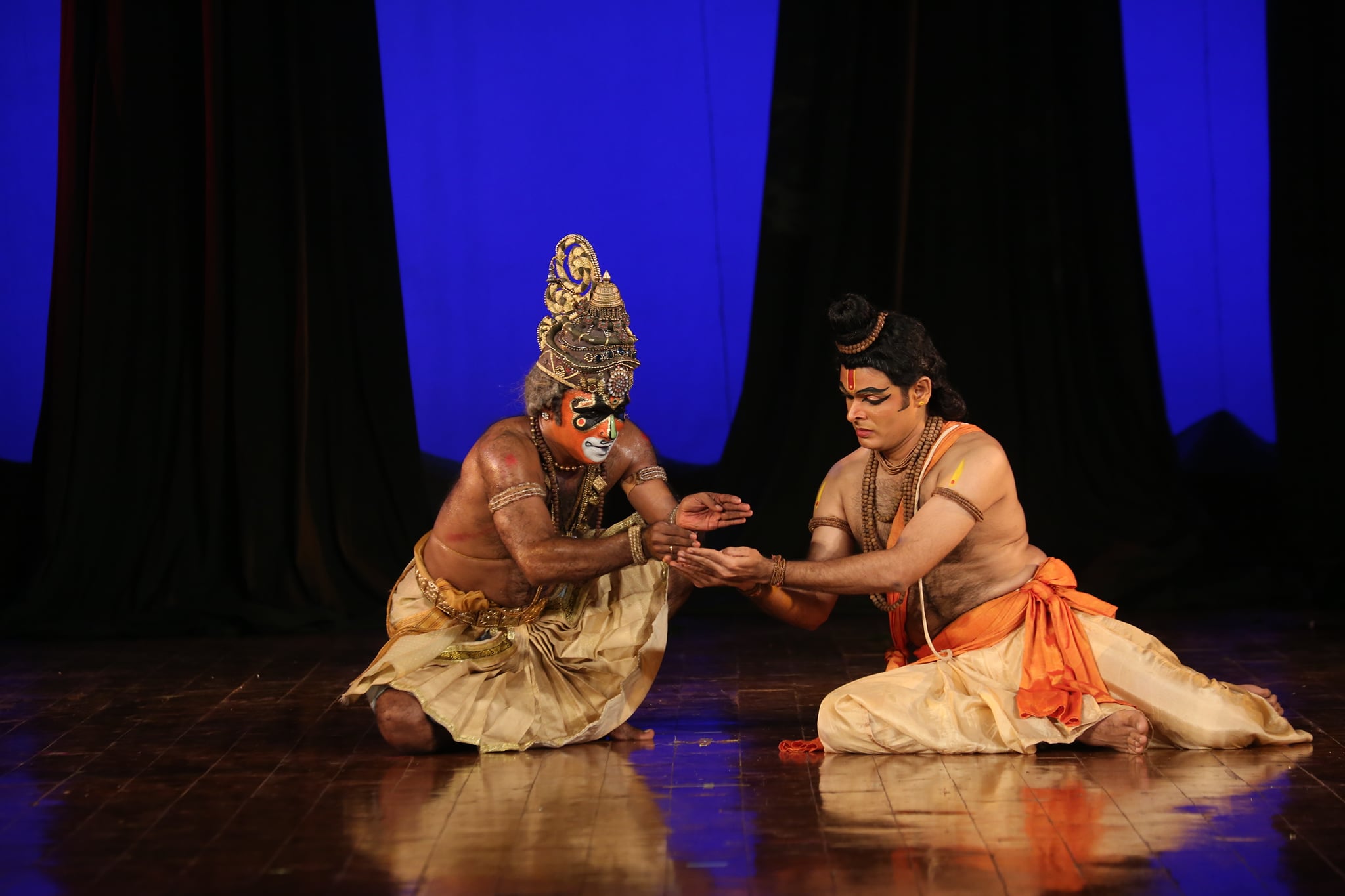 Ramayana Kalpavrksam explores 'All things Ramayana' through Dance, Music, Arts and Scholarship. For Schedule of Events is mentioned below
A unique – 3 day cultural extravaganza  –  Ramayana Kalpavrksam from  31st March 2023 – to 2nd April 2023, at the CCRT Campus, Madhapur, Hyderabad is an immersive festival of arts and scholarship,  conceived and curated by dancer, Guru and scholar Dr Ananda Shankar Jayant.
Ananda shares, 'As a resident of Hyderabad, I was keen to curate and present, a multi art festival that would appeal to everyone; and the very first idea was to present a festival centred around Ramayana! Sri Rama and His story – The Ramayana – is a story that transcends space and time – an epitome of love, service and sacrifice. Telling and retelling the Ramayana has not tired the storyteller, the listener or the viewer, and   continues to inspire seers, artistes and scholars across millennia.'
Presented by Shankarananda Kalakshetra & Natyarambha, Ramayana Kalpavrksam (Ramayana – The Eternal life giving tree) is curated as a veritable mosaic of events that has something for everyone and every age group – scintillating performances, by star performers, wide variety of arts ranging from the classical to the popular, thought provoking talks, visual art exhibitions, workshops on rare arts, artisans corner, and special features.
The title of the festival is inspired by Srimad Ramayana Kalpavrikshamu, a 6 volume magnum opus written in the 20th century, by Kavi Samrat Viswanatha Satyanarayana, the first Gnanpeeth awardee in Telugu; which Ananda says, "has stirred the Rama Bhakta and artist in me. I extend my gratitude to the family of Sri Viswanatha Satyanarayana Ji, for permitting us to use this title."
Adding scholarship to the festival, she invited well known dance scholar Dr Anupama Kylash to curate the talks and conference segment of the festival
Speaking about how Ramayana is more than Itihasa, Anupama, "It is the 'sutra', or thread, that binds the cultural, spiritual and philosophical ethos of the entire Indian subcontinent, in one common essence, that is 'Dharma', a word, unique to us, as an ancient civilization. 'Rāmāmrta', the Conference segment of 'Ramayana Kalpavrksam ', will focus on exploring every facet of the Ramayana, the original, retellings, analysis and interpretations by seasoned academics and experts, young, brilliant scholars and ardent devotees of Sri Rama!"
The stellar line up of events include a galaxy of renowned artistes from across the country
Kala Sandhya – Evening events will include
Choodamani Pradhanam by Kalakshetra Chennai
Vishaka Hari's Harikatha – Navarasa Ramayanam
J Sai Deepak's talk on Raja Dharma – Lesson From the Ramayana
Taaraka Naama – Musical evening by young stars Abhilash Venkitachalam of Super Singer and Sai Vignesh of Kantara fame
Anupama Hoskare's unique puppetry – Ramayana Saptaswara
Shankarananda Kalakshetra dance ensemble
Ramamrita – The 2 day-conference on various facets of the Ramayana by senior and young scholars, from across the country – curated by dance scholar Dr Anupama Kylash.
Dr Sudha Seshayyan
Dr Gauri Mahulikar
Dr Nagaraj Paturi
Ramaa Bharadvaj
Ami Ganatra
Vinay Varanasi
Surajit Dasgupta
Hemant Pandey, speaking from the space of scholarship and Bhakti
Special Features
Manas Paath – Traditional recitation & singing of Sundara Kandam of Tulasi Ramayan by Pandit Dilkash Bharti Sadanand Vishwakarma and Party, Varanasi
Rama Ayana – Walk with Rama – Nagara Sankeertana lead by musicians TK Saroja & TK Sujatha
Pancharatna Kritis lead by musician Sweta Prasad
Unique Workshops by Hema Kannan, Rahul Teddy and Anupama Hoskere
Rama – Chitra Katha – An exhibition of PP Raju's pictorial calligraphy
Cultural Brand showcase
Artisans corner and more
The event is presented by Shankarananda Kalakshetra & Natyarambha, in collaboration with IGNCA, New Delhi .
Registrations : www.ramayanakalpavrksam.com
Date : 31 March to 2nd April 2023 
Venue : CCRT Campus, Hyderabad 
 SCHEDULE –
Friday 31/03/2023
01/04/2023
02/04/2023
Program
Time
Program
Time
Program
Time
Manas Paath – Traditional recitation & singing of

Sundara Kandam of

Tulasi Ramayan

 

Pandit Dilkash Bharti Sadanand Vishwakarma and Party, Varanasi

7.3am – 9.00 am
Rama Ayana –

Walk with Rama Nama

A Public walk with Nagara Sankeerthana

Lead by TK Saroja and TK Sujatha

7.00 am – 8.00 am
Thyagaraja Aradhana

Pancharatna  group singing

Lead by Sweta Prasad

8.00 am – 9.00 am
TEA BREAK – 9.00 am – 9.45 am
Ramamrita – I

Scholarly Talks Curated by

Dr Anupama Kylash

 

10 am – 1.00 pm
Ramamrita – II

Scholarly Talks Curated by

Dr Anupama Kylash

 

10 am – 1.00 pm
Ami Ganatra

Sankalp, Paap and Prayaschitta: perspectives from Valmiki Ramayana

 

Vinay Varanasi

Sita-MahaTripurasundari: 

Sita from a Shakta perspective 

 

 

 

Hemant Pandey

Hanumat Darshan in Tulsi Ramayana

 

Gauri Mahulikar

Ramayana – Women composers and perspectives.

Sudha Seshayyan

Kambaramayanam – a treasure for all times

 

Surajit Dasgupta

Ramayana: Krittibas Onwards

Nagaraj Paturi

Ramayana n- A People's Living Tradition

Ramaa Bharadvaj

Ramayana – Beyond the Desi Land

LUNCH BREAK – 1.00 pm – 2.30 pm
Kala – Charan -I

Roots of Culture  Workshops

 

2.30 PM – 4.30 PM
Kala – Charan -II

Roots of Culture  Workshops

 

2.30 PM – 4.30 PM
Hema Kannan

Chitra Kaushalya

Drawing  Auspiciousness – Kolam Workshop 

 

Anupama Hoskere- Sutra Putula

Pulling strings – Learn to manipulate puppets

 

Rahul Teddy

Mala Grathana

Making Garlands for the Gods

 

Hema Kannan

Chitra Kaushalya

Drawing  Auspiciousness – Kolam Workshop 

 

Sanskriti Sanghatana

Cultural Brands Showcase

Short presentations

 

Rahul Teddy

Mala Grathana

Making Garlands for the Gods

 

 

TEA BREAK – 4.30 pm – 5.30 pm
EVENING PERFORMANCES
Mangala Vadhyam

Inauguration of Festival

5.00 – 6.00pm  6.00 – 6.30 pm
Ramayana Saptaswara

Puppetry performance

Anupama Hoskere and Dhaatu group

6.00 pm – 7.00 PM

Raja Dharma –

Lessons from the Ramayana

Talk

J Sai Deepak

Advocate, Supreme Court

 

6.00 pm -7.30pm
Choodamani Pradhanam

Kalakshetra, Chennai

Presented

In collaboration with Kalakshetra Foundation

Choreography

Rukmini Devi Arundale

Dance Drama

bringing alive the Kishkinda Kandam of Valmiki Ramayanam

6.30 pm – 9.00 pm
Bhavayami Raghuramam

Bharatanatyam performance

Shankarananda Kalakshetra ensemble

7.00 pm -7.45 pm
Taraka Naama

Musical evening

Abhilash Venkitachalam & Sai Vignesh

&

And The Groove Culture

7.30 pm to 9.30 pm
Navarasa Ramayanam

Harikatha

Vishaka Hari

7.45 pm –9.30 pm