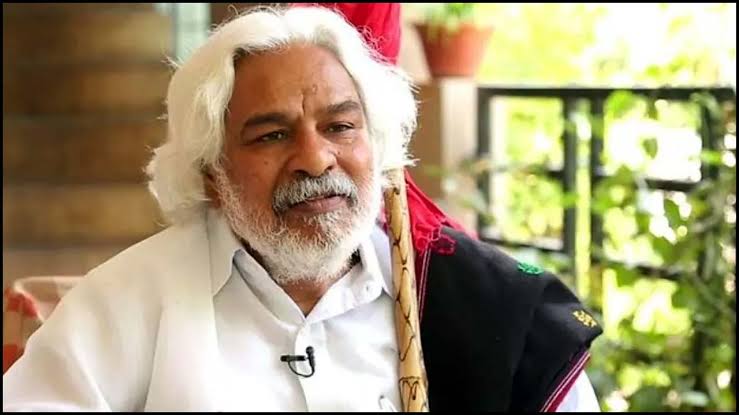 His pen has might that has inspired lakhs of people. His voice was a weapon that targeted injustice, poverty and oppression where ever he saw it. His song moved millions to stand up for their rights, fight for their identity and raise their voice against suppression. Gaddar – the voice of the people stopped for ever when he died in Hyderabad from heart ailment. But his song lives on, and will continue to fill hearts with courage and sense of sacrifice.
He was born in Toopran of Telangana in 1949 in a Dalit family, and in his younger days he was attracted towards Naxalbari, and the sense of sacrifice that the youngsters, many of them highly educated  who went the revolutionary way carried with them. He says he has always been singing, but when he discontinued his engineering to join forces with the revolutionaries and the naxalbari movement – it was the same sacrifice that has always inspired him, that he displayed. Originally Gummadi Vittal Rao, he came to be known as Gaddar after the popular movement started by Indians outside the country fighting against the Britishers – the Gadar movement. He led an underground life. His song continued to reach people and for long he was representing the cultural wing of the Maoists – Jana Natya Mandali.
Like Sri Sri said – Kukkapilla, Sabbubilla Aggipulla – Kavevi Kavitakanarham – Be it a dog- or a bar of soap or a match stick – none are ineligible for poetry. There was nothing that missed his pen. He could write on anything and find a reflection of life in every object. And every pain of the poor and the deprived found place in hi verse.
Over the time, Gaddar became disillusioned with the communist party. He also actively began to seek mainstream politics. He was shot in 1997 but survived the assassination attempt with a bullet in his spinal cord – which had considerably slowed him down. But the voice retained its vigour and became the anthem for separate Telangana movement.
His Podustunna Poddu Meeda Nadusthunna Kaalama Poru Telanganama – reverberated across millions filling them with courage and the spirit of statehood that they were fighting for. This song, and the song he has written in 1979 for a Gautam Ghosh film Maa Bhoomi – Bandenaka Bandi Katti – and several others continue to inspire people even today. He voted for the first time in 2018 Telangana elections. He was once known as revolutionary poet, and was popularly called the Praja Yuddha Nauka – the warship of People's movements.
He was last seen during a Congress meeting with Rahul Gandhi and was planning to actively involve in election through his Gaddar Praja Party. His ideologies have changed over the time, but his song has remained as voice of the common man. At 77 he passed away leaving behind his legacy of songs, and will always be remembered as people's poet.