Gaurang Shah – the designer celebrates India's rich weaving traditions. His Whispers of the Loom mesmerizes on Handloom Day
On the 7th of August, Hyderabad bore witness to a magnificent celebration of India's textile heritage, as Gaurang Shah, the eminent textile and fashion designer renowned for his mastery of the Jamdani weave, unveiled his captivating show, "Whispers of the Loom." This event, held at Gaurang's Kitchen, paid tribute to the timeless elegance of sarees and showcased the diverse weaving techniques that have shaped India's cultural tapestry.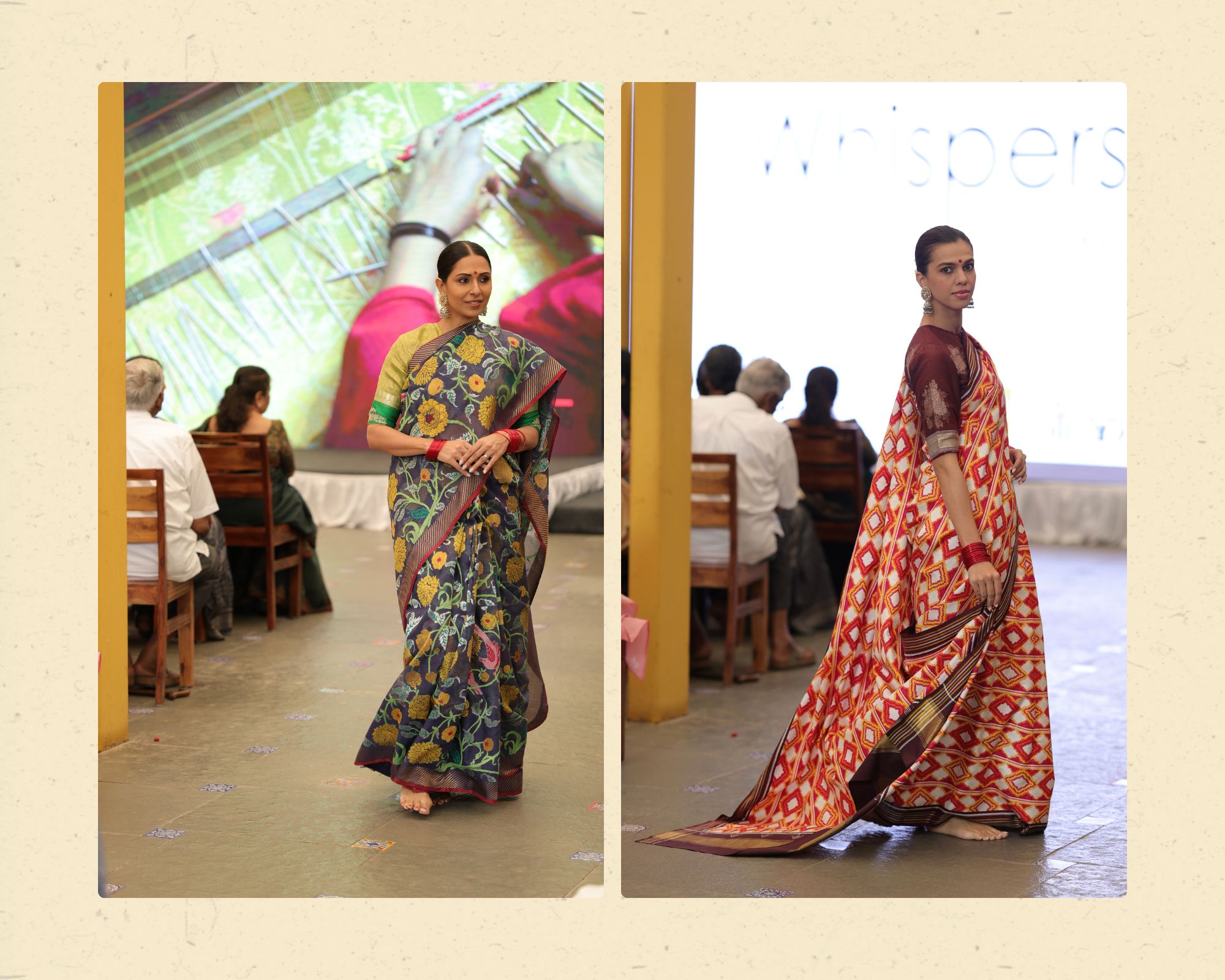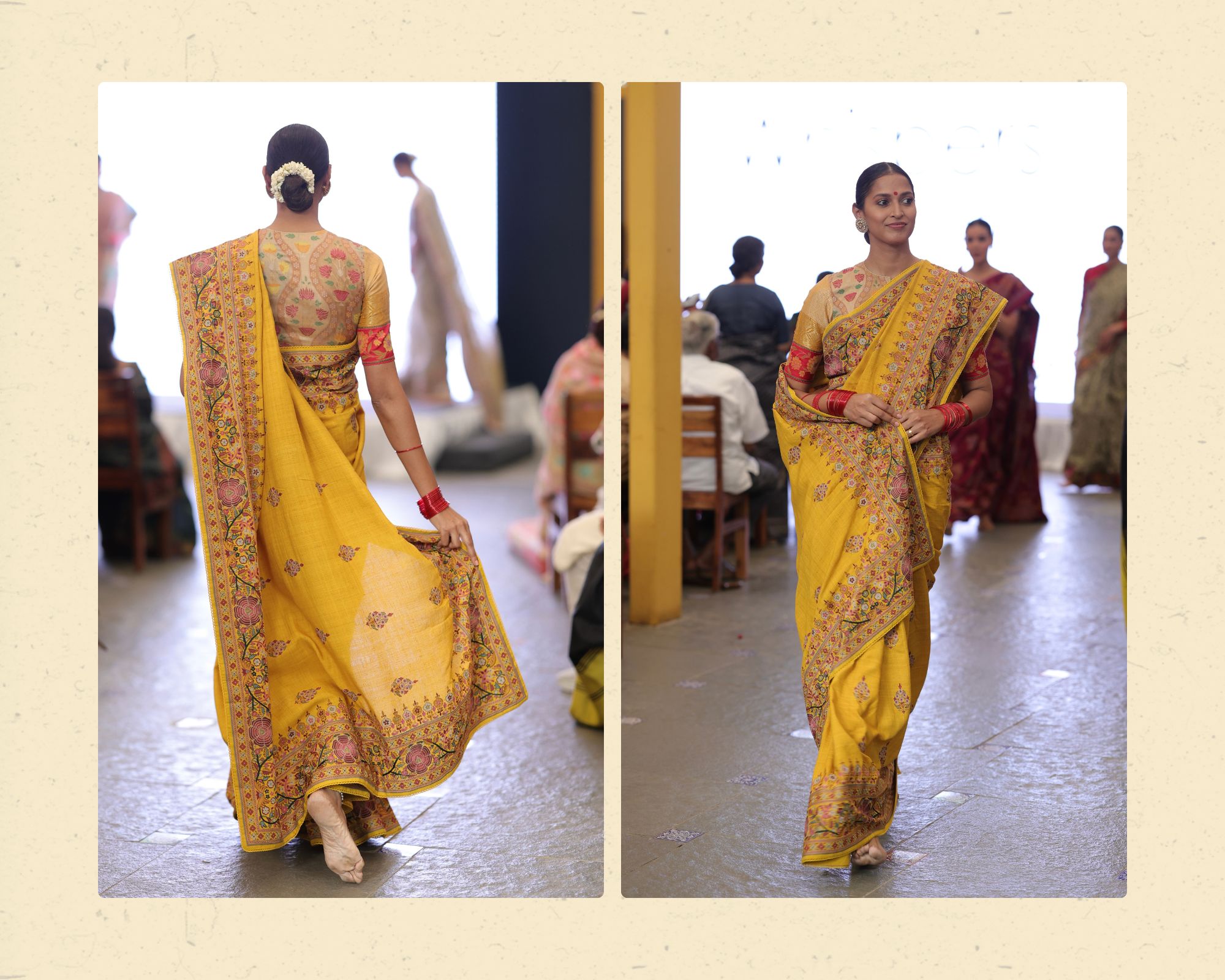 Light Blue White Clean Grid Family Photo Collage (7)
Light Blue White Clean Grid Family Photo Collage (6)
Light Blue White Clean Grid Family Photo Collage (5)
Light Blue White Clean Grid Family Photo Collage (4)
Light Blue White Clean Grid Family Photo Collage (3)
Light Blue White Clean Grid Family Photo Collage (2)
Light Blue White Clean Grid Family Photo Collage (1)
Light Blue White Clean Grid Family Photo Collage
A Mesmerizing Ode to India's Weaving Legacy
Gaurang Shah Whispers of the Loom event marked an ode to India's rich weaving legacy, a celebration of handloom textiles that have stood the test of time. The heart of the show was the cherished Jamdani weaving technique, a masterpiece that Shah has dedicated years to mastering. Through his expert touch, he highlighted the journey of sarees over centuries and how they have embraced the intricate beauty of Jamdani.
An Enchanting Choreography Unfolds
The event unfurled with a captivating choreography, weaving a narrative that entranced the audience from the very beginning. Amidst the soothing strains of classical Indian music, models glided gracefully, adorned in exquisite handloom textiles. Each garment represented a distinct form of handloom weaving or craft technique, offering a comprehensive panorama of India's diverse weaving heritage. This orchestrated fusion of history, art, and fashion showcased the unparalleled elegance of each piece.
Gathering of Elegance and Aspiration
The evening beckoned as a grand affair, with over 300 elegant connoisseurs of art and tradition gracing the event. Their collective admiration and aspiration were aimed at paying homage to these finely handwoven sarees. Amidst the grandeur, the allure of the Jamdani weave shone, leaving spectators awe-struck by the fusion of tradition and contemporary charm embodied in every thread.
Preserving Threads of Tradition
Gaurang Shah's voice rang strong at the event, underscoring the imperative of preserving India's weaving traditions and supporting the artisans who have nurtured these crafts for generations. He emphasized that the diverse weaves—ranging from Dhaka and Kashmir to Kota, Paitani, Andhra Pradesh, Benaras Jamdani, Ikkat, Jaquard Kanchi, Jaquard Benaras, Embroidery, and Chikan—form the very fabric of India's cultural heritage. By embracing these techniques, we not only safeguard our past but also empower the countless weavers and artisans who dedicate their lives to this artistic endeavor.
An Elegance that Transcends Time
The event unfurled with a poignant Kathak dance performance by four artists, their graceful movements synchronized with live sarangi, tabla, and flute melodies. This soulful overture paid homage to the intricate artistry of the handwoven sarees that would later grace the stage. The evening held within it the promise of an unforgettable experience, a testament to the artistry, heritage, and culture enshrined in every fold of these remarkable garments.
A Lasting Impression
As the curtains fell on this extraordinary evening, the audience departed with hearts brimming with admiration for the awe-inspiring panorama of India's weaving traditions. The event not only celebrated Gaurang Shah and his mastery but also served as a poignant reminder of the cultural heritage embedded within handloom sarees. The melding of tradition and innovation, of artistry and allure, was a testament to the enduring splendor of these creations.