Oscars 2023 – Naatu Naatu wins Oscar for the Best Original Song at the 95th Academy awards with music composer MM Keeravani and lyricist Chandra Bose accepting the coveted award on stage.
Oscars 2023 has gained significance for movie buffs in India, especially from the two Telugu states as they rooted for the song 'Naatu Naatu' and waited to see if RRR team gets the coveted award home. In addition, 'The Elephant Whisperers' documentary, and the documentary feature film in Gujarati 'All That Breathes' were in the nominations, and that's big. Deepika Padukone on the presenters lists added to the buzz.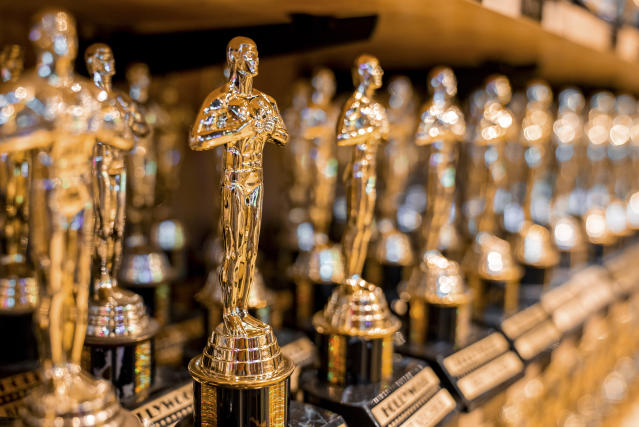 Surely the high moment was to watch Rahul Sipligunj and Kalabhairava perform 'Naatu Naatu' on Oscar stage while MM Keeravani, Rajamouli and the two dashing men in the news, Ram Charan and NTR watched from their places.
For Telugu audience 'Naatu Naatu' had become an anthem when 'RRR' was released – the top song that shook the entire nation even as the film became a rage – a song that is as local as it could get that's now competing with the best talent in the world at Oscars 2023.
The other 'Best Original Song' nominations included –
'Lift Me Up' by Rihanna from the film 'Black Panther: Wakanda Forever' – a film that is nominated in other major categories as well. After 2016, this is Rihanna's first solo that's written and produced by Ludwig Goransson, with additional writing from Rihanna, Ryan Ceogler and Tems. And, is surely one of the favourites for the music and lyrics as well. Sample this – 'Burning in a hopeless dream, Hold me when you go to sleep, Keep me in the warmth of your love when you depart, Keep me safe, safe and sound…Lift me up, Hold me down, Keep me close, Safe and sound…"
'Hold My Hand' by Lady Gaga adds to the emotional moments in 'Top Gun: Maverick' adding to its soulful vibe like 'Take my Breath Away' in the first 'Top Gun' movie that has lasted for ever now. This is besides the wonderful action and technical brilliance making for more nominations for the film in categories like Best Sound, and Best Film Editing. Lady Gaga wrote this song and said 'It is a love letter to the world'.
"When I wrote this song for Top Gun: Maverick, I didn't even realize the multiple layers it spanned across the film's heart, my own psyche, and the nature of the world we've been living in. I've been working on it for years, perfecting it, trying to make it ours" – she had tweeted.
Here are few lines from 'Hold My Hand'
Hold my hand, everything will be okay
I heard from the heavens that clouds have been grey
Pull me close, wrap me in your aching arms
I see that you're hurtin', why'd you take so long
To tell me you need me? I see that you're bleedin'
You don't need to show me again
But if you decide to, I'll ride in this life with you
I won't let go 'til the end
"This Is a Life" from Oscar favourite "Everything Everywhere All at Once" is one of the two singles from the film in addition to the 49 songs from the original soundtrack album. The music for the film is produced by the band Son Lux featuring popular artistes including Mitski and Byrne for This is a Life. The film with its multiverse universe made by Daniel Kwan and Daniel Scheinert, who were predictably into music big time – has 11 academy award nominations and won seven awards including for Best Film, Best Actress in Lead Role  & Actress in Supporting Role.
Applause has music and lyrics by Diane Warren and is performed by Sofia Carson for "Tell it Like a Woman". The film is an anthology – and America-Italian production filmed in different parts of the world. One of the short stories is shot in India that has in the cast Jaqueline Fernandez. The stories  are inspiring and empowering just like the lyrics –
Give yourself some applause, you deserve it
Give yourself some respect 'cause you've earned it
Give yourself some love 'cause you're worth it, you're worth it
Yeah, hell yeah
Let 'em know you know it, go and show you own it
You're bold, you're bad, you're strong
So give yourself some applause, applause
Most songs from the nominations are melody driven, unlike 'Naatu Naatu' which is boisterous and lively and definitely a dance number. While all the songs by brilliant composers, singers and writers deserve every bit of the accolades, it's 'Naatu Naatu' that's surely one of the favourites with many from Hollywood betting on it. Other strong contenders for Oscars 2023 are Rihanna and her song 'Lift me Up' and Lady Gaga too.