Evadraa evadraa nuvvu
Inumunu inumunu nenu
Nanu kaalchithe katthauthaanu
Evadraa evadraa nuvvu
Mattini mattini nenu
Nanu thokkithe itukauthaanu
Evadraa evadraa nuvvu
Raayini raayini nenu
Gaayam kaani chesarante
Khaayamga devudnauthaanu
(Loose Translation
Who are you?
I am Iron
You melt me (burn) and I become the sword
Who are you?
I am the dust
You trample upon me
And, I become a brick
Who are you?
I am a stone
You hurt me (give me wounds)
I will surely become God)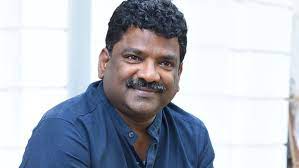 Chandrabose's lyrics in latest Allu Arjun starrer 'Pushpa – The Rise' is poetry in its most easily relatable form. Super simple words pack in depth of thought that is communicated in the most beautiful manner. His poetry is for common man and despite the limitations posed with respect to being written for films, he manages to wow purists and film fans equally, who gush over the magic he creates with his words.
Speaking to him is no less exhilarating. He speaks in 'Telugu' – (quotes are intentional) – and that in itself is the most amazing part of having a conversation with him. Then his clarity of thought, articulation of his poetry and his unconditional love for the written word are infectious.
No wonder he could write a mass masala lyric like 'Jigelu Rani' as a special dance number for the movie 'Rangasthalam' with as much ease as he wrote for a similar kind of situation in the movie 'Pushpa' a song like 'Oo Antaava'.

Koka Koka Koka Kadithe
Kora Kora MAntu Choostharu
Potti Potti Gowney Vesthe
Patti Patti Choostharu
Koka Kaadu Gownu Kadu
Kattulona Emundi
Mee Kallallona Antha Vundi
Mee Maga Buddhey Vankara Buddhi
The song is a commentary on how it doesn't matter if a girl wears a saree or a short dress, men's gaze is kinked anyway. The song created an uproar for its direct commentary on objectification of women. While many lauded it, and many others considered it wrong. A case was also filed against the song.
Controversy and fame are two sides of the same coin, and song writer, poet Chandra Bose, the toast of the tinsel town is sporting both these with nonchalance as he moves on to his next song.
As a lyricist he has always been considered a notch higher in the film industry. However, for the past year and more he has been writing songs for several movies with almost all of them topping the charts.
The latest in the list apart from the movie 'Pushpa' include 'Naatu Naatu' from Rajamopuli directed 'RRR', 'Kolu Kolu' from the yet to release Rana Daggubati starrer 'Virata Parvam'. His songs from 'Uppena' movie – "Dhak Dhak" and "Eswara" were being played on loop for a long time. These are just a few of the many songs for multitude of films that he has been penning down with great flourish; which he delightfully displays when he talks about them.
Lyrics for the special song 'Oo Antava' for the movie 'Pushpa'? 
The song does not generalise so to speak. In every human being, there is nobility and wickedness. It is up to the person what he supresses and which one he wants to cultivate. There are many atrocities happening on women. We read about them in newspapers every day. In simple words and in lyrics that appeal to the masses, I wanted to talk about the injustice. I had written this song long ago. Its only now I have had the opportunity to use it. DSP composed it beautifully by using just four notes."
About 'Virataparvam' 'Kolu Kolu' song 
I give the credit of lyrics for 'Virataparvam' to director Venu Udugula, who is also a poet. Both Venu and his wife are poets and when he asks me to write a song then I have to write in such a way to gain their appreciation. Venu explained the situation to me. The song is sung by a simple village girl, who is straight forward and who represents the native rural culture. The song is not about the usual love between a boy and a girl. Here it is more than that. It is about the soul connection, more platonic and deeply emotional. It is about love in its purest form. Sai Pallavi's expressions are so good; she is a perfect fit for the role. She speaks through her movements, through her eyes and body. And I had to write a song that is as expressive.
Paadhamemo vaadidhanta
Payanamemo naadhi anta
Vaadi pedhavi thoti navvuthuntaa
Aksharaalu vaadivanta
Ardhamantha nenu anta
Vaadi gonthu thoti palukuthuntaa
Praanamanthaa vaadenantaa
Praayamanthaa vaadenantaa
Vaadi premai nenu brathakanaa
(It is his feet, and my journey; I laugh through his lips; The letters are his, but I am the gist; I sing with his voice; He is my life; He is my youth; I live as his love….)
I loved the way the song has been picturised as well. It took me back to my memories of living in a village. And, the music by Suresh Bobbili is simply superb; made the song beautiful.
Process of writing
Usually, poetry is based on experiences. I too write based on what I have seen, traditions that I watched, I observe people I meet, scenes that affect me come through, things that I have learnt come out like words. My point of view comes through every song of mine – be it 'Pushpa', 'Virataparvam' or 'Rangasthalam'. Whenever I write I re-invent myself. For example when I wrote for 'Virataparvam, I imagined myself to be this girl and wrote the lyrics.
Flashback to 'Uppena'
For 'Uppena' when I wrote the song 'Dhak Dhak' I had to imagine two young lovers, who were unaware of the worldly vice, innocently in love, which could be a combination of physical attraction and infatuation for each other and fondness for one another. I had to go back many years to re-visit myself and my feelings from when I was so young. The song 'Eswara' on the other hand was completely different based on what the couple must be going through mentally as they pass through the challenges and troubles.
Eshwara parameshwara
Choodaraa itu choodaraa
Rendu kannula manishi brathukunu
Gunde kannutho choodaraa
On 'Ey bidda Idhi Naa Adda'
The song for Pushpa movie 'Ey bidda Idhi Naa Adda' speaks about the point that nothing and no one can suppress you, and even if they do you will come back strong. It is quite inspirational if you look at it.
This is the golden period for lyric writers. Poetry and lyrics are being given a lot of importance and lyric writers are being tremendously respected. Listeners are talking about each line if they like the song. In fact, for a few important situations the directors are giving me freedom to write and they are ready to give it a tune post writing. Well written songs are becoming a big asset. Look at 'Neeli Neeli Aakasam' with new team. How the song has crossed 300 million.
Writing songs in a language that reaches out to millions of viewers, communicates feelings and emotions is very important. And when there's appreciation coming in for each line of what I have written, what else would I need as a writer.