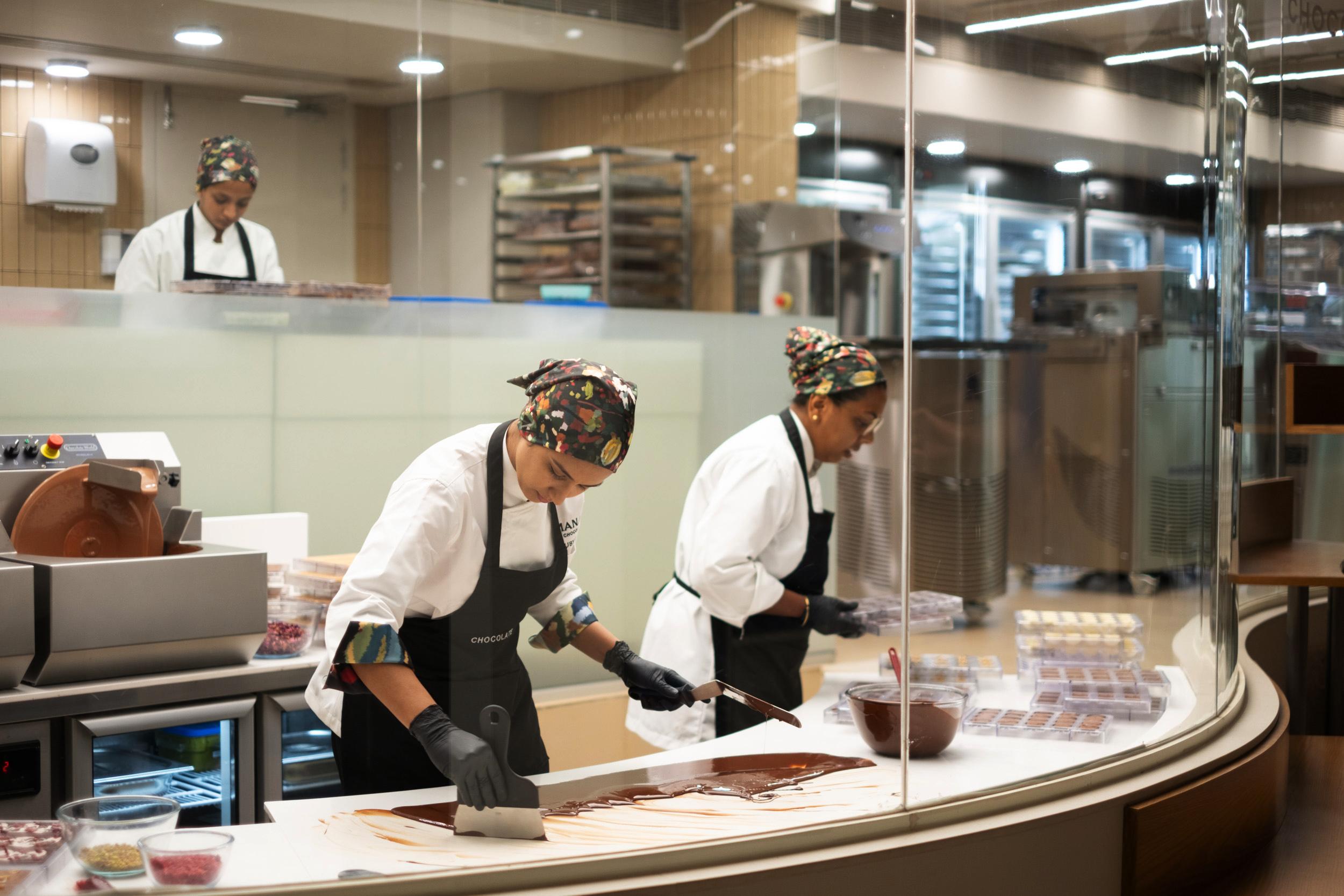 Manam Chocolate, the brainchild of Chaitanya Muppala is modelled as a collective of passionate craftspeople, farmers, fermenters, chocolate makers, chocolatiers, and storytellers, united to usher in a new era of Indian Craft Chocolate, writes Rajeshwari Kalyanam
The Manam Chocolate Karkhana (Factory) on Road No 12, Banjara Hills, Hyderabad, is a showcase of over 250 chocolate products, the café and the live display of indigenous chocolate being crafted to the best of the standards
Specially crafted 68 percent dark chocolate made with Cacao farmed by one Mr GVS Prasad, an engineer turned organic farmer from Tadikalapudi village of West Godavari district in Andhra Pradesh State is what Manam Chocolate calls a Farm Tablet No 3. That, the cacao is grown alongside areca nut, long pepper, and banana and box fermented in a specially developed five-step process. and goes through drying alternately between sun and shade at the fermentation facility in West Godavari district, before reaching the Manam factory – explains the flavour notes.
The Manam Chocolate Factory or Karkhana in the local language is in Hyderabad where the Cacao beans are gently roasted, and refined in special Italian ball mills along with Cacao butter extracted from the same beans before being conched for days to bring in the maximum desired texture. The whole process is aimed at mellowing down the bitterness, retaining the fine flavours – in this case fruity and making the chocolate creamy and chocolaty.
A minute trivia in this story is that the farmer in question GVS Prasad is the first farmer to associate with brand Manam and you see his mini figurine on display as a mark of respect at the factory cum experiential centre on Road No 12, Banjara Hills.
In short, this story also explains the philosophy behind Manam Chocolate. The name is derived from the Telugu word that means 'Us'. This farm to Fermentary chocolate experience translates into a plethora of products that one gets to see on display at the store.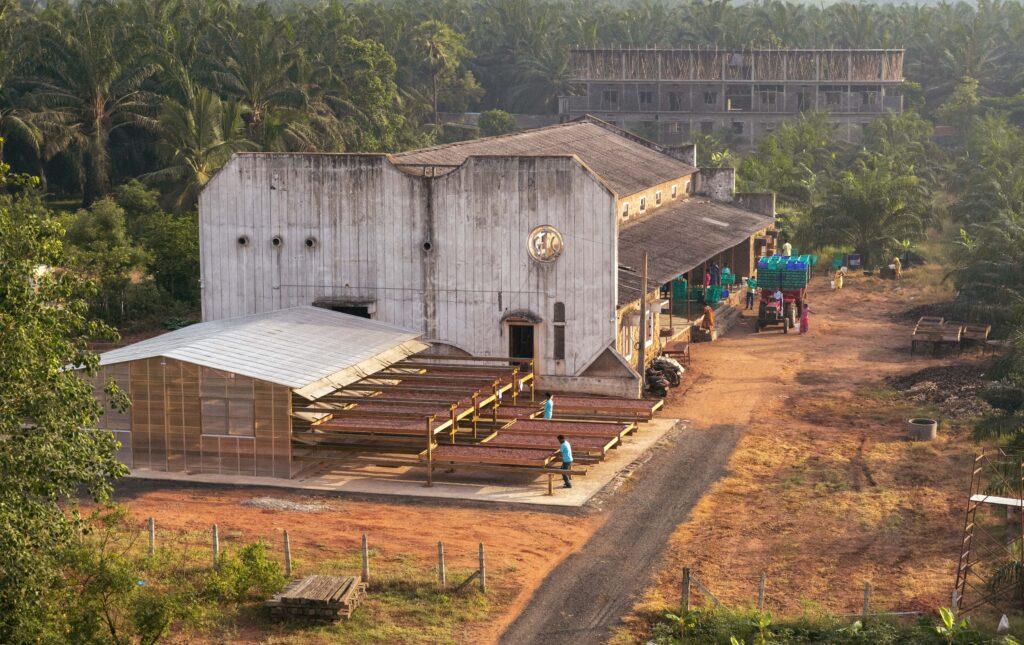 Signature Tablets, Bonbons, Truffles, Nama, Barks, Fudge, Palettes, Rochers, Clusters, Macrons, Glanduja, Spreads, Cake, Pastries, Viennoiserie, Hot and Cold Beverages, a range of ingredients for Bakers and so much more – the many products that have been the result of curating recipes and experimenting with the Cacao diligently produced by farmers primarily from Andhra Pradesh and Telangana – are all on display at the store, which is an extension of the factory where one can witness their chocolate being made.
The man behind the concept, vision, and research behind Manam Chocolate is Hyderabad-based food entrepreneur Chaitanya Muppala. He aims to make a distinct space for India on the World Craft Chocolate Map. In addition to building the ecosystem Chaitanya aims to educate the consumer – who will know their chocolate before eating it – and the experiential centre provides just that.
Attached to the experience centre is tastefully the built Manam Café which has a real Cacao tree growing in the middle of it, flanked by greenery all around, and earthy in its vibe with its stone flooring, terracotta roof and 150-year-old pillars holding the coffee bar. The mostly European menu at Manam Café gets a touch of chocolate not just in the desserts and beverages, but also in other dishes, for example – the Cacao nibs sprinkled for crunch which adds brilliance to a wholesome plate of salad.
While you are amazed at the way the indigenous grown and processed crafted chocolate has been adapted into the store menu and the café food – one cannot help but acknowledge the story of a passionate man whose love for food found an outlet where he put in his might to create some of the best practices in making craft chocolate. The processes he put in place positively impact every stage of production – from the farmers who are at the beginning of the curve to unlocking the potential of indigenous Cacao and Cacao products taking them beyond bean to bar, and placing Indian Cacao on the global map.
Manam's story invariably returns to Chaitanya Muppala – where it all began. Manam Chocolate's vision is led by Chaitanya, who has been certified Level 1, 2 & 3 in Chocolate Tasting by the International Institute of Chocolate and Cacao Tasting (IICCT, USA). He is currently India's first and only Level 3 Certified Chocolate Taster. In 2018, Chaitanya's search for quality Indian chocolate proved pivotal. He realised the difference between industrial and craft chocolate, which led him to create a business model for fine flavour Indian craft chocolate. He incorporated Distinct Origins Private Limited to establish West Godavari as the go-to destination for global craft chocolate makers. He has successfully brought on board 100 Cacao farmers, and is currently sharing his learning with the customers who not just buy their chocolate from Manam but carry with them a piece of this chocolate story.