Suta the artisanal lifestyle brand celebrating heirloom crafts, innovative boldness and sophisticated simplicity launches its new store in Hyderabad
GALLERY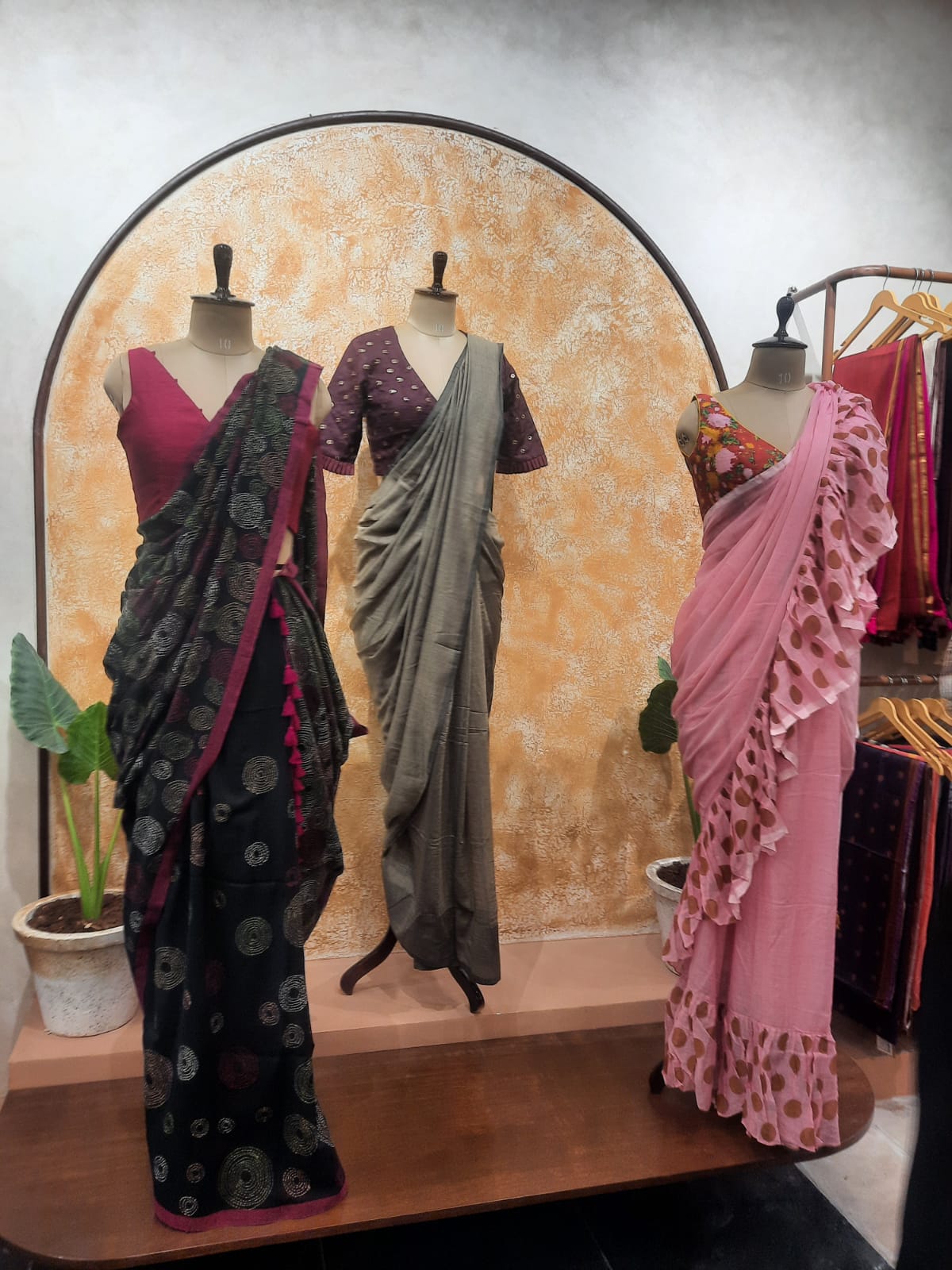 WhatsApp Image 2023-04-09 at 08.50.32
WhatsApp Image 2023-04-09 at 08.50.33
WhatsApp Image 2023-04-09 at 08.50.34
WhatsApp Image 2023-04-09 at 08.50.35
Suta one of India's fastest-growing artisanal brands, brings ethically-made Indian clothing to the city at its new store in Jubilee Hills.
Founded in 2016, the brand Suta is a contemporary design house that creates a range of attire including one-of-a-kind sarees, blouses, men's and women's wear, accessories, and home décor. Their products fuse traditional crafts with innovative design. Founders Sujata and Taniya always had a special fondness for the countless and varied forms of handicrafts that each corner of India is home to. Even after spending many years in the corporate world, their passion never abated. From working with a single weaver and only two employees in 2016, Suta has grown to working with 17,000+ weavers across the country. The brand takes efforts to personally connect with the weavers, understand their pain-points and work closely with them to launch new collections.
Over the years, Suta has become the brand of choice for celebrities from all walks of life – leading names such as Madhuri Dixit, Vidya Balan, Taapasee Pannu, Manjri Varde, Shefali Shah, Raima Sen, Arya Badai and Amruta Khanvilkar, among others, have been spotted proudly sporting Suta sarees and blouses, both on and off the screen.
Connection with Hyderabad
Hyderabad has been one of the most frequently requested destinations for Suta Bazaar, Suta's traveling exhibition, and co-founders Sujata and Taniya Biswas are also partial to the city's historic charm and its artisan clusters, which they are eager to explore further.
"Hyderabad holds a special place in our hearts as one of our most beloved cities. Its rich history, vibrant culture, delectable cuisine, and warm people have always left us in awe. The immense love and support shown by our customers here towards our brand, products, and story made it an easy choice to set up our store in this city", says Sujata.
"Nestled in the heart of the Telugu film industry and surrounded by picturesque neighborhoods, this area exudes a timeless charm – much like Suta. Our aim is to provide customers with an authentic Suta experience and also broaden our reach to newer, more diverse audiences." shares Taniya.
Spread over 1,766 sq. ft., the store has been designed to offer an expansive but also intimate and immersive shopping experience. The design is undeniably Suta, understated, sensitive, timeless and elegant, and the location has been chosen keeping in mind given its upmarket and glamorous vibe, and easy accessibility. The store's décor and theme are also deeply intertwined with the cultural roots of  the city-  exquisitely carved wooden frames, glimpses of kadappa stone, and a deep love and respect for artisans scenting our sarees, blouses, menswear, home décor and accessories. In the store you'll find a deep admiration for India's artisanal heritage, a space that is intimate but spacious, cozy niches and mirrored walls that are functional but undeniably beautiful, and above all, a store that is undeniably Suta.
Store address: Suta, 1st Floor, Shreshta Primus Building, Pillar No. 1629, above IDFC Bank, Jubilee Hills Road No. 36, Hyderabad – 500033