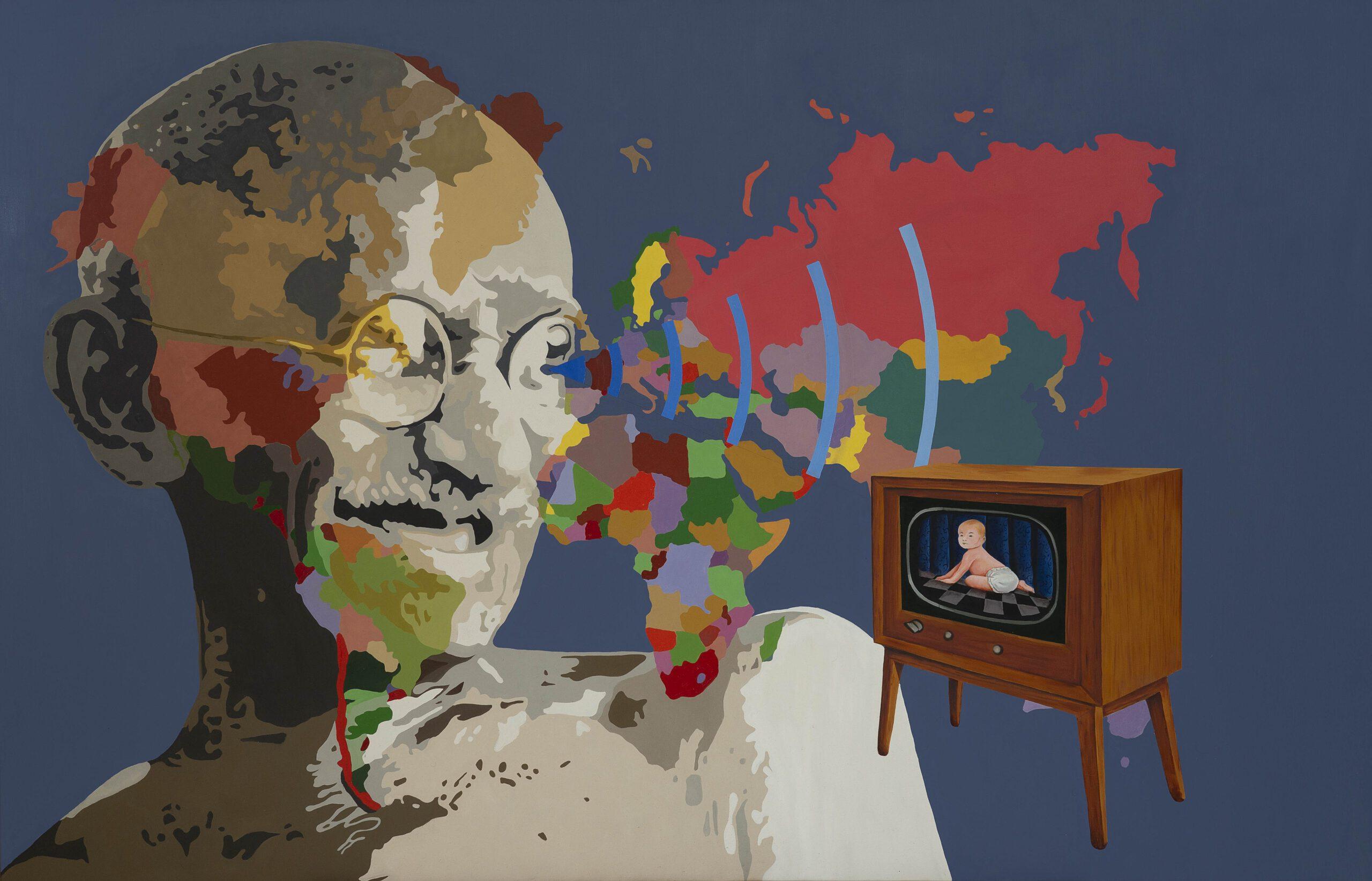 Gandhi was not rich, or glamorous, he was not a film actor – yet he reached out to millions despite the absence of the kind of media we see today – Artist Adarsh Baji
Give Peace Another Chance – On the occasion of 154th birth anniversary of Gandhi, Artist Adarsh Baji's paintings pay a tribute to Mahatma whose ideology transcends space, time and distance through art currently on display at Kalakriti Art Gallery
Baji questions: When the whole world salutes Gandhi for his thoughts and acts, are we respecting our great saint and messiah of peace? Is there a chance to revive his thoughts and actions in our life?
Gandhi was given the stature of a Mahatma by his ardent followers and the politicians of his time. And, why not they thought after all here was this tiny man with simple material possessions – his specs, watch, and his stick wearing a dhoti and an upper cloth at times – and he adopted the path of non-violence and truth and led his whole country on the path. The past few years have seen various arguments against Gandhi and his philosophy by some men of our times. But none can deny the impact this man and his message of peace has had on not just India but beyond; transcending distance, space, and time. "They can criticize but they have no right to insult, shares the artist, who feels Gandhi's ideology is more relevant today across the world than ever before.
His ideology is bigger than Gandhi as an individual who was human but his greatness is acknowledged by the world. How else will you explain the profound impact that Gandhi had on Nelson Mandela who led South Africa in its fight against apartheid and toward freedom? Mandela who went on to become the first president of his country after years of struggle, and time spent in prison eventually followed the path of non-violence, and Satyagraha in the fight, had never met Gandhi in his lifetime.
It is exactly this line of thought and the voices that are excessively critical of Mahatma Gandhi that prompted artist Adarsh Baji to read books on Mahatma Gandhi. He decided to showcase his learnings and understanding of Gandhi through his art. He pays tribute to Gandhi through his charcoal drawings, his acrylics and using oil on cavas.  This Baroda-based artist originally from Guntur studied art in Hyderabad before shifting to Baroda as a freelance artist. And, for the past decade, he has been working on paintings of Gandhi and his favourite medium is charcoal as he loves the challenge of recreating the aura of Gandhiji in hues of greys and blacks. He is more inclined towards doing large canvasses though and they lend themselves to the larger-than-life images of the Karmayogi, and his three monkeys signify his philosophy that permeated space and time.
Conceived to commemorate and celebrate the 154th birth anniversary of Mahatma Gandhi. Kalakriti Art Gallery presents "Give Peace Another Chance" by Adarsh Baji, who is also the recipient of the Krishnakriti Foundation Scholarship.
The exhibition elucidates the premise that Gandhi's presence is far from being fixed in time and space. The large canvasses displayed in the gallery bring in the aura of his persona. Gandhi is seen with his infectious legendary toothless laughter that according to the artist can bring peace amidst war. In one of his huge canvasses – the Greek philosophers are seen bending over as a mark of respect to Mahatma Gandhi, who is part of the great history of mankind.
Gandhi was not rich, or glamorous, he was not a film actor – yet he reached out to millions despite the absence of the kind of media we see today. Says Adarsh who represents this reach of Gandhi in one of his Oil of Canvas works.
On charcoal as a medium Adarsh says, "It is a very tough medium, especially to create various tones of greys and whites using one small charcoal piece. It is very challenging doing the same on large canvasses. And, I love challenges. It was a struggle to master it."
Adarsh has been working on the Gandhi Images from this series for the past six months, and he says once the paintings left his home cum studio – his house felt empty. "It was like Gandhi was always there. I would work on correcting one painting while adding finishing touches to another image of Gandhi. Now the house feels empty. On the day I packed and sent my works for the exhibition, my friends jokingly said that perhaps like in a movie – Gandhi may come pay a visit to me."
Adarsh's works usually are satirical and make a commentary on politics, society and the world we live in. It is his large canvases, his strokes bring life to his forms and his shades of grey add intensity to the message he wishes to convey making his charcoal drawing stand out and speak to the viewer.
He does not feel restricted by his disability and in fact chooses to take up challenging subjects and forms and revels in mastering them. For him Gandhi is an ongoing theme, which he often revisits.
Currently his works on display create an aura at the art exhibition, and it feels like Gandhi has indeed paid a visit for Gandhi Jayanthi as you watch the immersive works in life-size imagery. The exhibition 'Give Peace Another Chance' is on display at Kalakriti Art Gallery till October 18.