Celebrated writer, politician Dr Shashi Tharoor launches his 23rd book 'Pride, Prejudice and Punditry' during the 'Kitaab' event held in Hyderabad
A Kolkata based nonprofit trust, Prabha Khaitan Foundation (PKF) organised an event in Hyderabad to launch of Dr Shashi Tharoor's latest book under its 'Kitaab' initiative. The launch of the book "Pride, Prejudice and Punditry", second only after the official launch in New Delhi. The book launch was followed by his conversation with anchor, TV debate host Nidhi Razdan.
Around 150 of the city's elite, socialites and book lovers attended the event.  Jayesh Ranjan, Principle Secretary, Govt of Telangana was also present at the event hosted by Anjum Babukhan,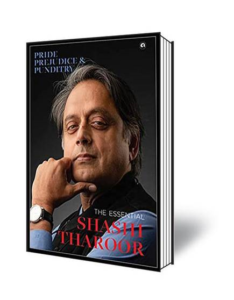 Pride, Prejudice and Punditry marks the culmination of over forty years of Dr Tharoor's writings. The book is published by Aleph Book Company.
Here is what Dr Shashi Tharoor said: 
Non fiction is much easier. I like fiction. I want to go back to fiction. .
I took to writing in the year 1981, which completes my 40 years of writing. I write this book on the the eve of 10th anniversary of the publishing house Aleph that published this book.
The term cattle class, an expression I had used invited wrath from my own party.(Minister of State for External Affairs then, Dr Shashi Tharoor ran into trouble for a message he posted on Twitter, in which he said he would travel "cattle class" in solidarity with all our "holy cows.")
A certain word, expression may look apt and appropriate but when translated into different language it means totally different. The lesson I learnt is – it is not what you think that is important, but how your audience understands.
The current ruling party with 303 seats in parliament makes democracy a mockery. No one also defects because of anti defection law. Indian Parliament, which supposed to serve as a Checks and balances is unable to do so.
My impression about Modi when I first met him in Chennai in 2007 was that he can not be underestimated. He has all the power to charge up people. But, that impression faded away during my subsequent interactions, he added
Our institutions like Parliament are reduced to notices on a board. That is how our government treats Parliament now. We need to strengthen our institutions. RBI, CBI, Information Commission many such institutions which are supposed to be functioning independently are not doing so. We must strengthen them. India has to be the home to everyone. We need the unity of opposition he concluded
About the Book
The book brings together the very best fiction, non-fiction, and poetry from Dr Tharoor's published books and journalism—as well as many pieces that have been written especially for this volume.
There are ten sections in the book, each devoted to a particular topic. 'In the Company of Giants' looks at some of the most important figures of modern Indian history; 'Into the Maelstrom of Indian Politics' contains work on the Indian political scene; 'Our Unruly World' covers international relations and diplomacy; 'The Hindu Way' examines various aspects of the faith; 'Musings of a Cricket Tragic' includes some of his finest writing on the sport; 'You Cannot Be Serious!' is a light-hearted take on sundry matters; 'Fragments of an Autobiography' has poignant essays about his parents and an evocative look at his Kerala heritage; 'The Spoken Word' is a selection of his most famous speeches; 'The Writerly Life' comprises ruminations on writing and writers; and 'Selected Fiction and Poetry' showcases his masterpieces of fiction and poetry.
This book will give those new to the author's work a panoramic view of the range and depth of his writing. Long-time fans will find fresh material to delight them as also ageless pieces that continue to enchant. Dazzling, inventive, and exuberant, Pride, Prejudice, and Punditry presents readers with the essential work of a literary genius.