Factcheck – Political strategist Sunil Kanugolu's pictures used in many websites along with articles on his work as political strategist for Karnataka Elections 2023 and Congress are misleading. The images of so called Sunil where he is seen donning black coat are of Sushil Kanugolu, MD & CEO of Fipola Retail (India) 
Several news reports online in various websites and Youtube channels on Congress party political strategist for Karnataka Elections 2023 – Sunil Kanugolu are published with wrong image of the strategist.
The same image is being promptly reproduced as many of these websites are prestigious media organisations. While some leading publications like Times of India have promptly made the correction, many online articles and videos continue to show the wrong picture.
Factcheck – The picture of Sunil's brother Sushil Kanugolu, MD of meat retail startup Fipola was wrongly published as Sunil.
We found the mistake when we were looking for authenticating the picture on Linkedin. A Fullbright scholar from Columbia University  Leah V pointed out the mistake. In her post she said, "Just when you think that mainstream India has reached rock-bottom you will find that there are further depths to plummet. Sunil Kanugolu has been in the news in the past few days for being the Congress party's strategist for the Karnataka election. I googled Sunil's name and to my shock found these photos of him in several 'reputed' mainstream media outlets. I have worked with Sunil so know what he looks like and this is definitely not him. I thought I must be going crazy – either that or Sunil had undergone some serious plastic surgery, because that was definitely not the face I remembered…but it turns out some genius just mixed him up with his brother and nobody thought to double-check. Sunil's brother Sushil heads Fipola. Some media outlet confused the two and used Sushil's photo (on the left). Other media outlets like The Times Of India Newsable – Asianet News Hindustan Times (just to name a few) just copied the same image and changed the background. None of them bothered to verify." (Reproduced from Linkedin post)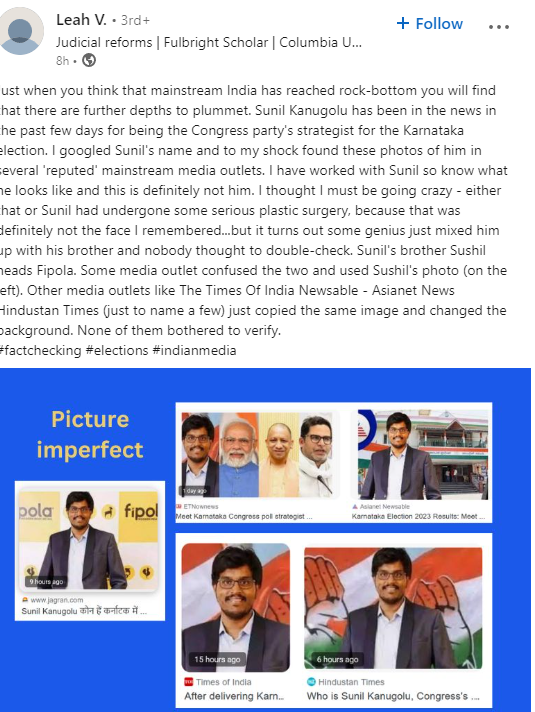 When we did Google search on Sushil Kanugolu from Fipola, we found a news article / interview of Sushil on EPrime website, where he is seen standing against Fipola signage. There are several interview of Sushil which you will see when you do a simple search of his name.
https://www.hindustantimes.com/brand-stories/k-sushil-taking-fipola-to-new-heights-101645798017246.html
The actual images of Sunil Kanugolu, a Telugu from Bellary in Karnataka where he is seen sitting with Karnataka Congress Party State President DK Shivakumar were published on NDTV & Times Now Websites.
Interestingly, websites like Times of India have different articles on Sunil Kanugolu – while a few of them use the right images, few others use Sushil's pictures. The confusion is also because there is absolutely no social media presence for the strategist.
We did Reverse Image Search on the picture where Sunil is seen with DK Shiva kumar and found the original was published in April this year. on Southfirst news website.
The title of the article dated 7/4/2023  is 'When lens-shy poll strategist Sunil Kanugolu was caught on camera, courtesy politicians'
When lens-shy poll strategist Sunil Kanugolu was caught on camera, courtesy politicians
Factcheck Conclusion – MD & CEO of Fipola Retail Sushil Kanugolu's pictures are wrongly presented as Sunil Kanugolu to many news websites.