Anni Manchi Sakunamule – the feel-good movie by Nandini Reddy has all the ingredients to make it a pleasant family watch – but falls short towards the second half
Two families, a wedding and a business deal – Anni Manchi Sakunamule – the feel-good movie by Nandini Reddy has all the ingredients to make it a pleasant family watch. Peppered with humour, romance and emotions – the film aims to be a rollercoaster ride through the beautiful tea gardens of Coonoor.
The film is set in the fictional town of Victoriapuram that has a coffee legend attached to it – hence the name – we aren't dwelling on this legend much because the director too hasn't pondered over it and somehow it is a hit & miss concept in the larger canvas. The film is about two high school friends Rishi and Aarya (Santosh Sobhan and Malvika Nair) who would have ended up as best of friends and even lovers of it wasn't for the many misunderstandings between them. Both belong to warring families whose fight goes back to so many generations that the two main people fighting a case over the ownership of the estate (Prasad) Rajendra Prasad and Rao Ramesh. Adding to the drama is what happens in the beginning of the film when both Arya and Rishi get exchanged in the hospital thanks to doctor Jagadamba (Oorvasi) – which she only reveals towards the end. Until then it lends itself to these beautiful moments which the movie boasts of in abundance.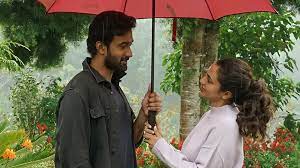 Arya grows up with doctor (Naresh) Sudhakar and his wife. Sudhakar sells coffee and his ailing business is burdened with the case his brother (Rao Ramesh) is fighting and Arya the natural business woman works hard to establish a brand, and in the process partners with Rishi's father. Rishi on the other hand is Sudhakar's favourite partner is cricket.
Then there is Gauthami, endearing and down to earth as she deals with her hearing impairment in the most entertainingly practical way. There is Sowcar Janaki is eternally glamourous and amazing as an actor and a host of other supporting cast – who come and go as the the story progresses.
The film begins on a charming note with a promise of a great entertainer that are in lines with Nandini's Ala Modalaindi and Oh Baby – but towards the second half it falters and how. There still is the charm and great moments weaved into the story – there are gaps that become more and more conspicuous and then comes the last 15 minutes where everything seems alright.
And, then it's the statement all is well that ends well – that summarises the film – Anni Manchi Sakunamule produced by Swapna Cinema that is streaming on Prime Video.