Diwali Special – Heartwarming tales of three modern-day women keeping the traditions relevant
 by Kanchan Agarwal
Diwali is a special occasion for many reasons, especially for its rituals and age-old traditions that have been meticulously entrusted from one generation to another. We ask three successful women from Hyderabad, how they have preserved their cultural inheritance.
Kamini Saraf, Fashion Entrepreneur
Diwali is mostly about puja. For us also, it's about puja at our offices, factories and homes. A few days before Diwali, we start preparing — shopping for new clothes, cleaning the house and decorating the house. Diwali day is a very busy day with preparations for puja.
We decorate the house with gende ka phool (marigold flowers), and diyas (lights). We decorate the puja house and the workplaces with mango leaves and banana leaves; they are a must. We wear our new clothes, in traditional, auspicious, festive and warm colours of yellow, orange, red, green, and we avoid black, blue, brown.
First we do puja at our workplaces. In the evening, we come home, the whole family does puja together at home. Then, we burst crackers — firecrackers are an important part of celebration, that is shagun for us, a good omen.
Firstly because we are making merry that Lakshmi ji will come to our house; secondly, in Hindu mythology, when Lord Rama comes home on Diwali, and people of Ayodhya Kingdom celebrate with crackers. A tradition that has been passing down for generations.
But lately, we have limited the quantity of crackers we burn because it adds to the pollution. We try sourcing organic options which are less harmful. Usually at home, we crack phooljadi, just for shagun. We burst a few to keep the tradition alive.
After crackers, we have dinner together as a family. We prepare a special menu of traditional food items like Moong Dal Halwa, Kanji Vada, that is mostly made in all the marwari homes; we first offer it to God, and then share among ourselves. Then the family disperses.
We meet our relatives, our friends. In the evenings, there are parties to go to. The next day of Diwali, we have Diwali Milan — we go to meet our elders and pay our respects. It's a day-long scene. We have people coming in, people going out. We plan accordingly.
Kavitha Reddy, Textile Designer
During my childhood, we used to gather at my village to celebrate Diwali. I remember how my father, his brother and his family used to gather for Diwali Nomulu, our religious observance of Diwali that involves puja.
We used to reach a week in advance, and start with washing our house. There was no white wash during the time. Then, we would start our nomu ritual — usually, in villages, the puja room is the bigger room, and the year end's harvest is stored there.
In one corner of the room, on the walls, we would apply a paste of soil and water (jaju), let it dry, and draw muggu on it. After that was done, we would make a totella or jhula (swing) with marigold flowers, we would hang large leaves in the center, and place kalash under that, and perform the puja. It is similar to Satyanarayan Vratam Katha that is most common puja in Telugu households done for every important occasion.
We would also fast. These traditions and puja are unique to Telangana. These days, I see very few families who have carried the tradition; it's usually the sons who carry forward. But the memory of my childhood is very strong with me. This tradition is close to my heart. That's also the reason I value celebrating Diwali with my family.
After marriage, I follow the traditions of my family. My mother-in-law also lives with me. We perform the ritual of Bommala Koluvu (Court of Dolls). It is a beautiful Indian tradition when we display dolls from our folk culture on an odd number of wooden steps. We perform Lakshmi Puja.
We make sweets at home; we usually make peanut laddu, sesame seed laddu, along with murukku and vadappa. Karthik Purnima is the most prominent day in Telangana; while we light diyas everyday of the month starting from Diwali. We burn 108 cotton wicks (ottulu) near the tulsi tree at home. We dress in a traditional way.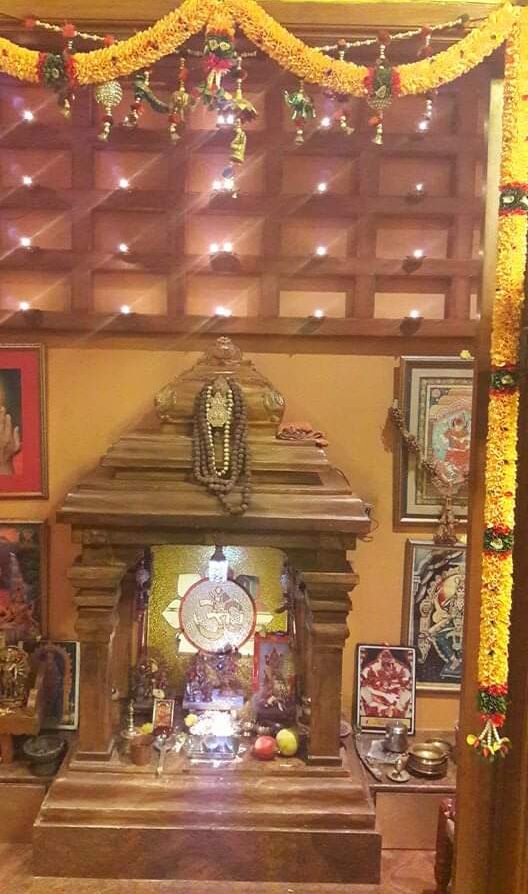 Seetha Anand Vaidyam, Holistic Wellness Coach
For Tamilians, waking up early and having an oil bath is the most important event in Diwali celebrations. In fact, our greetings for Diwali is not "Happy Diwali", it is Ganga Snanam Ayacha? — "have you bathed in the Ganga"? We believe that on Diwali day, Goddess Ganga descends into all water bodies. We light a diya as soon as we wake up, that is before sunrise, the eldest member of the family will oil the hair of other members seated on a wooden asana. We don't oil the hair on an empty stomach.
We prepare a leghyam — it is made with 14 – 15 ingredients, including pepper, ginger, lemon, jaggery, pure ghee — it is a good digestive and detoxifier for the stomach as Diwali is when we indulge in sweets, and it also boosts immunity and protects from the harmful effects of the crackers. We wear our new clothes.
On a regular day, tamilians take brunch, but because we are up and about by 4, we break fast on steamed idli to balance the oily foods lined up for the festival. We visit our elders, do namaskaram seeking their blessings, sometimes children receive gifts, and we greet each other with sweets.
On Naraka Chaturdasi, along with a simple dinner, we eat kheer and bhajji in anticipation for the Ganga Snanam next morning. We prepare savouries like Kai Murukku (snack made with urad dal), Muthu Saram (snack made with besan), ottu pakoda/ribbon pakoda, and sweets like mysore pak, coconut barfi; the ingredients used are abundantly grown locally in Tamil Nadu. The idea is to use what is locally available, For example, Tamilians use sesame oil or gingelly oil for the bath; in Andhra, they use peanut oil, and North Indians use mustard oil.
We have to change with the changing times. Back in the day, we could do an extravagant Chhappan Bhog, because we got enough exercise in the day from just daily household work like filling water or walking to work, but today even the time spent in the gym is not enough. I use the dry fruits I receive as gifts, I use them in my cooking, I make laddus which are raw but nevertheless tasty. I also prefer natural sweeteners like date paste or jaggery to processed sugar — in fact, in Tamil tradition, the prasadam that is offered to God is mandatorily made with jaggery; I might discreetly avoid oil/ghee as the quality we get today can accumulate trans fat in our bodies.
Decades ago, it was okay to burst crackers once in a year when we did not have vehicles. We even had indigenous options like ola padakkam, which is made with leaves of palm tree. Today, bursting crackers adds to the existing air and noise pollution, and the smoke is harmful to our health, it disturbs animals.
We can celebrate Diwali beautifully by lighting lamps, making rangoli, and partying with each other. Diwali is about the triumph of good over evil. Instead of lighting crackers, we can light the lives of others, make them feel special. It's about being together. My elder son will also be visiting to celebrate Diwali with the whole family. Ultimately, it's about creating special moments for ourselves and others.
< Read More >
Diwali – The 5-day occasion to illuminate our homes, minds and hearts