Action films reign with Ram's Skanda in theatres and King of Kotha on OTT adding to the flavor of the week.
RaPo's Action Dhamaka Unleashed
Skanda–Boya
pati Srinu has done three times more than he usually does. The movie has more cars that fly around, more knives/swords in different shapes and sizes that chop down bodies in the most brutal manner like no one's business, egged on by loud background music, where the hero is the only saviour for damsels in distress, in this case, Saiee Manjrekar and Sai Leela. To give the devil its due the premise is surely new – never mind the irony of its dubious nature. The illogical references are  Andhra Pradesh CM Rayudu's (Ajay Purkar) daughter's marriage is interrupted and Telangana CM Ranjith Reddy's (Sharath Lohitashwa) son elopes with bride creating a rift between both families. The context also includes the characters Ramakrishna Raju – the CEO of Crown Technologies played by Srikanth, Indraja as his wife, and his daughter is Saiee Manjrekar, who takes the story beyond a love story and family drama.
Ram Pothineni's films always had action, but of late he is acting in films that can be called out and out commercial mass action films. It felt like doing Boyapati's action film would secure his position as an action hero. Yet, a few excesses in the film also become its shortfall.  The charming Ram and Sai Leela pair balance out the few problems with the film, but only before the action begins.
Srikanth Addala's New Avatar and the Juicy Political Drama
Pedda Kapu–Srikanth Addala's film begins well by showing the caste equations in a village on the verge of changing due to transforming politics. New comer Virat Karna does his job well, while for the director, as one would expect after Narappa – has created a good canvas to sketch a powerful story. However, he too gets caught in violent action sequences, that threaten to get on to nerves, and take away from the story otherwise has huge potential. Surely, can be watched once especially if you enjoy action stunts.  Directed by Srikanth Addala, the film also has Srikanth Addala, Anusuya, Tanikella Bharani, Rajeev Kanakala in the cast. The story is primarily of a common man – Virat who enters a politically vibrant village with two power centres Satya Rangayya (Rao Ramesh) and Bhaiyanna (Aadukalam Naren) – and one common point between both is oppression. And, it is this oppression Pedda Kapu fights and this is linked to NT Rama Rao launching his party. The director has a chequered history of hits and misses – and Pedda Kapu falls in between. Despite its engaging first half the story falls into the rut of formula and violence – losing out on the storytelling.
Believe in Karma? Watch 'Kushi' and You Will!
Kushi – Love in the age of two warring belief systems. One is atheism and upholding it is Lenin Satyam (Sachin Khedekar) and the other is the spiritual speaker Chadarangam Srinivasa Rao played by Murali Sharma. Both hate each other but their children Aaradhya (Samantha) and Viplay (Vijay Devarakonda) fall in love. But not before a meeting a falling in love story that makes up for the first half of the film. The second half is about how they marry and almost fall out of love – playing their part in their parting are parents with their hatred for each other not to mention the horoscope which predicts unhappy ending to Aaradhya and Viplav's marriage. The film is watchable if you like love stories and good music. Hesham's music keeps the vibe of the movie fresh in addition to great visuals captured by G Murali. The film is directed by Shiva Nirvana.
Dulquer's Mass Drama Hits OTT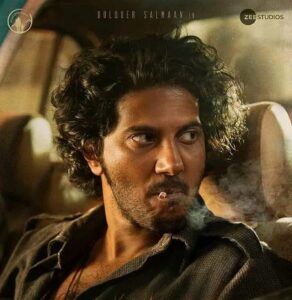 King of Kotha on Disney + Hotstar – Abhilash Joshiy's gangster film starring Dulquer Salmaan starts of a high note with Dulquer looking dashing in his rugged, intense avatar. His passionate portrayal of Raju – the King of Kotha salvages the action drama steeped in clichés and weak climax. Shahul Hassan is a reputed policeman who enters Kotha, a town infested with drug mafia, controlled by one ruthless man – Kanna Bhai, he faces only insult when he tries to control Kanna, which is when he devises a plan to take revenge on Kanna and clean the town off the mafia. The policeman brings back the original King of Kotha, who he pits against Kanna. Dulquer masters his look and action sequences – the film is high on production values but falls short on editing and in being an engaging action film.